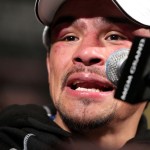 How will 2012 be remembered? For a single punch from Juan Manuel Marquez that ended the Manny Pacquiao era? For questions about performance-enhancing drugs? For controversial scorecards? For Emanuel Steward's death?
Yes, yes, yes and yes.
In the end, however, the year is most noteworthy for a changing of the guard. Pacquiao, Marquez and Miguel Cotto are moving off center stage and toward retirement. Nonito Donaire, Andre Ward, Canelo Alvarez, Brandon Rios, Abner Mares and Danny Garcia are poised to succeed them. The Pacquiao era was a rich one, even without a fight against Floyd Mayweather Jr. It might be hard to duplicate, but that's up to an emerging generation which is bound to spring its own surprises and create its own drama.
A look back with a 10-count:
Fighter of the Year: Donaire. He's doing it the right way by staying busy and showing leadership in the face of mounting questions about PEDs. Donaire undergoes rigorous testing, 24/7, beyond the outdated procedure mandated by state commissions. Marquez is a deserving candidate. Without undergoing the same tests, however, he loses votes. Fair? Not really. But that's the state of the game these days. Donaire understands that. More important, he addresses it
Knockout of the Year: Marquez. Pacquiao may never recover from the right hand that Marquez threw at the end of the sixth round with the tactical brilliance he employed throughout the four-fight rivalry. Despite all the suspicions, Marquez' test with the Nevada State Athletic Commission was clean. He didn't need PEDS to knock out Pacquiao anyway. Marquez set it up and Pacquiao set himself up for it.
Promoter of the Year: Bob Arum. At 81, he continues to put together fights that surprise and dominate. Pacquiao's crushing loss to Marquez on Dec. 8 seemed to sadden him on the night his birthday. But for drama it was a huge hit. He promoted Rios' seventh-round stoppage of Mike Alvarado in October in a bout that looked as if it was a lock for a Fight of the Year. Just when it looked as if nothing could surpass Rios-Alvarado, Arum pulled off a show-stopper in Marquez-Pacquiao.
Comeback of the Year: Mike Tyson. No kidding. He's taking his one-man, Broadway show on the road early next year. He was on stage for the Pacquiao-Marquez weigh-in at the MGM Grand in early December. He looked happy and, above all, beyond all the demons that nearly destroyed him a decade ago. Who would have ever predicted that? Not even he would have.
The Rodney Dangerfield Award: Timothy Bradley. Okay, maybe we're kidding a little bit here. But what does Bradley have to do to get some respect? He didn't judge the fight that gave him the controversial decision over Pacquiao in June. If anything, he exposed a decline in Pacquiao that perhaps had something to do with the Filipino's loss in December to Marquez. Whatever you believe, Bradley didn't deserve to be almost exiled by the business and fans.
The Karl Rove Award: Duane Ford and C.J. Ross. The two Nevada judges favored Bradley over Pacquiao on scorecards that are the equivalent of a Fox News poll, which still has Mitt Romney beating Barack Obama.
Most Bizarre Post-Fight News Conference: Bradley-Pacquiao. Bradley, with injuries to both feet, showed up in a wheelchair. In a sport that has seen it all, it had to be the first time that the guy in the wheelchair was the winner.
Most Intriguing Newcomer of the Year: Fifty Cent. The rapper, otherwise known as Curtis Jackson, displayed some real smarts and likability in his emerging role as a promoter. He's more visible and willing to deal with the media than Al Haymon, the elusive advisor. He has a better chance to awaken the dormant African-American audience more than anyone.
Most Inspiring Story of the Year: Paul Williams. The former welterweight and middleweight showed up in Las Vegas a day before the dueling cards featuring Sergio Martinez-Julio Cesar Chavez Jr. and Canelo Alvarez-Josesito Lopez on Sept. 15 and a few months after a motorcycle accident left him paralyzed from the waist down. Williams was upbeat and even said he hoped to fight again one day. His body was broken. Nothing about his spirit was.
Slacker of the Year: Julio Cesar Chavez Jr. He nearly scored a knockout in the final round of a one-sided fight dominated by Martinez. Imagine what Chavez, who tested positive for marijuana, might have done if he hadn't trained haphazardly with workouts that started at 1 a.m., or 2 a.m., or whenever he decided. We know that traces of cannabis showed up in that post-fight drug test. We're sure that no trace of maturity did.