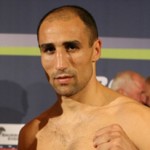 According to Dan Rafael of espn.com, The October 2nd Super six Super Middleweight showdown between Arthur Abraham and Carl Froch will be postponed due to an Injury to Froch.
"We were informed [Monday] morning of a back injury that prohibits him to fight on Oct. 2, but that would allow him a fight about seven or eight weeks later," Chris Meyer of Sauerland Event, Abraham's promoter, told ESPN.com.
There is no new date set for the fight, however. Sauerland Event and Froch promoter Mick Hennessy need to huddle with Showtime as well as with their European broadcast partners to figure out a new date.
"Froch claims he has a back injury and the promoters are talking to [Showtime's] Ken [Hershman] about a new date," Showtime spokesman Chris DeBlasio told ESPN.com