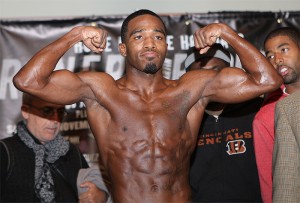 Saturday at Boardwalk Hall in Atlantic City Adrien Broner fought the man aficionados asked him to fight, WBC lightweight champion Antonio DeMarco, a southpaw Tijuanense known to possess chin and heart and strength more than speed, and soundly whupped him. Broner did not flee DeMarco, clinch DeMarco or endeavor to outpoint DeMarco. Broner beat DeMarco down in a way not even the late Edwin Valero could, stopping DeMarco at 1:49 of round 8 – four minutes sooner than Valero did. It was 2012's most important statement, for assuring Broner's blossoming fanbase it will not look instantly foolish and Broner's entrenched critics their assessments need adjusting.
A grim realization now settles: Adrien Broner is boxing's foreseeable future. He is the anointed one, and unlike others prematurely blessed – Amir Khan and Victor Ortiz leap to mind, though Seth Mitchell is more timely an example – he will persuade even begrudging adults he's deserving of what young enthusiasm now cloaks him like a sparkly pink robe, aglitter with sequins, he donned Saturday, to complement what pink gloves both fighters had to wear to show solidarity with a breast-cancer-awareness industry whose Month began Oct. 1 but now stretches past Thanksgiving*.
Broner reduced a very tough champion, a man whose garish green belt was earned as an underdog, which anymore might be the only way a belt's merit can be trusted, to a shuffling, plodding, broken spirit. That is no criticism of Antonio DeMarco, whose tactical mistakes, time will show, were not mistakes at all – even as his supporters surely wonder why DeMarco set his chin on Broner's right fist in the fourth round, eliminating his one advantage, height, to continually collect five flush shots in exchange for a pair of glazing ones. DeMarco went there for safety's sake after he tasted Broner's counter left hook and decided it was not worth suffering on his way to the table, and after he tasted Broner's right-cross lead and decided if right hands had to be consumed, better to eat them at short range where even Broner, despite his excellent leveraging, would be unable to load them with what sauce he'd spread at full extension.
When his fans thought DeMarco was warming up, after Broner retreated to the ropes and collected left hands in round 3, DeMarco was realizing the whole enterprise faced long odds if not abject hopelessness (that would come in the fifth) and decided to get on Broner's chest and see if luck mightn't intervene. It sure as hell did not. Demarco accepted right uppercuts, or planned to accept them at least, in an expectation that in landing Broner would lower his fist enough to be open to a counter, or in missing thrust his right elbow far enough from his lowest rib to permit DeMarco some body work. The calculation was wrong, Broner is too conscientious of an opponent's strengths to forget to protect himself, but flawed more because Broner's right uppercut, now the best punch in the lightweight division, jarred DeMarco and moved him entirely off-course, forcing him to reset and put his chin back in Broner's power alley, to try all over again.
Broner was able to take a Mexican with a granitic chin and make him think about safety by landing accurate and hard punches, and therein lies the secret to Broner's staying power, and it is not his fast hands: Broner throws every punch hard, and he is able to throw every punch hard because he is extraordinarily well conditioned because something more than hairbrushing happens in his training camps, though confessing it might drop a gaggle of followers from the @AdrienBroner account.
The Mayweather defense, a shell of sorts Cincinnati's Broner employs that has nothing to do with Philly, only works if the potshots that lead it are stinging blows. Anyone who's spent time in boxing gyms since Floyd Mayweather decisioned Oscar De La Hoya – the day Mayweather replaced Roy Jones as the model for gifted athletes told they can make a fortune in boxing – has seen what devastation results if the right hand, cross or uppercut, shooting from behind the cocked left shoulder and low lead glove, fails to stun.
DeMarco did land some punches, and Broner walked through them. That's important because it goes to what makes Broner, if not enticing, at least palatable to serious persons who are otherwise seriously repulsed by his shtick, one informed by a philosophy Broner annunciated in an interview with Larry Merchant, an octogenarian who wrote well about our sport before Broner's father was born, to whom Broner explained the problem with contemporary prizefighting is that most of its fighters are "just boxing" – which likely came as a revelation to Merchant and other aficionados who foolishly contend the problem with prizefighting is that its practitioners aren't "just boxing" fractionally often as their predecessors did.
Now there will be other supposedly tough opponents proposed for Broner by well-intentioned and hopeful folks desperate to avert another five years like the last five, when prizefighting's best talent named himself "Money" then acted accordingly, but it's of no use. Broner can clean out the lightweight division if he so chooses or go to 140 pounds and do the same – though fans are forgiven their transaction fees this week if they transfer the remaining balance of their DeMarco investment into a Brandon Rios account.
Those of us bound to be dragged dustily behind the Broner bandwagon have a single request that oughtn't be too unbearable but likely will be: Make the fights, three a year, people ask of you, Adrien; for the longterm health of the sport and your place in its annals, remove the most important fights from hypothetical's seductively painless grasp, as you did Saturday. Do that, and in time you'll surpass Mayweather.
*Readers interested in the troublesome implications of having such an industry are encouraged to view "Pink Ribbons, Inc."
Bart Barry can be reached at bart.barrys.email (at) gmail.com