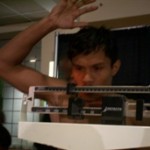 Reigning WBO Asia Pacific Lightweight Champion Bobby Pacquiao headlines tonight's edition of Fight Night at the Tank at the HP Pavilion in San Jose, California. Pacquiao will take on busy spoiler Robert Frankel in a lightweight ten-rounder to headline the seven-fight card. All fourteen fighters weighed in on Wednesday at the arena's The Grill restaurant in what turned out to be a hectic event in and of itself.
Frankel (25-9-1, 4 KOs) of Denver, Colorado was the first of the main event fighters to take the scales. As representatives for both fighters crowded around the scales, Frankel stripped down in the nude and still came in over the contracted weight at 137 ¼. Pacquiao (29-14-3, 14 KOs) of General Santos City, Cotabato del Sur, Philippines came in half of a pound over the contracted weight on his initial try, scaling 135 ½. In order to make the weight, Pacquiao stripped down as well and made the 135-pound lightweight limit. As of press time, Frankel was working off the 2 ¼ pounds in order to avoid a fine.
As long as Frankel is not too drained in the fight tonight, he figures to pose a sturdy test for the brother of Filipino phenom Manny Pacquiao. The ultra-busy Frankel has fought six times already this year, winning the last four straight. In his last ring appearance, less than one month ago, Frankel scored a mild upset over Ramon Montano. He downed Salinas, California's Jesus Rodriguez in the final round of his last loss in a fight many observers believe he won. Pacquiao ended a three-fight losing streak, albeit against top-notch competition, with his last win over Thai Decho Bankluaygym in September.
The scales became a storyline during the weigh-in for the co-main event as well. Since the initial announcement of the card, Daly City, California's Karim Mayfield has been advertised as the co-headliner in a six-round bout. After several opponents fell out, Trenton Titsworth (2-5-1, 2 KOs) of Omaha, Nebraska took the fight on short notice. Apparently there was a breakdown in communication after the late change, since the new fight had been changed to a four-rounder, and the contracted weight was brought down from 152 to 150.
Titsworth, a freakishly tall 6'5" welterweight, scaled 147 ½ pounds. Mayfield (6-0-1, 5 KOs) took the scales and weighed in at 152 ¼. The Titsworth camp immediately questioned the weight. After sorting out the confusion, Mayfield and his camp agreed to pay a fine and not lose the two pounds, in order to save the fight from cancellation. Mayfield has been inactive since scoring a six-round majority decision over fellow prospect Francisco Santana in an action-packed bout at the Tank in March. Titsworth has dropped five straight decisions.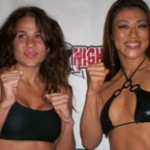 In what has to be considered one of the best looking fights ever put together, Pacquiao stablemate Chika Nakamura (7-0, 3 KOs) will take on Tiffany Junot (4-1, 3 KOs) of New Orleans, Louisiana in a six-round lightweight bout. The statuesque Nakamura stripped down to an exotic bathing suit, much to the delight of the photographers on hand, and weighed in at 137 pounds. Junot, an equaling alluring beauty herself, scaled 136 ¼ pounds in front of the crowding photographers. According to insider accounts, these two women are no slouches in the ring either. If their fight lives up to the anticipation their weigh-in created it should be a crowd pleaser.
Crowd favorite Jason "J.P." Peterson returns to the Tank, taking on Indianapolis, Indiana's Roberto Florentino (2-3, 2 KOs) in a four-round super middleweight bout. Peterson (2-1, 1 KO) of San Francisco, California will be looking to rebound from his first pro loss against Florentino, who was knocked out in one round in his only previous fight outside of Indiana. Peterson, a Frisco Chapter Hells Angel, weighed in at 165 ½ pounds. Florentino scaled 164 pounds.
Garcia Boxing protégé Eric Garcia (2-0-1, 1 KO) will take on late replacement Geoffery Spruiell (7-6, 2 KOs) of Pueblo, Colorado in a four-round light middleweight fight. Garcia was originally penciled in to fight Titsworth, who was elevated to the co-main event, at welterweight. Garcia weighed in at 152 pounds, while Spruiell scaled 154.
Local heavyweights square off in a four-rounder, as Yohan Banks (1-1-1) of San Jose, California will take on San Francisco's Bernard Gray (2-2). Depending on how you view it, Banks will carry a weight advantage of 46 pounds into the fight. Banks tipped the scales at 268, while Gray came in at 222 pounds.
Another pairing of attractive females will round out the card, as San Jose's Melissa McCorrow (1-0) will meet debuting Gloria Salas of Los Angeles, California in a four-round light flyweight bout. McCorrow, who defeated always tough Mayela Perez in her debut, weighed in at 106 pounds. Salas came in at 103 ¾ pounds.
Tickets for the event, promoted by MP Promotions, are available online at Ticketmaster.com.
Quick Weigh-in Results:
Lightweights, 10 Rounds:
Pacquiao 135
Frankel 137 ¼*
Light Middleweights, 4 Rounds:
Mayfield 152
Titsworth 150
Lightweights, 6 Rounds:
Nakamura 137
Junot 136 ¼
Super Middleweights, 4 Rounds:
Peterson 165 ½
Florentino 164
Light Middleweights, 4 Rounds:
Garcia 152
Spruiell 154
Heavyweights, 4 Rounds:
Banks 268
Gray 222
Light Flyweights, 4 Rounds:
McCorrow 106
Salas 103 ¾
*attempting to drop 2 ¼ pounds