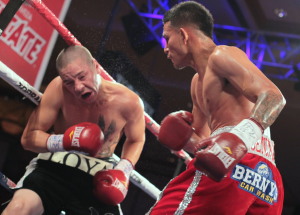 LAS VEGAS — Jose Benavidez Jr., unbeaten at junior-welterweight, withdrew from a scheduled bout Thursday night at The Mirage, because of concerns about further injury to his right hand, according to Jose Benavidez Sr., his father and trainer.
"When we come back, I just want us to be back at 100 percent,'' his dad said.
Benavidez (17-0, 13 KOs) was nearly knocked out in the final seconds of an eight-round bout by Pavel Miranda (17-8-1, 5 KOs) on Oct. 13 at Home Depot Center in Carson, Calif., on a card featuring Brandon Rios' dramatic stoppage of Mike Alvarado in the likely Fight of the Year.
Benavidez, a Phoenix prospect, escaped with a unanimous decision, scoring almost exclusively with his accurate jab. He also appeared to tire in the seventh round, perhaps because he struggled to make weight, 140 pounds.
"Then, I think we were looking ahead to the next fight,'' Jose Sr. said. "We didn't work the right hand in that one, because I think we were thinking about that fight in December. Things have happened so fast since that last fight.''
Initially, the 20-year-old Benavidez had hoped to fight on the undercard Saturday of the fourth bout between Manny Pacquiao and Juan Manuel Marquez in an HBO pay-per-view event at the MGM Grand. Instead, Top Rank announced a few weeks ago that Benavidez would face Jesus Selig (15-1-1, 9 KOs) on a Dec. 6 card televised by ESPN2. Top Rank was surprised by Benavidez's withdrawal.
Benavidez, who signed with Top Rank as a 17-year-old, underwent surgery in January on his right hand and wrist after aggravating an injury during a victory over Sammy Santana in November, 2011 on the undercard of Pacquiao's controversial decision over Marquez in their third fight.
An MRI revealed an extra bone in the wrist, according to physicians. It was causing Benavidez pain. According to reports, a laser procedure removed the source of that pain. A damaged tendon also was repaired.
After a five-month layoff, Benavidez returned to the ring, fighting three times — a six-round unanimous decision over Josh Sosa (10-4, 5 KOs) in May, a fourth-round stoppage of Javier Loya (7-1, 6 KOs) in August and then Miranda.
Plans are now for him to fight again early next year, perhaps in February, his dad and manager Steven Feder said.
"I just told him to enjoy the Holidays, rest and get ready for next year,'' Jose Sr. said.