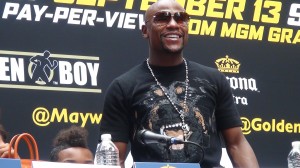 LONDON (July 24) – Pound-for-pound star Floyd Mayweather will return to his British home of BoxNation with his thrilling September rematch with Argentine assassin Marcos Maidana to be screened live and exclusive on the channel.
The highly charged showdown will be the fifth Mayweather megafight in a row to be shown on BoxNation as 'The Channel of Champions' proves that it is once again the undisputed home of big-time boxing.
Following their initial clash in May, which proved to be one of Mayweather's toughest to date as he pulled through on a majority decision, the pair will lock horns once again at the MGM Grand in Las Vegas on September 13th.
The world's highest paid athlete, surpassing the likes of Lionel Messi and Cristiano Ronaldo, 'Money' Mayweather knows he will need to be at his best if he wants to preserve his unblemished record.
"Marcos Maidana is a tough customer and he gave me a fight that had me work for the victory," said Mayweather. "His style is difficult at best, but with experience comes a way and will to win. I'm not one to give second chances in the ring, but I want to give the fans what they want to see. I will be as prepared as I always am when I step in the ring on September 13. I only see the outcome one way and that's another successful night for me and my team."
Recognised as one of boxing's hardest-hitters Maidana will be drawing confidence from the fact he proved more than just a thorn in the side of the sport's biggest draw the first time around, as he promises to hand Mayweather his first loss.
"The rematch with Mayweather is the only fight that really motivates me," said Maidana. "I feel I earned it in the ring and Floyd owed it to me. I've already proved that I don't care if the man I have in front of me is the best pound-for-pound champion. I was close to ending his reign last time. On September 13 he will not get away undefeated."
The card, being dubbed as 'Mayhem', will join a host of top fights that have already featured live on BoxNation this year, including Mayweather's initial battle with Maidana and Manny Pacquiao's stunning rematch win over Tim Bradley.
To subscribe to BoxNation (Sky 437/490HD & Virgin 546) for only £12 a month (plus registration fee) visit www.boxnation.com.
-Ends-
About BoxNation
BoxNation, the Channel of Champions and proud partner of Rainham Steel, is the UK's first dedicated subscription boxing channel. For £12* a month and no minimum term customers can enjoy great value live and exclusive fights, classic fight footage, magazine shows and interviews with current and former fighters.
BoxNation is proud to support Fight for Peace, a charity that uses boxing and martial arts combined with education and personal development to realise the potential of young people in communities that suffer from crime and violence. Buy LUTA (www.luta.co.uk) clothing and support Fight for Peace.
Previous highlights have included Haye vs Chisora, Khan vs Collazo and Mayweather vs Maidana.
The channel is available on Sky (Ch.437), Virgin (Ch.546), online at Livesport.tv and via iPhone, iPad or Android. BoxNation is also available in high definition on Sky (Ch. 490), at no extra cost to Sky TV subscribers, providing they are already HD enabled.
BoxNation is also available to commercial premises (inc. pubs, clubs and casino's) in the UK and Ireland, for more information on a commercial subscription please call 0844 842 7700.
For more information visit www.boxnation.com
*Plus £8 registration fee for Sky TV and new Livesport.tv customers.