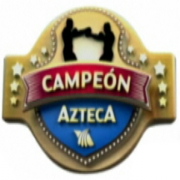 Last Saturday, the seventh episode of Campeón Azteca aired in the United States on Azteca America. The final first round bout of the lightweight tournament matched Ivan Valle (27-8-1, 23 KOs) of Los Mochis, Sinaloa, Mexico against Enrique Colin (29-4-3, 24 KOs) of Guasave, Sinaloa over six scheduled rounds. Their bout was taped October October 20th at the Restaurante Arroyo in Mexico City, Distrito Federal, Mexico.
In the opening video montages, Colin was shown playing the guitar, while his brother sang. Colin was also shown doing mitt work with his father. Mexican boxing icons Antonio Margarito and Jackie Nava spoke of Colin's abilities and strengths. Valle's family life was depicted during most of his introduction. Valle seems very close to his parents, Rafael Valle and Rosa Maria Velazquez. Valle was also shown playing with his son and spending time with his wife, Vianey Vega.
After a feeling out process to open their bout, Valle hurt Colin with a stiff left hook late in the first round. Valle put pressure on the stunned Colin, eventually landing a left uppercut, followed by a combination to the body that downed Colin. On shaky legs, Colin managed to escape the first round.
Early in the second, Colin regained his composure and turned offensive again. From the middle of the round on, Colin seemed to be fighting his way back into the fight. Blood soon began to trickle from Colin's right eyelid, which prompted referee Gabriel Peralta to take him over to the ringside doctor. After looking at the eye, the doctor advised the referee to stop the bout, unfortunately for Colin. Official time of the stoppage was 2:58 of the second round. Replays seemed to suggest a punch was the cause of the bleeding, although there was one headbutt in the round.
With the victory, Valle moves onto the semi-final round and will meet Reyes Sanchez (16-2-1, 10 KOs). Tonight's episode with feature the final first round featherweight bout, as Miguel Roman (25-5, 17 KOs) will take on Andres Romero (14-1, 8 KOs) in a six-rounder. Their bout was also taped October 20th.
Notes & Observations
-Each fighter in the tournament is given a "padrino," or godfather, which is an all-time great Mexican boxer who is supposed to give them inspiration. Colin's padrino was former WBC Lightweight Champion Cesar Bazan. Valle's padrino was former WBC/WBA Bantamweight Champion Chucho Castillo.
-TV Azteca's unofficial scorer, commentator Eduardo Lamazon, had the fight scored 10-8 for Valle heading into the second round.
-Producers did an excellent job filling the one-hour timeslot prior to the short fight. Highlight packages were shown looking back at first-round action from the tournament, as well as all-time great fighters. Conceivably the older footage is from the WBC archives, which contains some great stuff that hopefully in time sees the light of day in a more extended form.
Mario Ortega Jr. can be reached at ortega15rds@lycos.com.