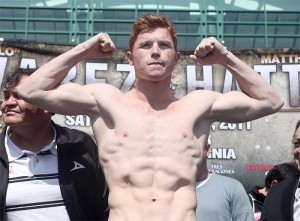 SAN ANTONIO – Saul "Canelo" Alvarez was supposed to be a heavy-footed stalker who would either grind Austin "No Doubt" Trout in the canvas with a left hook, or never close space enough to make a challenge. That was what aficionados said before the fight. That was what Trout prepared for in training camp.
How wrong they were – all of us.
Saturday at Alamodome, before a partisan-Mexican crowd of nearly 40,000, Mexico's Alvarez (42-0-1, 30 KOs) decisioned New Mexico's Trout (26-1, 14 KOs) by unanimous scores of 115-112, 116-111 and 118-109 to become the unified junior middleweight champion of the world. The 15rounds.com ringside scorecard concurred with the official decision, though by a narrower margin: 115-114.
"Austin was a very difficult fighter, but I was smart," Alvarez said afterward. "And as the fight went on, I figured out how to fight him."
There was a ferocity to Alvarez's punches, particularly the commitment with which he threw his right hand, that was too much for Trout's counters. From the opening round onwards, Trout was unable to catch Alvarez with nearly as many or as much as he needed to.
"I connected with my right and my jab," Alvarez said. "My jab was perfect."
Alvarez, the heavy-handed Mexican, was actually more elusive than Trout, the slippery American.
"He shocked us tonight," Trout conceded. "I was prepared for a totally different fighter."
The quiet-spoken Trout, who made the fight close as it was with his persistence more than any other trait, appeared to have taken Alvarez more lightly than he should have. Trout's prefight preparation assumed that so long as he did not needlessly engage Alvarez inside, he'd be able to catch the heavyfooted Mexican on the way in. That was not the case at all, as Alvarez often outjabbed Trout, and the jabs Alvarez landed were very much more than the flicking, swatting, sampling efforts Trout employed for most of the match.
"He boxed a lot better than I thought," Trout said. "He moved a lot better than I thought."
The fight's opening five rounds featured nothing decisive and lots of close scoring. Alvarez's punches, consistently, were the harder blows, but he was not nearly active as Trout, who often threw at triple Alvarez's rate.
The sixth round marked what may have been Alvarez's only tactical error, as he made the first of a number of choices to be elusive rather than aggressive, allowing Trout finally to measure him and land more successfully than he had to that point. Round 6, subsequently, was the first round Trout won cleanly.
"I learned a lot from this fight," Alvarez said. "It was a great experience for me."
The seventh round changed everything and ultimately supplied the Alvarez point that decided the match for the Mexican on the 15rounds.com scorecard. Showing a willingness to sell-out with the right hand in his 1-2 combination, Alvarez stepped forward and blasted Trout with a straight right that dropped him in the opening minute of round 7. That 10-8 round made the scoring difference.
Alvarez then rested as much as he fought in the rounds that followed, showing himself a fighter capable of 30 minutes of constant pressure in a 36-minute fight. He protected his lead properly, though, winning on all three cards.
"I take my loss like a man," Trout said. "The better man won tonight."
Asked afterwards if he wished to fight Floyd Mayweather, Alvarez was unequivocal.
"Obviously," he said. "Of course I want Mayweather next."
He will need to prepare himself for 36 fully concentrated minutes, if that fight ever comes to fruition.
OMAR FIGUEROA VS. ABNER COTTO
The co-main event was not the ticket-seller, and it's a good thing too.
Local Texas favorite Omar Figueroa (21-0-1, 17 KOs), a lightweight titlist from Weslaco, a bordertown just east of McAllen, made startlingly quick work of outmatched Puerto Rican Abner Cotto (16-1, 7 KOs) in Saturday's co-main event, stopping Cotto at 2:57 of round 1, with a lefthand to the body that dropped Cotto for the second time in as many minutes and caused him to remain on his knees.
"I could tell my body shots hurt him," said Figueroa immediately afterward. "I was just waiting for my next opportunity."
At Friday's weighin, co-main event co-promoter Miguel Cotto arrived in a casual black getup and remained seated at the back of the stage, acknowledging almost no one. If he had an inkling how to sell his nascent promotional company to the public of South Texas, he didn't show it. Saturday his namesake displayed the same capacity for prizefighting.
JERMALL CHARLO VS. ORLANDO LORA
Prognostications for Saturday's penultimate match went: Houston super welterweight Jermall Charlo, who has class but not much pop, will outclass fully Mexican Orlando Lora, who is tough and applies pressure. Prognostications were ultimately wrong – Charlo stopped Lora fairly early – though whether because of Charlo's improved power or Lora's increased fragility remains unknown.
Charlo outboxed Lora for every minute of their match, but Lora seemed willing and able to absorb the abuse, at least, which brought sighs of displeasure and surprise from the filled-in Alamodome crowd, when Lora quit on his stool after round 4, awarding Charlo a victory that will go in the books: KO-5.
Charlo continues to build momentum in his career, boxing under Houston trainer Ronnie Shields and improving his physique in each match by applying an innovative and scientific approach to conditioning.
TERRELL GAUSHA VS. WILLIAM WATERS
U.S. Olympians are not supposed to suffer first-round knockdowns to novices with losing records, but that's exactly what Cleveland super middleweight Terrell Gausha did in the first round of Saturday's sixth match, catching an overhand right flush on the chin and dropping like he was shot.
Gausha (4-0, 2 KOs) was fortunate, the back of his head caught the ropes on the way down, and he did not suffer the doubly concussive effect of having his brain bounced on the canvas. Still, he was dazed. Gausha rose, collected himself and boxed to a narrow four-round unanimous-decision victory – 38-37, three times – over Alabaman William "The Outlaw" Waters (2-4, 2 KOs), a decision the half-capacity Texas crowd booed loudly.
As many different styles as Gausha had to see en route to representing his country in the Olympics, it was remarkable how often Waters caught him with clean power punches.
RAUL MARTINEZ VS. OMAR GONZALEZ
If it was a surprise to see San Antonio's two-time world title challenger Raul "Cobrita" Martinez in a four-rounder against an unknown opponent near the bottom of Saturday's undercard, it was quite a bit more than a surprise to see Martinez bloodied, dropped and beaten by Omar "Bad Boy" Gonzales.
In a four-round match judges scored 39-36, 38-37 and 37-38 for Gonzales (6-8, 1 KO), both San Antonians fought well and hard, but Gonzales was just a little better in a number of exchanges with Martinez (29-3, 17 KOs), who appeared to struggle with balance issues from the opening minute. An accidental collision of heads in round 3 opened a significant cut near Martinez's left eye, likely buzzing him.
That must be the reason, or at least it will be the explanation, for Martinez's being dropped on the blue mat in round 4 by a well-placed left-cross counter from the southpaw "Bad Boy," who then had Martinez nearly down again in the match's closing seconds.
When the fair split decision in Gonzales's favor was read, Gonzales celebrated euphorically, and Martinez looked dazedly about, still apparently unsure of his bearings.
UNDERCARD
Saturday's third match saw Mexican super bantamweight Andres Gutierrez (26-0-1, 22 KOs) brutalize fellow Mexican, and now-worn novelty, Salvador Sanchez III (30-6-3, 18 KOs), stopping him at 1:25 of round 5. Sanchez should no longer be asked to compete against elite fighters, no matter how catchy his deceased uncle's name.
In other action, Houston featherweight Miguel Flores (11-0, 6 KOs) decisioned Texan Guadalupe De Leon. Tijuana super flyweight Ivan Morales (21-0, 13 KOs) decisioned Chihuahua's Raul Hidalgo (17-8, 13 KOs). And Philadelphia middleweight Julian Williams (12-0-1, 7 KOs) stopped overmatched Californian Dashon Johnson (14-11-3, 5 KOs) at 1:43 of round 3.
Opening bell rang on a sparsely populated Alamodome at 4:37 PM local time.