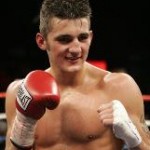 WBO Light Heavyweight champion Nathan Cleverly was forced to postpone his February 25th tite defense with Robin Krasniqi according to Dan Rafael of espn.com
"I've been unable to train because I've been laid up in bed with a viral infection and there's not enough time to make up what I've missed in training to make sure I'm fully fit," Cleverly said. "I've taken the advice of my doctor and been told to fully rest before attempting to start training again.
"I'm really disappointed because I was looking forward to being the first fighter to bring boxing back to the Royal Albert Hall in over a decade and the first of the century."
"It was a big night for me as Hopkins was facing Dawson on the same night and I was looking to do a good job on Krasniqi to get a fight with the winner," Cleverly said.
"I'm sorry for my fans, but I'm happy that the show will go on and a great talent like Billy Joe Saunders will now be topping the card along with Sam Webb and Matthew Hall, which looks like a cracking fight," Cleverly said.
Said Warren: "It's such a shame that Cleverly has been hit with a viral infection, and at a crucial time in his training and career. He is unable to fight and he now needs to have a good rest, get himself healthy and resume training before we look to reschedule his title defense.
"However, Billy Joe Saunders, who is one of the best young talents in Britain right now, is hungry and ready to prove that he is the next big thing. This is the perfect occasion for him to do this."