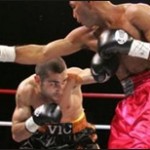 In the 1972 hit single, singer/songwriter Albert Hammond sings, "It never rains in Southern California. But girl, don't they warn ya. It pours, man it pours." The folks in Southern Cal get more nervous about impending rain than those crazies in the Mid-Atlantic States get about snow, probably something to do with house slides.
Anyway, it did rain last Saturday and put a damper (forgive the pun) on the attendance of the highly anticipated Cristian Mijares-Vic Darchinyan jr. bantamweight bout in Carson, at the Home Depot Center tennis court. Mijares was defending the WBA/WBC belts while Darchinyan was the IBF titlist.
However we were assured by the California State Athletic Commission that the event would only be stopped in the event of lightning. Darchinyan apparently took this quite literally and after delivering eight rounds of left handed thunder, he was unloading the lightning in round nine, a flush left hand that left Mijares prone on the canvas. The fight was called off by veteran referee Dr. Lou Moret at 3:00 of the round without a count.
For Mijares, it started badly with a knockdown late in the first round, and somehow never quite got any better. Every time he tried to get into a groove and use his boxing skills, Darchinyan literally whacked the smile off his face with another booming shot, and there were plenty.
In fact, it could well be said that the most remarkable element in his victory was that Darchinyan didn't win it with a home run punch out of nowhere –he won it by outboxing, outdefending, and outthinking the classic stylist Mijares.
"I promised to deliver a skillful, smart fight," said Darchinyan after the fight. "I promised to destroy him and knock him out. And I did that.
"To all the writers and reporters in boxing, did I keep my promise? What about my pound for pound ranking? Mijares was #6."
Darchinyan was making a good point. In a writer's poll prior to the fight only six of 32 experts picked him to win.
This writer was with the majority, and therefore very, very wrong.
There was pure joy in the Darchinyan corner as they celebrated after Vic's victory. With this big win and Chad Dawson's huge victory over Antonio Tarver last month, seemingly enough to give them both pound for pound consideration, their promoter, Gary Shaw, must have been the happiest Jersey boy since Frankie Valli.
With the victory Darchinyan becomes the 115 pound division's first three belt titlist. I'm a bit confused as to why the written coverage refers to the fight as a "unification." Since when has holding the three major belts not been considered worthy of "undisputed?"
So all that is left to conquer for Darchinyan at 115 is WBO belt holder Fernando Montiel, who won a 10 round decision in a non title bout this weekend.
Well actually there's Jorge Arce and IBF flyweight titlist Nonito Donaire, who upset Darchinyan last year, but I don't see either in the cards. In the first place I don't believe that Top Rank CEO Bob Arum is so inclined. He's not a big Shaw fan to start with, but more importantly he's not going to put a fading Arce in against someone who can bring it all night with power such as Darchinyan.
Top Rank could have had that fight two years ago when Arce had more to offer than a cowboy hat and a tootsie roll pop.
Shaw says that he wouldn't give Donaire the opportunity to fight for the three belts because Nonito dropped Shaw as promoter earlier this year. So Shaw is going to block him on the rematch and I'm betting that Donaire is secretly glad.
TOP RANK PPV
In the main event of the $39.95 PPV show, 4-1 favorite Julio Cesar Chavez out pointed Matt Vanda in their junior middleweight rematch, 99-91, 97-93, and 98-92. The fight was reportedly held before 5,000 fans at the Mandalay Hotel, Resort and Casino in Las Vegas, which seems a tad heavy, viewing from my TV. At home it appeared to be more than a Tupperware party, but less than my daughter's wedding.
In any event, it's a bad omen for the PPV results. It appears that for Chavez to draw on the big stage at this point he'll need someone to carry water for him.
Chavez says that he was sick the first fight with Vanda in July, which he won by a controversial split decision. This time he convincingly outboxed the St. Paul native and won handily. So I guess the remaining question to be asked by boxing fans is– why is this such a big deal?
Vanda is apparently more devoted to body art than boxing. He's got tats all over and I'm mindful of the old Groucho Marx ditty, "Lydia, the Tattooed Lady."
It needs to be mentioned that neither fighter threw the volume of punches as they did in fight I. In that fight Chavez landed 234 power punches to Vanda's 197. In fight II Chavez landed 151 power punches to Vanda's 114. As a result, while family and fans of Junior might have enjoyed Saturday's fight, it was not nearly as exciting as their first fight.
In the co-feature, IBF flyweight title holder Nonito Donaire showed a bit of ring rust but won his fight over Moruti Mthlane by TKO at 1:31 of round six. Donaire was aided by a freak occurrence when his jab lacerated the eyelid of Mthlane.
Mthlane was coming on in the fight and Nonito was puffy under the right eye in round five. The small crowd booed, apparently looking for a bit more spirit from Donaire.
Jorge Arce served notice that he was still on the scene by stopping Isidro Garcia at :48 of round four. He's the WBA interim titlist at 115, which means absolutely nothing in my book. I like the guy–he's very personable, colorful, and charismatic –but it's time for him to face a real fighter and stop draining out these last few paydays.
An almost insulting gathering bothered to watch Lamont Peterson display his skills and outpoint Lanardo Tyner. I've seen more people around a craps table than were in the arena. It's a shame because Peterson is just too dominant at this level and he's fast progressing to the next level.
Russian Olympian, middleweight Matt Korobov stopped Mario Evangelistista in three rounds in the opener. Evangelista, taking the fight on two days notice, rose after being floored but gave every indication that he didn't want to continue.
The Top Rank card was called by Nick Charles, Rich Marotta, and Genaro Hernandez, a solid team that has good chemistry, and was produced by Rick Sierra, the man who keeps thing flowing so smoothly.
But seriously, for $39.95, can't I get high-def?