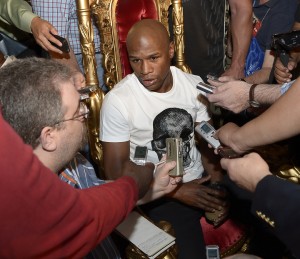 LAS VEGAS – It was a different day and a very different Floyd Mayweather Jr.
About twenty-four hours after Mayweather played the bad cop in an impassioned rant at Manny Pacquiao, Bob Arum, drug cheats and unfair media, the good cop showed up Wednesday at a news conference armed with only polite respect for Miguel Cotto and not a single word of profanity for anyone.
It was a surprise for just about everybody other than perhaps Cotto at the MGM Grand.
"He has been a gentleman with me all the way,'' said the granite-faced Cotto, whose body language is impossible to interpret because there is so little of it. "I have been a gentleman to him all the way. That's the way it has to be.''
But it's a way not expected from Mayweather. Ask his dad, Floyd Sr., how often he sees the gentleman in his son. Ask Larry Merchant, who should have received a Boxing Writers award for Comeback of the Year in the aftermath of the crazy climax to Mayweather's victory over Victor Ortiz in September when the HBO broadcaster told him he would have kicked his butt if he had been 50 years younger.
But the unexpected is also part of the Mayweather attraction, which some predict will break the pay-per-view boxing record with more than 2.4 million customers Saturday night for his junior-middleweight fight with Cotto. There is no drama without surprise. Mayweather seems to understand he can't be ho-hum predictable. He's not selling appliances. If you're shopping for reliability, buy a warranty. Mayweather is selling himself, selling show biz, which means he has to play a different role for different crowds.
"When it's all said and done, I'm making smart business decisions,'' Mayweather said during a conference call 10 days ago. "I understand when I'm on 24/7 it's about the viewers; it's about 'You Must Watch TV'.
"When I'm on TV I want to keep people glued to the television, because that's what it's about. So even people that aren't boxing fans are going to say, 'You know what, we got to tune in and watch this guy. He's very, very interesting. He has a great story.' ''.
Mayweather doesn't care if the audience likes the story, or hates it. Silence is worse than boos. Mayweather wants to hear them as much as the cheers, just so long as he hears them as loudly and as often as possible.
"I don't ever go out there and talk about how many things I have done for the people less fortunate, those things me and my team have done,'' Mayweather said. "But that's not important. I do it for myself. I do it because I feel it's the right thing to give back to certain public schools, give back to children less fortunate, Habitat for Humanity, Three Square Meals. It's very, very important.
"But on 24/7 we don't always talk about those things or on TV we don't always talk about those things, because a lot of time the feedback we get is that that's not entertaining, that's boring. We want to see the Floyd Mayweather with the flashy money; we want to see Floyd Mayweather with the diamond necklace; we want to see Floyd Mayweather with the nice cars. And the response we get from that it is that they love it, they love it. We get more viewers. But then on the flipside, they say, 'All the guy does is show off.'
"So it's a Catch 22. It's like damn if I do, damn if I don't.''
It also means being a villain one day and a gentleman the next.
After his official arrival to the MGM Grand Tuesday, Mayweather met with a handful of reporters and unloaded familiar vitriol, mostly at Arum and Pacquiao. He called Arum "a professional liar.'' He said again that Pacquiao isn't a clean fighter and he challenged anybody in the media who thought otherwise.
Wednesday in a room appropriately named the Hollywood Theatre, he played the good guy. There was only one testy exchange. But it didn't involve Mayweather. Instead, it was initiated by his advisor, Leonard Ellerbe who chided Cotto trainer Pedro Diaz. First, Diaz said that talking doesn't win fights. Then, he predicted a Cotto victory.
"You're right,'' Ellerbe said as he looked at Diaz. "Talk doesn't win fights. Fighters do. Last I checked, Miguel Cotto is fighting Floyd Mayweather Saturday night, so keep your opinion to yourself.''
It was a moment to turn up the volume, fill the speakers with trash talk that has long defined boxing news conferences. But Mayweather didn't.
Cotto "has done something to get this far" the understated Mayweather said as he and Cotto sat in red-and-gold thrones that looked as if they were discarded stage pieces from the set of Excalibur, a 1981 film.
In a session with reporters after the news conference, Mayweather remained low key. He was asked about jail. On June 1, he is scheduled to report for a 90-day sentence at Las Vegas' Clark County jail for domestic abuse. No worries, at least not for Mayweather.
"I'm here to fight,'' he said in a matter-of-fact tone. "Me going to jail is just another day, another day.''
So is Thursday, another day for still another Mayweather.