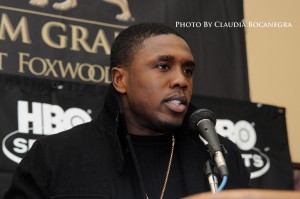 Follow all the action LIVE as Jan Zaveck defends the IBF Welterweight title against former WBC champion Andre Berto. The action begins at 10:30 pm eastern/7:30 Pacific and 4:30 am on Sunday in Slovenia with a Featherweight bout between hot shot prospect Gary Russell Jr. and Leonilo Miranda.
12 ROUNDS–IBF WELTERWEIGHT TITLE–JAN ZAVECK (31-1, 18 KO'S) vs ANDRE BERTO (27-1, 21 KO'S)
Round 1: Overhand right from Zaveck..Body shots from each guy..Good right from Berto..10-10
Round 2: Berto lands a hook to the body…left hook to the body..Zaveck lands a combination…Triple left from Berto…Good right from Zaveck..20-19 Berto
Round 3: Double left hook from Berto…Hard body shots…more work to the body…30-28 Berto
Round 4: Zaveck lands a good body shot and then a combination..left and right..couple good head shots..Good left..39-38 Berto
Round 5: zaveck lands a good right..mouse under the left eye of Berto..trading uppercuts…good left to the body from Berto…Good counter from Zaveck off the ropes…Swelling under the left eye of Berto while Zaveck's right eye us closing..Zaveck lands a left to the body and right to the head …Berto fires back with a good over hand right…Zaveck's eye is looking bad…..49-47 Berto
ZAVECK SAYS HE CANT SEE AND THE FIGHT IS STOPPED AFTER ROUND 5–WINNER AND NEW IBF WELTERWEIGHT CHAMPION—ANDRE BERTO
8 ROUNDS–FEATHERWEIGHTS–GARY RUSSELL JR (17-0, 10 KO's) vs LEONILO MIRANDA (32-3, 30 KO'S)
Round 1: Russell lands a good right hook…10-9 Russell
Round 2 Russell effective with the jab throughout the round…20-18 Russell
Round 3: Russell trying to walk down Miranda with the jab…30-27 Russell
Round 4: Russell lands 2 right hooks to the body…body shots..hook to the chin…Taking a part Miranda…Flurry of body and head punches from Russell..40-36 Russell
Round 5: Tremendous handspeed wobbles Miranda…50-45 Russell
Round 6: Russell blazing handpeed rips off ten punch combo that has Miranda ducking between the ropes…Miranda bleeding from the right eye…60-54 Russell
Round 7: Russell ripping body punches…70-63 Russell
Round 8: Russell on cruise control..domination…hard right hook…80-72 Russell
80-72; 80-72; 79-72 GARY RUSSELL JR.