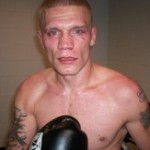 Career spoiler Robert Frankel took Bobby Pacquiao to the woodshed on Thursday night at the HP Pavilion in San Jose, California, completely dismantling the Filipino over ten rounds. Frankel's win capped a seven-bout edition of the Fight Night at the Tank in front of the 3,453 in attendance.
Frankel (26-9-1, 4 KOs) of Denver, Colorado came in as the opponent as usual. As he has done many times in his career, Frankel upset the applecart and won a decision. Pacquiao (29-15-3, 14 KOs) of General Santos City, Cotabato del Sur, Philippines found it next to impossible to avoid Frankel's straight right hand. For the first five rounds, Pacquiao, 135, would box well in spots but usually get caught by a solid shot after his rally. From the sixth round on it was all Frankel, 137 ¼.
Pacquiao was stunned several times over the course of the last half of the fight. To his credit, Bobby, the brother of Filipino icon Manny Pacquiao, gamely pressed on, but could just not find an answer to Frankel's onslaught. In the final round Pacquiao was deducted a point for a low blow, but the scoring had already become inconsequential to the outcome. In the end, Frankel won by the unanimous tally of 98-91 on all three judges' scorecards.
Frankel's straight right hand was his bread and butter in the fight. "Every time he would move, or throw punch, I would slide over a bit and drop that right in there," explained Frankel. "He is a good fighter. He stayed in there tough, but I think our game plan worked." Frankel has maintained an incredibly busy schedule, fighting seven times this year. "I like to stay busy," says Frankel. "I don't have an amateur background. I have been in a lot of tough fights. But I didn't have amateur fights. Most fighters have long amateur careers, and I think it puts a beating on their bodies. I'm fresh." Frankel is ready for a big fight, but he will never overlook any opponent. "I take every fight like it is a big fight, no matter who it is," explains Frankel. "That is Pacquiao's brother, it is a good name to have [on my record,] but it is not Pacquiao. Not the big man. But I am ready for him."
In a closely contested and entertaining scrap between two alluring female prizefighters, Chika Nakamura (8-0, 3 KOs) of New York, New York outscored Tiffany Junot (4-2, 3 KOs) of New Orleans, Louisiana at the end of six rounds. Nearly every round was hard to score as both Nakamura, 137, and Junot, 136 ½, had their moments. Each two-minute round was all action from bell to bell. The difference for the judges may have been that Nakamura was usually the one moving forward, although Junot did place some crisp shots as her opponent moved in. In the end, all three judges scored the bout 58-56 for Nakamura. Based on the crowd response to the decision, their winner was Junot.
"I am pretty satisfied, because I did what I was supposed to do," said Nakamura after the bout. "Once I found out that she does not punch hard, I wanted to stay inside and hit her with body shots. I respect her, and she was a good fighter, but I just felt that I was better," concluded the confident Nakamura. Understandably in such a close fight, Junot and her team were upset at the judges' decision. "I think she was busy, but I was just more effective," said Junot. "I thought I definitely landed the better shots." Despite Nakamura's claims, it did appear that Junot's clean power punches affected the New Yorker. "She hurt me once, but I definitely hurt her a lot more," said Junot. "And I'm prettier too." Both fighters stated they would take a rematch, which would be welcomed by anyone who witnessed these two stunning females do battle.
It was meant to be a grand sendoff for local favorite Jason "J.P." Peterson (2-2, 1 KO) of San Francisco, California, but Roberto Florentino (3-3, 3 KOs) failed to follow the script. Peterson, 165 ½, came out of his corner swinging, but was met with a willing and able foe in Indianapolis, Indiana's Florentino. Both fighters stood toe-to-toe in the second round, each landing their fare share of punishing blows. The southpaw Florentino, 164, utilized a varied attack, mixing shots well to the head and body. Florentino seemed to rock Peterson, a Frisco Chapter Hells Angel, late in the round.
The Indiana native broke through in the third, dropping Peterson early in the round. When "J.P." returned to his feet he turned his back to the official's instructions, which provoked the stoppage of the bout, much to the displeasure of the Peterson contingent on hand. The time of the stoppage was 1:48 of the third. With the win, Florentino also won the "You Be The Judge" contest, an award based on audience applause. The now .500 fighter received a cash bonus and an invitation to return to the Tank. For Peterson, it could be a disappointing end to his professional boxing career, as he is slated for incarceration.
It was not pretty, but Karim Mayfield (7-0-1, 5 KOs) of Daly City, California got back in the ring and scored a decision victory over gangly and awkward Trenton Titsworth (2-6-1, 2 KOs) of Omaha, Nebraska. For the entire four rounds, the 6'5" Titsworth looked to wrap his arms around Mayfield rather than actually throw punches. Mayfield, 152, tried to make the fight but would get clinched every time he threw a punch. Mayfield caught Titsworth, 150, late in the fight and appeared to have scored a knockdown, but it was ruled a push. All three judges scored the shutout for Mayfield, 40-36.
Salinas, California's Eric Garcia (3-0-1, 1 KO) delighted the partisan crowd, dropping Geoffery Spruiell (7-7, 2 KOs) of Pueblo, Colorado in the second round en route to a unanimous four-round decision. After a nondescript opening stanza, Garcia, 152, controlled the fight the rest of the way. In the second, Garcia connected with a picture perfect straight right hand that sent Spruiell, 154, down hard to the canvas. All three judges scored the bout 39-36 for Garcia.
In the night's heavyweight prelim, Yohan Banks (2-1-1, 1 KO) of San Jose, California stopped San Francisco, California's Bernard Gray (2-3) at 34 seconds of the second round. From the opening bell it was clear that Banks, 268, was the stronger of the two.
Gray, 222, had his spots, but was stunned in the first and knocked out by a right uppercut in the second.
Melissa McCorrow (2-0) of San Jose, California impressed the hometown crowd in defeating debuting Gloria Salas of Cathedral City, California. Although Salas, 103 ¾, won only one round on one judge's scorecard, she gave McCorrow, 106, a fight for the duration. McCorrow's power edge proved to be the defining factor in the fight. Scores read 38-37 and 40-36 twice, all for McCorrow.
Tonight's event was promoted by Sycuan Ringside Promotions. The Fight Night at the Tank series will return next year. 2009 dates are to be announced.
Mario Ortega Jr. can be reached at ortega15rds@lycos.com