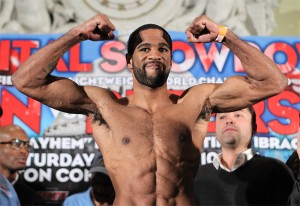 Gary Shaw Productions has won the the right to stage a potential IBF Jr. Welterweight title fight between champion Lamont Peterson and Kendall Holt according to Dan Rafael of espn.com.
Shaw grabbed the rights for a mere $50,000. Since his company was the only one that showed up at the IBF offices for the purse bid, he submitted the envelope with the cheaper total. He would have bid a much higher amount had their been competition at the auction.
As the titleholder, Peterson (30-1-1, 15 KOs) is entitled to 75 percent of the money ($37,500) with Holt (28-5, 16 KOs) getting the remaining 25 percent ($12,500).
"We're going to do the fight so I want to get with Barry Hunter and see if we can do it in D.C., and if not, then I'll take the fight somewhere else," Shaw said. "Kendall Holt wants this fight. Peterson? That will be up to him and Barry if I can make a deal with them."
"I've been spoken to Barry and I thought we'd make a deal before the purse bid," Shaw said. "He said he would call Lamont and get back to me, but I have not heard back from him."
"Let's see if Barry comes around and see what kind of gate we can do," Shaw said.