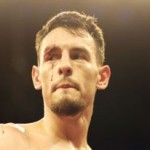 Tomorrow night, super featherweight contender Robert Guerrero will return to the HP Pavilion in San Jose, California for his second straight fight and take on Efren Hinojosa in the headlining bout of an ESPN2 Friday Night Fights telecast. It was just three months ago that Guerrero packed the house as the main draw of an HBO televised tripleheader. That bout ended in a disappointing no decision before the end of two rounds. Guerrero (23-1-1, 16 KOs) takes a second stab at putting on a show for his home crowd and attempts to reaffirm his place as a rising star of the sport on the national stage.
A throng of his local supporters made the half hour drive from Gilroy to support their boxing star as he took on the completely unknown Daud Yordan of Indonesia this past March. When a clash of heads opened a terrible gash that would require 23 stitches over Guerrero's right eye, most at ringside groaned as if they knew the fight would not go on much longer. However when referee Jon Schorle brought Guerrero over to the ringside physician and Guerrero admitted he could not see it sent fight scribes and message board critics into overdrive. In an instant, Guerrero's resolve had been brought into question, fairly or not.
Guerrero has taken all of the criticism he received in the fight's aftermath and used it for his own benefit. "It adds a lot of motivation," said Guerrero. "After all the good performances I put together, and then one bad thing happens…" Such is the fight game. Adversity and a fighter's ability to overcome it is one of the aspects of the sport that people are drawn to. While Guerrero never said that he did not want to go on, the general perception became that he quit. It is a perception that may be hard to change until that moment when Guerrero meets adversity in the ring and overcomes it.
Those who have questioned Guerrero's heart have been quick to forget the circumstances that preceded his November 2007 bout against Martin Honorio. Less than two weeks prior to the bout, Guerrero received news that his wife Casey had been diagnosed with leukemia. Surely no one would have faulted Guerrero for pulling out of that fight, which had been postponed once already, but he decided to go ahead and knocked out Honorio in less than a minute.
Guerrero can point to another moment in his career when the deck was stacked against him and he came out on top. "I went into Denmark, just me and my corner guys, and came out with the title," said Guerrero, referring his knockout victory over Spend Abazi to win the IBF Featherweight title in Copenhagen in 2007. "I was going in there knowing I was not going to win a decision. I fought on three weeks notice and went out there and dominated to bring back the title."
Putting the Yordan fight in the rearview mirror, Guerrero heads into Friday's bout against Hinojosa, a fighter he admittedly knows nothing about. Guerrero's originally scheduled opponent was Johnnie Edwards, who pulled out a couple weeks ago with a back injury. In stepped Hinojosa (30-5-1, 17 KOs), who is a natural lightweight that fights in a style very dissimilar to Edwards, a super featherweight, who is more of a clever boxer. Luckily for Guerrero he had not developed a game plan specific to Edwards. "Getting ready for Edwards, we did not watch any tape or anything," says Guerrero. "We wanted to be ready for anything. We touched on everything, inside and outside. I concentrated on being well rounded in the ring. This is where all you take all of your amateur and pro experience and put that into play."
Since Hinojosa is a full fledged 135-pounder, Guerrero will be taking on a naturally larger opponent as he makes his debut at lightweight. It is a factor that does not worry Guerrero. "I have been sparring with lightweights and welterweights," said Guerrero, who moved his camp to Southern California for the first time in two years for this fight. "135 pounds is just five pounds north of where I fight. I am excited to fight at lightweight."
Guerrero's promoter, Golden Boy Promotions, already has plans in motion for the Gilroy native's next bout, which is tentatively slated for August 22nd at the Toyota Center in Houston, Texas. Juan Diaz is slated to meet Paulie Malignaggi in the HBO televised main event, with Guerrero pegged for the co-feature. It could be the opportunity Guerrero needs to change the all the negative perceptions, especially if he lands a major opponent. There were reports that he was offered to the Diaz camp before Malignaggi agreed to their catchweight, but that they did not want to fight Guerrero. IBF Super Featherweight Champion Malcom Klassen is reportedly a possibility, but Guerrero is not looking ahead. "There's a lot of things in the works, but I don't want to get into that until after this fight," said Guerrero. "My focus is completely on this fight."
Unquestionably Guerrero is a fighter with star potential. Starting tomorrow night, his next few ring performances will likely be placed under a microscope by fight prognosticators and critics. It is a challenge that Guerrero seems ready for more than ever. "I know I have to look good against everyone," said Guerrero. "I am going to come out and shine."
Mario Ortega Jr. can be reached at ortega15rds@lycos.com.