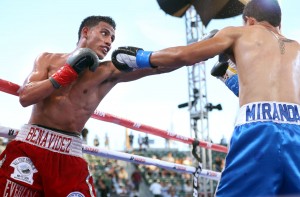 Jose Benavidez, Jr., unbeaten as a junior-welterweight, is expected to test a troublesome right hand next week in sparring at a Phoenix-area gym where he has resumed training in an attempt to restore the promise he displayed as a 17-year-old prospect four years ago.
"Everything is going well, real well,'' Jose Benavidez, Sr., , his father and trainer, said. "The hand is solid.''
Benavidez (17-0, 13 KOs) left boxing for about 10 months after he won a unanimous decision, yet was badly rocked in an eighth and final round by Pavel Miranda at Carson, Calif., on an October card that featured Brandon Rios' dramatic stoppage of Mike Alvarado, who in March won a rematch.
A fractured pinkie on his right hand was found after the difficult victory, according to Benavidez Sr. A pin was placed in the finger and the hand was in a cast for two months, he said. Benavidez' reliance on a precise and powerful jab, his greatest asset, accounted for his 79-73 decision on all three scorecards in the victory over Miranda
"The hand had to heal and I just wanted my son to live a normal life for a while before he decided to come back,'' the senior Benavidez said. "My son wanted to fight right away. Actually, it was my decision not to fight until he was ready, 100 percent healthy.
"I wanted to see where his head was at, if he still had that hunger. He does. He came to me about two weeks ago and said I'm ready to get back at it. He's been impressive. Really, I think we're ahead of where I thought we might be.''
In at least his last three fights, Benavidez Jr., now 21, fought and won with injuries to his right hand and wrist. He underwent surgery in January 2012. An extra bone in the wrist was causing him pain, according to physicians. According to reports, a laser procedure removed the source of that problem. A damaged tendon also was repaired.
Benavidez, Sr., said Thursday that he has yet to speak to Top Rank about when he might resume his career. First, he said he wants to see how the right hand responds in sparring. Benavidez Sr. said he also is working as his son's manager. Steven Feder had been the manager for the Phoenix prospect, who is the youngest to ever win a National Golden Gloves title. In early 2009, he was 16 years old when he won at 141 pounds. After he turned 17 that May, Top Rank signed him
There were signs in October that the 5-foot-11 Benavidez had trouble making 140 pounds. His father said he hoped to bring him back at 145 pounds. Then, he said, he could determine whether to continue at junior welter (140) or move up to welter (147).