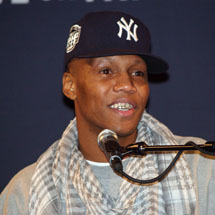 According to Dan Rafael of espn.com former Jr. Welterweight & welterweight champion Zab Judah is in the running to secure a July 14 showdown with Juan Manuel Marquez at Cowboys Stadium.
"It's a fight I have campaigned for," said Judah, who is from Brooklyn, N.Y., but lives in Las Vegas and has been around the media center this week. "This is a fight I wanted a couple of years ago and I still want it. I want him. He fought Floyd Mayweather and never touched him and he got dropped. I can do that, too."
Main Events promoter Kathy Duva, who promotes Judah, told ESPN.com that Top Rank chief Bob Arum has contacted her about Judah.
"I've been having discussions with Bob for the past 24 hours," she said Friday. "But the deal is not done. Obviously, we'd love to do it. I think it's a saleable fight, a terrific fight. These guys are both big names, so we would love to do it and it's not a complicated deal to make."
"He really wants the fight," she said. "But Bob hasn't made us an offer yet. He's exploring what it would take to make the fight, but I know we can make it if this is the fight they want to do. Bob knows that Zab is available, so we are talking about it."
"It's a fight that makes sense," Judah said. "Marquez wants a fourth fight with Manny Pacquiao. I want a fight with Manny Pacquiao, too. The winner should get Pacquiao."