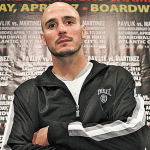 YOUNGSTOWN (August 2, 2011) – Former World Middleweight Champion and current World Boxing Council (WBC) No. 1-rated super middleweight contender KELLY "The Ghost" PAVLIK's professional boxing comeback took a wrong turn inasmuch as Pavlik withdrew from his upcoming 10-round bout against Darryl Cunningham today. The Pavlik-Cunningham bout was scheduled to take place on Saturday at the Covelli Centre in Youngstown, OH, and was to be televised live on SHOWTIME® as the main event of a special edition of ShoBox: The New Generation. Both the broadcast and the live event have been canceled. Ticketholders can get a refund by returning their tickets to the place of purchase.
"Top Rank is very disappointed at Kelly's sudden decision to discontinue the rebuilding of his boxing career," said Todd duBoef, president of Top Rank, Pavlik's promoter. "Kelly's team specifically outlined a strategy for Kelly to return to the ring in an effective fashion. Kelly's team gave us their objectives and we set them on a course, which began last May with Kelly's fight against Alfonso Lopez and was to continue on Saturday against Darryl Cunningham. It seems Kelly has derailed this plan."
EXCERPTS FROM DAN RAFAEL OF ESPN.COM STORY BELOW
Apparently, Pavlik was upset over the offer he had received from Top Rank to fight Bute, telling Youngstown television station WFMJ-TV that "the fight is off and the Bute fight is not going to happen. I'm not going to fight a southpaw for peanuts." He also told the station that his reason for pulling out of the fight was a "business decision."
Top Rank was working on a deal with Bute's promoter, InterBox, that would have given the Top Rank/Pavlik side 40 percent of the revenue from the fight. Top Rank had offered Pavlik a minimum purse of $1.35 million (plus an additional $25,000 for training expenses), which could have increased depending on how much money the fight generated.
A source close to Pavlik said that Pavlik was unhappy with the offer because InterBox had originally tried to sign former titlist Mikkel Kessler to fight Bute in November with a substantially bigger offer, which Kessler's team rejected.
DuBoef said that the cancellation of Saturday's fight should not have had anything to do with a proposed fight against Bute in the fall.
"Let me make it crystal clear — Saturday's fight was not part of a two-fight deal," duBoef said. "There was a plan that we had talked with Team Pavlik about to rebuild his career. We all agreed. It started in May. Then there was supposed to be the fight with Cunningham and then a big fight in the fall. We said we would do our best to plan it. I guess that wasn't acceptable to Kelly in the last week.
"We had discussed the terms of a Bute fight, but that had no bearing on this. Is it a matter of is Kelly going to fight regularly? Does he want to get back on track and knock that rust off? Apparently not."
DuBoef said he got a call from Cameron Dunkin, Pavlik's co-manager, on Monday night telling him that Pavlik was withdrawing from the fight.
"Cameron said that Kelly was not interested in pursuing Saturday's fight and that he was pulling out," duBoef said. "I said, 'That's his decision. We're disappointed.' It's very unprofessional and it's his decision. Cameron told me, 'I hate to tell you this, but he's not on board for the plan.' Cameron was very upset because the plan was to get him back in the ring. That is the road to recovery and to rebuilding. We were not going to give him this fight in August and they called us wanting it, so we arranged it."
DuBoef said his first thought when he heard Pavlik had withdrawn was that maybe he was drinking again, although there is no evidence of that.
"It wasn't mentioned but it's the first thing I speculated," duBoef said. "My first thought was I hope his health is not at risk. We operate gingerly with Kelly as it relates to his demons from the past. We take direction from his team.
"But the behavior here is somewhat erratic and unprofessional. I'm very sympathetic to (Showtime), the fans, my staff, the (Covelli Centre) and the people in Youngstown who were looking forward to this and working on the event. Unfortunately, it did not come about. There is some soul searching to do for Kelly and his team. The answers more lie with him than anyone else."