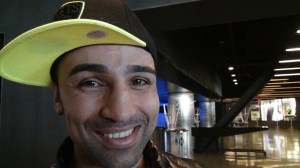 SAN ANTONIO – A small band of boxing media and bystanders gathered Sunday afternoon near an entrance of the Home Depot Center in Alamo Heights, an incorporated city in this city's central-north quadrant, to see the weigh-in for Monday's "Golden Boy Live!" show in the bullring of a local cowboy dance hall named, unerringly, Cowboys Dancehall. At least one of us was there because a Saturday blast email from Leija-Battah Promotions promised Paulie Malignaggi would host. Yet there was Jesse James Leija playing emcee.
Halfway through the roster for Monday, there was a slight rustling, and then, sporting a black sweatsuit of some crushed fabric or other, along strolled the 2013 winner of the Boxing Writers Association of America's award for excellence in broadcast journalism, an award named after Sam Taub, a fellow New York commentator. Malignaggi's eyes bulged in the nearest thing he has to a signature look, and his gestures, just as customarily, pushed through whatever it is that delimits energy and anxiety. Leija hurriedly handed boxing's best broadcast journalist a microphone – whereupon Malignaggi announced he didn't know anything about hosting the event, he'd just got off a plane, and he was exhausted.
It was a frank declaration with a staccatissimo delivery, and vulnerable. Just like Malignaggi's best commentary.
The very thing that makes Malignaggi's career knockout ratio slight is, in large part, what makes his insights on the air timely and exceptional. Malignaggi does not punch hard, and he did not punch particularly hard even before his chronically injured hands were so prone to injury. His smallish frame and surgically reconstructed right fist, both, contribute to his acclivity for icing opponents, especially at the championship level, but they also evince a courage that is easy, quite easy, too easy, to miss after a Malignaggi promotion comes to its end with an opening bell – after he finishes playing a caricaturist's Yankee Fan, and sets about swapping blows, usually in a weirdly tassled trunk or eccentrically coifed do.
If journalistic compulsion has stayed me from ever exactly cheering against Malignaggi, I confess, it has hardly strained its binds in keeping me from cheering him on. Not until I prepared in January for a magazine piece that had nothing to do with Paulie Malignaggi did I pause long enough to realize how much my distaste for his pre/postfight persona had kept me from properly appreciating a fighting style every bit courageous, in its way, as any volume puncher's.
Malignaggi needs more wiles than even that guy, really; he doesn't move forward into opponents' space and discomfit them. He courts their aggression even while knowing he hasn't a punch, or reliable enough hands, necessarily, to keep-off him men who, first and foremost, endure human fists expertly hurled. Malignaggi must read other men's bodies, and compile that data and send its resulting queries to his repository of foiling techniques, and incorporate whatever algorithm returns him, many times faster than a man possessed of a weighty punch. When he's on the air watching what aggression he has watched for tens of thousands of rounds in gyms, he can't help himself: He sees what happens many times faster than men who've never had their consciousnesses on the line in front of millions, and he says what he sees many times clearer than other pugilist-broadcasters.
Malignaggi is a talker, a social creature, a man who likes to be seen and talked to and challenged to explain himself; he is comfortable in a public role – he talks over an interviewer in a voracious desire to assert a new point or clarify an old one, in a way few prizefighters do – he wants to share himself and his mind. This is much of the rest of his talent for broadcasting; most fighters, whatever they tell themselves about their prescript and preheated shtick, know from experience in elementary schools they have little to contribute but autobiography, and untimely reticence recurs when their microphones greenlight.
Malignaggi, conversely, must be quieted – he has lots to share and a desire to share it – and in a very short amount of time, he has married this need to quiet himself with what proclivities for abnegation mark a man who makes weight to make money, and made himself, according to my peers in the BWAA, boxing's very best broadcaster in 2013.
When I spoke to Malignaggi last month, the usable material of our interview didn't exceed five minutes – still plenty – but we spoke for 47 in the sort of meandering way social creatures do, unscripted, vulnerable, free to differ in good faith, and it caused me to conclude our conversation by imparting an anecdote well-suited to close this column.
In 2008 I had the good fortune of exercising in the same L.A. Boxing gym in which cruiserweight contender B.J. Flores trained. Flores shares much of Malignaggi's garrulousness, but where Malignaggi's upbringing, New York, liberates him to disagree with a man even if he doesn't dislike him, Flores' Midwestern upbringing makes him more likely to be agreeable, and this makes his commentary, at times, vibrate with the low-growling hum of salesmanship. Both, though, are men who, unlike their peers, could have succeeded in fields where intellectual merit civilly delivered composed their essential parts. Apropos of a recent Malignaggi outburst – Texas judging maybe? – I told Flores in concise a way as I could muster I did not like anything about Paulie Malignaggi, and the following interaction resulted.
B.J.: Have you ever met Paulie?
Bart: No.
B.J.: You need to meet him.
Bart: Why would I need to do that?
B.J.: It's impossible to meet Paulie and not like him. He's a good man. Meet him.
It took seven years to prove, but I'm happy to say Flores was right. Congratulations to Paulie Malignaggi on winning the 2013 Sam Taub award for Excellence in Broadcast Journalism.
Bart Barry can be reached via bart.barrys.email (at) gmail.com