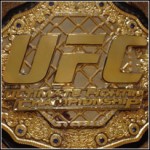 Jackson would rather have revenge before the championship
After Quinton Jackson defeated Wanderlei Silva at UFC 92, Dana White said that Jackson would most likely be first in line to challenge new champion Rashad Evans. However, if Jackson had it his way, his next fight would not be for the title.
"I want to fight Forrest (Griffin) because that's the fight that haunts me," Jackson said. "I want the belt. I want to be champion, but I want Forrest first."
Not only does Jackson want another fight with Griffin, he also has his sights set on a rematch with another man who defeated him earlier in his career.
"I want to get Shogun too," Jackson said, "but I want Forrest first."
A potential fight with Griffin would have to wait though. Griffin was hurt during the Evans match.
"Forrest went to the hospital with a broken hand," White said.
With Griffin's injury and Mauricio (Shogun) Rua's scheduled fight with Mark Coleman at UFC 93, Jackson is not likely to get his first or second choice. Instead, he will likely get his third choice – a fight with Evans for the UFC light heavyweight championship.
Antonio Rodrigo Nogueira open to possible matchup with Randy Couture
Former UFC interim champion Antonio Rodrigo Nogueira confirmed that he would like to take on former UFC heavyweight champion Randy Couture.
"I would accept the fight with Randy Couture," Nogueira said. "It would be a nice match."
With both men recently losing their shares of the heavyweight championship, the fight would appear to be a natural fit for both fighters. Nogueira believes that the fight would be a big draw.
"He lost his last fight, but he is still a legend," Nogueira said. "It would be a great promotion."
Yushin Okami to receive middleweight title shot
UFC middleweight Yushin Okami defeated Dean Lister by unanimous decision at UFC 92. Even though the fight was not the most exciting bout on the card, UFC President Dana White confirmed that the victory puts Okami back in the hunt for the middleweight title currently held by Anderson Silva.
"Yushin Okami will be getting a title shot. Definitely," White said.
Okami was very close to receiving a title shot earlier in the year after beating Evan Tanner at UFC 82 (Silva defeated Dan Henderson on that same card). Unfortunately, Okami was injured during training and the matchup could not be finalized.
Okami and Silva have an interesting backstory in that Okami is the last man to beat the champion. Okami defeated Silva by disqualification due to an illegal kick. The match took place in January 2006 for the Rumble on the Rock promotion.
Prior to Silva vs. Okami being signed, Silva will first have to defeat Thales Leites. Silva and Leites are set to square off in April.
Diego Sanchez and Joe Stevenson to fight in main event of UFC 95
Two former winners from the The Ultimate Fighter are set to square off. UFC President Dana White confirmed the top fight for the February 21 show.
"The London main event is Diego Sanchez vs. Joe Stevenson," said White.
The interesting part about this match is that it will be Sanchez's lightweight debut. After winning TUF at middleweight, Sanchez fought in the UFC at the welterweight limit. Now, Sanchez drops down another weight class to meet Stevenson. Stevenson also won TUF at a different weight class – welterweight, but he has recently fought at lightweight in the UFC.