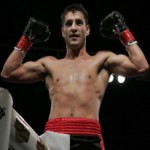 Cortes Makes Return in San Jose
Heading into a February 2008 bout with well regarded prospect Alfredo Angulo, San Jose, California's Ricardo Cortes was riding a twelve-fight win streak and creeping up on a top fifteen WBC world ranking. Angulo was 11-0 and had knocked out his last seven opponents. Angulo would drop Cortes twice in the first round during their Showtime televised bout en route to the stoppage victory. Rather than take a rebuilding fight, Cortes jumped right back into the lion's den with another power-punching junior middleweight prospect, James Kirkland and met a similar fate, a second-round knockout defeat. After a bout with former contender Jose Celaya fell apart last year, Cortes' rebuilding process will begin tonight at the HP Pavilion in San Jose.
Cortes (22-3-1, 15 KOs) will return to the HP Pavilion for the thirteenth time in his career to take on journeyman James Buggs (8-9-3) of Oakland, California in the eight-round middleweight main event. "This is a fight to come back and show what I have," said the Cortes recently. Cortes will look to take a different approach in the ring after his two stoppage defeats. "I have to be more of a boxer," said Cortes. "Everybody says I have a great jab, so I have to use that to climb the ladder again. It's my strategy to box from the outside."
Buggs has been a venerable journeyman over the years and Cortes expects him to be tough. "We are fighting for the Bay," understands Cortes. "He is going to come and do his best to win, but I am training very hard and am ready for it." While he is not looking past Buggs, Cortes hopes that this is the first step on the road to bigger things. "I have to win two or three more fights and then get a better fight, like Sergio Mora," said Cortes. "That is a fight I would like to have."
Six four-round bouts round will round out the card. Winners of the six-bouts will have the opportunity to earn a cash bonus in the "You Be The Judge" fan-voted contest. Local tough guy Tony Hirsch (8-2-1, 4 KOs) of Oakland will take on late replacement Francisco Garcia (5-2, 4 KOs) of Los Angeles, California in a middleweight fight. Hirsch, a former professional football player, is coming off of a four-round decision defeat to 2008 U.S. Olympian Demetrius Andrade. Hirsch acquitted himself well in the fight against the most touted fighter out of the 2008 Olympic class. Hirsch's original opponent Gary Young (17-1, 8 KO's) dropped out Tuesday due to a family emergency.
Fernando Barajas (4-2) of San Leandro, California will take on debuting Pedro Rios of Berkeley, California in a middleweight bout. Juan Topoz (1-1) of Santa Rosa, California will meet Jonathan Alcantara (0-0-1) of Novato, California in a super bantamweight fight. In the featured women's super flyweight bout, former amateur standout Claudia Gutierrez (0-1) of Chico, California will meet Michelle Nelson (1-1) of Saskatoon, Saskatchewan, Canada.
Mixed martial artist-turned boxer Clint Coronel (0-0-1) of San Jose will face Tony Juarez (0-2) of Yuba City, California in a light middleweight bout. Former well regarded amateur boxer Maurice Slade (0-2) of San Jose will attempt to restart his pro career after nearly a two-year break when he battles fellow winless fighter John Dunham (0-4) of Stockton, California in a welterweight fight.
Tickets for the event, promoted by Roy Englebrecht Events, are available online at Ticketmaster.com.
Julaton Leaps Back into the Fire
Former amateur star Ana Julaton (4-1-1, 1 KO) of Daly City, California is set to vie for her first professional world title as she takes on WIBA Super Featherweight Champion Melissa Hernandez (10-1-2, 3 KOs) of Bronx, New York in a ten-round bout at the Agua Caliente Casino Resort & Spa in Rancho Mirage, California on August 1st.
Julaton has been out of the ring since dropping a razor thin decision to Dominga Olivo for the WBC International Super Bantamweight title last August. Julaton decided to forgo any type of tune-up fight and jump right back in with one of the top female fighters in the world. "I was really fortunate to have a long amateur career and to have worked with some of the best trainers in the world with Freddie Roach and Nonito Donaire Sr.," Julaton explained. "I feel like I don't want to be in this sport for that long. Not everyone gets a shot and I am really pumped for it."
In addition to returning from the longest layoff of her career, due in part to an injury she suffered late last year, Julaton will be moving up two weight classes to take on the best 130-pound female in the world. "I feel I have advantages in other areas," said Julaton in referring to the leap in weight. "I am not really thinking about it." Julaton is quick to point out that fighters, such as Manny Pacquiao and Floyd Mayweather Jr., have proven that moving up in weight is not necessarily a disadvantage.
While Julaton goes for her first world championship she also looks to shine a light on women's boxing. "We are going to show that we are just as entertaining as the guys," claims Julaton. "People are going to be surprised. She comes to fight and I come to fight."
Tickets for the event, headlined by Timothy Bradley's WBO Light Welterweight title defense against Nate Campbell, are available online at Hotwatercasino.com/TheShow.
Gonzales Title Bout Scrapped
It was announced yesterday that promising middleweight prospect Brandon Gonzales (8-0, 7 KOs) of Sacramento, California has fallen out of his tentatively scheduled July 24th bout against unbeaten James Parison (11-0, 3 KOs) of San Diego, California which was slated to take place at the Red Lion Hotel in Sacramento. Their ten-round bout was going to be for the WBC USNBC Middleweight title. The card has been moved to August 7th with a new main event.
Once the city's most prized young amateur, Sacramento's Michael Simms (20-11-1, 13 KOs) will again look to revitalize his career in the new main event. Simms will take on badly faded former IBF Cruiserweight Champion Kelvin Davis (24-10-2, 17 KOs) of Reno, Nevada in an eight-round bout. Simms is coming off of a lackluster decision loss to recent winner of The Contender and former amateur rival Troy Ross last month. Davis has lost his last six fights, three by knockout.
Parison has been moved to the co-feature and will take on Christian Cruz (12-9-1, 10 KOs) of Sacramento in a six-round super middleweight fight. Cruz was last seen at the Red Lion in February of last year, dropping a six-round decision to Ernesto Castaneda in a rough and tumble fight.
Castaneda (10-7-1, 4 KOs) of Sacramento will make his first ring appearance since besting Cruz as he takes on Ayodeji Fadeyi (10-6-1, 6 KOs) of Denver, Colorado in a six-round super middleweight fight.
Vacaville, California natives Geraldo Lopez and Maximilliano Becerra will return to the Red Lion Hotel in separate bouts. Lopez (2-0, 1 KO) will take on debuting Gabriel Solorio of Gustine, California in a four-round welterweight fight. Becerra (1-0-1) will take on debuting Victor Cortez of Atwater, California in a four-round lightweight fight. Both Solorio and Cortez have competed in mixed martial arts competition.
Tickets for the event, promoted by Uppercut Promotions, are available by calling the Red Lion Hotel at (916) 922-8041.
Celaya to Return in El Monte
Former WBO #1 ranked welterweight Jose Celaya (31-4, 16 KOs) of Salinas, California will make his return to the ring July 30th at the El Monte Expo Center in El Monte, California. Celaya will take on the aforementioned Tony Hirsch (8-2-1, 4 KOs) of Oakland in the six-round light middleweight co-main event. The bout will be televised live locally in the Los Angeles area on KWHY, Channel 22.
Celaya, who has not fought since a good showing in defeat to Julio Cesar Chavez Jr. last February, was originally slated to fight Hirsch March 31st at the Playboy Mansion in Beverly Hills, California, but the fight fell out for reasons not clear to either party. Since then Celaya has had trouble landing a fight. An announced bout against former champion Roman Karmazin fell apart and a rumored fight against Hector Camacho Jr. never materialized either.
Ticket information for the event, promoted by Big Star Productions, will be announced at a press conference today.