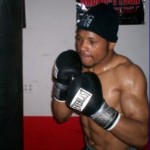 Daly City's Mayfield on ESPN2 card
Bay Area-based light middleweight prospect Karim Mayfield (9-0-1, 6 KOs) of Daly City, California is scheduled to appear on tonight's ESPN2 Friday Night Fights card as he takes on veteran Joshua Renteria (15-3, 9 KOs) of Tucson, Arizona in an eight-round fight.
Unable to get any tape on Renteria, Mayfield does not know much about his opponent outside of his record. "He had an upset against Julio Cesar De La Cruz ten years ago," said Mayfield. "He fought two months back in a ten-round fight. So I am assuming he is in good condition." In the fight Mayfield speaks of, Renteria was dropped in the second-round by well regarded prospect Joaquin Zamora, who registered a tenth-round stoppage.
Renteria, originally from Burlingame, California, made the move to Arizona some years ago and should have a large supporting crowd on his home court. Mayfield has gotten used to coming into other fighters' backyards and does not believe it will be an issue in the fight. "I have twenty members of my family and friends flying down," said Mayfield. "I am going to feel like I am fighting in my backyard."
In addition to training in the Bay Area with Straight Forward Club's Ben Bautista and sparring with solid local amateurs like Otis Seymore and John Chicas, Mayfield traveled to the San Bernadino Mountain Ranges for ten days to train at John Tandy's gym at the high altitude. "I went to Lake Arrowhead to hook up with the guys from Talon Boxing," said Mayfield. "I got some good conditioning up there in the elevation." Mayfield also got some work in with WBO Light Welterweight Champion Timothy Bradley Jr. as he prepared for Nate Campbell.
Mayfield has hopes that a win will catch the eye of one of the top promoters. "[With the win] I should definitely get signed with a promoter," said Mayfield. "I definitely need a fight schedule. I need to be more active. They are signing these prospects and finding out that they are not what they are supposed to be. I have been tested."
Vivian Harris (29-3-1, 19 KOs) of Brooklyn, New York continues his comeback in the main event against Noe Bolanos (20-4-1, 12 KOs) of Ciudad Obregon, Sonora, Mexico in the twelve-round main event. Tickets for the card, promoted by Golden Boy Promotions, are still available online at Ticketmaster.com.
Jeffries-Julaton Headlines Fight Night at the Tank
In what figures to be the most important women's bout the Bay Area has seen in recent memory, longtime elite level fighter Kelsey Jeffries (41-9-1, 4 KOs) of Gilroy, California will meet promising upstart Ana Julaton (4-1, 1 KO) of Daly City in a ten-round bout for the IBA Super Bantamweight title on September 12th at the HP Pavilion in San Jose, California.
Jeffries claimed her first world title in 2002 and was well established in the pro game by the time Julaton was beginning her stellar amateur run. Jeffries, who has claimed several titles over her career, became a fan favorite at the HP Pavilion having fought there nine times.
Julaton had been slated to fight Melissa Hernandez, but after several postponements jumped at the chance to test herself against the veteran Jeffries in an attempt to win her first world title. Jeffries fought to a ten-round draw with Hernandez in 2006. Both fighters employ exciting styles which should please the local fight fans coming to witness the first women's main event in the long run of the Fight Night at the Tank series.
Six bouts scheduled for four rounds will round out the card. Winners of the four-round bouts will be eligible to win the "You Be The Judge" contest and win a $1,000 cash bonus. Debuting Oscar Godoy of Watsonville, California will take on Eduardo Herrera (0-1) of Bakersfield, California. Former amateur stars square off as Claudia Gutierrez (1-1) of Chico, California will meet debuting Jennifer Salinas of Oakland. Salinas is the sister of light welterweight Juaquin Gallardo.
In a rematch of their highly competitive first fight, Juan Topoz (2-1) of Santa Rosa, California will meet Jonathan Alcantara (0-1-1) of Novato, California. Topoz earned the split decision win in the fight of the night on July 16th, which garnered him the "AMI Cup" and the $1,000 cash bonus. Mike Alexander (1-3) of Antioch, California will fight Pedro Rios (0-1) of Berkeley, California. San Jose cruiserweight Tony Johnson (2-0) and debuting Gilroy welterweight Alonso Carrillo will meet yet unnamed opponents to round out the card.
Tickets for the event, promoted by Roy Englebrecht Events, are available online at Ticketmaster.com.
Ward in Action September 12th
Before he enters the much publicized "Super Six World Boxing Classic" super middleweight tournament, Andre Ward (19-0, 12 KOs) of Oakland, California is slated to compete on September 12th at the Pechanga Resort & Casino in Temecula, California against Shelby Pudwill (22-3-1, 9 KOs) of Mandan, North Dakota. The ten-round Ward-Pudwill bout will be aired on Showtime with same-day tape coverage of Mikkel Kessler's WBA Super Middleweight Title defense against Gusmyl Perdomo from Denmark.
Assuming they come out of their September 12th bouts unscathed, Ward will challenge Kessler for his title on November 21st in the first round of the tournament, with Oakland's Oracle Arena rumored to be the targeted venue. "There was no way we were going to allow Mikkel Kessler to have a showcase fight preceding his Super Six showdown with Andre, and not have the viewers on Showtime witness our 2004 U.S. Olympic gold medalist in action the same night," said Ward's promoter Dan Goossen in a recent press release. "Kessler may be the champion, but Andre Ward is coming to take that title and make history."
Pudwill may be best known for suffering a first-round knockout defeat to John Duddy at Madison Square Garden in March of 2006. In his only bout since, Pudwill defeated sub .500 Anthony Osborne last December.
Ward will enter the Pudwill bout coming off of his most impressive win, a one-sided twelve-round decision over the once-feared Edison Miranda in front of his hometown Oakland fans. In that bout, Ward started out much more aggressive than in other recent performances, before settling down and outboxing Miranda to close out the fight. Ward, ranked WBC #1/WBO #1/IBF #6/WBA #7, had expressed his desire to challenge WBC kingpin Carl Froch after the fight before Showtime engineered the unprecedented tournament. Froch is one of the "Super Six" and will meet Ward's 2004 U.S. Olympic teammate Andre Dirrell on October 17th.
On the off-television undercard, once-beaten prospect Francisco Santana (10-1, 5 KOs) of Santa Barbara, California will take on tough Tony Hirsch (9-2-1, 5 KOs) of Oakland in an eight-round light middleweight fight. Santana is coming off of a six-round decision over previously unbeaten Oakland prospect Antonio Johnson in March. Hirsch rebounded from a defeat to heavily hyped 2008 U.S. Olympian Demetrius Andrade with a first-round knockout of Francisco Garcia last month in San Jose, California.
In another intriguing test for a prospect, Mike Dallas Jr. (9-0-1, 2 KOs) of Bakersfield, California will take on former WBA Featherweight Champion Freddie Norwood (43-3-1, 23 KOs) of St. Louis, Missouri in an eight-round light welterweight fight. Norwood is coming off of a one-sided decision win over former contender Jose Celaya of Salinas, California last month.
Heavyweight James Toney, 2008 U.S. Olympian Javier Molina and super bantamweight prospect Rico Ramos are also slated to appear on the undercard.
Tickets for the event, promoted by Goossen Tutor Promotions, are available online at www.pechanga.com.
Fairfield's Jordan in for Tough Test
In a rare meeting of undefeated heavyweight prospects, Golden Boy Promotions' Ashanti Jordan (10-0, 7 KOs) of Fairfield, California will take on the imposing 6'4" Joe Hanks (8-0, 6 KOs) of Newark, New Jersey, in a six-round fight billed to be for the California State Heavyweight Championship, on August 21st at the Irvine Marriott in Irvine, California.
Jordan has gotten off to a hot-and-cold start to his professional career after a solid amateur run. While he is still unbeaten, he has looked like a dominant force in some fights and a flawed and inactive fighter in others. Jordan will enter the Hanks bout off of two unimpressive decision wins, the first over hefty journeyman Alvaro Morales and a majority nod over Andrae Carthron.
Hanks, handled by notable manager Prentiss Byrd, has been kept on a busy pace, already notching four wins thus far this year. Hanks will enter the Jordan bout on a three-fight knockout streak, including a first-round stoppage over previously unbeaten Hildo Silva at the Irvine Marriott in June. The August bout figures to be the most important fight either fighter has had in their fledgling careers as the winner should be considered a very legitimate prospect.
Tickets for the event, promoted by Roy Englebrecht Events, are available online at BattleintheBallroom.com
Chargin Signs Diaz to Boxing Contract
Legendary promoter Don Chargin announced yesterday that he has signed well known MMA star Nick Diaz of Stockton, California to a boxing contract. "I know the signing of a mixed martial arts fighter might be considered controversial by many boxing fans across the world," stated Chargin in yesterday's press release. "When the subject of mixed martial arts versus boxing arises, it always comes down to the boxer winning a boxing match easily and vice versa for MMA. However, after having seen the replays of Diaz' fights over the course of his career, I truly believe that this kid has what it takes to really make for some very entertaining fights within boxing. While some would state that he's merely a slugger possessing a good chin and a heavy work-rate, there's something about his rhythm and fighting intelligence that really caught my eye."
Diaz is signed with the MMA company Strikeforce, which has allowed Diaz to pursue the goal of becoming a dual sport star, something the UFC has reportedly refused to allow their fighters to do. Diaz, who sports an MMA record of 20-7, 11 KOs, 6 Submissions, fought once as a professional boxer. In April of 2005 Diaz scored a four-round decision win over debuting Alfonso Rocha at the Radisson Hotel in Sacramento, California.
Diaz, who has held both the WEC and IFC Welterweight titles, made some headlines last week when he failed to appear at a scheduled mandatory drug test with the California State Athletic Commission which forced the cancellation of his Strikeforce Welterweight title fight against Jay Hieron which was to take place this coming Saturday in San Jose.
Diaz is trained and managed by Cesar Gracie, of the legendary Gracie family, and has improved his boxing skills under the tutelage of former champion Luisito Espinosa. Chargin reportedly is working on several dates at Northern California venues ARCO Arena in Sacramento and Feather Falls Casino in Oroville and it will be interesting to see if Diaz makes his return to boxing there this year.
Mario Ortega Jr. can be reached at ortega15rds@lycos.com.