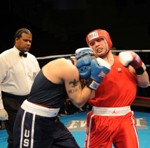 I would like to introduce a very young and promising cruiserweight/heavyweight prospect; Jeremiah Graziano. No relation the great knockout artist Rocky Graziano …whose real name was actually Thomas Rocco Barbella.
Graziano, (2-0 2KO's) has only been boxing for two years, but posses extreme raw talent and explosive power we haven't seen in years from a young amateur boxer turning pro. Graziano's first pro fight lasted 6 seconds while his opponent was out cold for almost 10 minutes and had to be taken out by medics. His second fight lasted all of 1:24 where he knocked his opponent down 4 times before the fight was waived. It is very early in his pro career, but this kid has IT! I have been boxing and around boxing for 30 years and in my opinion this kid has extraordinary raw talent and is bound for boxing greatness.
I had the pleasure of meeting 21 year old Graziano at the tail end of his very short and extremely impressive amateur career. He graciously signed several autographs as we talked about boxing; remember he was still an amateur at that time, and a former pro Heavyweight Champion was right behind us barely getting noticed. He finished his amateur career as a state Golden Gloves Champion, National Golden Gloves runner-up silver medalist, PAL National and Future Stars National Champion, USA Boxing Team member, in addition to winning the 2008 Ringside World Championships while boasting a final record of 32-2 with 27 KO's.
Just over two years ago growing up in Portland, the former high school track and basketball standout , left Portland and bummed around Seattle living in his car trying to find a lead in life. He then landed a job working on an Alaskan fishing boat, ala Deadliest Catch. So was born Jeremiah Graziano, the extreme fisherman. Graziano did promise his father, a former amateur boxer, that if this did not work out he would train to box. He would then follow the footsteps of his father, grandfather, and probably his father and his father's father, who all boxed amateurs. Just a couple weeks before he was to set sail on the fishing boat Jeremiah made an improbable "leap" of fate. While playing a pick-up game of basketball he tore his Achilles tendon, canceling his "fishing" trip.
Jeremiah went back to Oregon rehabbed and made good on his promise to his father. At 19 he stepped into the West Portland Boxing Gym, where he met famed amateur trainer Bill Meartz. Graziano possessed a natural powerful style which emulates his biggest boxing stylist influences; Mike Tyson. So was born Jeremiah "Wyson" Graziano, the boxer. As everyone in the gym noted how he fought like a white Mike Tyson.
Unfortunately for Graziano Meartz was at the tail end of his training career, but wanted to preserve the talent of the new pugilist. Meartz then called Ringside® Boxing founder and famed trainer John Brown in Lenexa Kansas to ask if he would like to train the promising young boxer. After seeing tapes of Graziano, Brown enthusiastically accepted the offer, re-opened Turner Boxing Gym in Kansas and moved the young star to the mid-west.
The Former USA Boxing Team member then created Internet attention by posting his knockouts on YouTube for his friends and family in Oregon to see during his amateur career. YouTube search Graziano KO. You would think Rocky would come up, but what you get is several of Jeremiahs KO's and one killer alley-opp he slams! One after another Jeremiah crushed the competition and story booked a fantastic short amateur career under the tutelage of John Brown.
Now that Graziano has begun his professional career I will keep you up to pace on his progress. Brown has some work to do smoothing out a few rough edges in Graziano style, but as all boxing fans know, there are two things you cannot teach: heart and raw fight talent, which this kid has an abundance of both! Graziano is in excellent hands with Brown and has great training partners to develop his pro style and career! Keep an eye on Graziano, he is on his way!
Next fight: January 16th vs.TBA at Harrah's Hotel & Casino, Kansas City, Missouri.