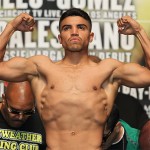 Victor Ortiz has been tabbed to take on WBC Super Welterweight champion Saul Alvarez provided he wins his June 23rd fight with Josesito Lopez.
"These are two young fighters in the prime of their careers fighting each other," Said Golden Boy CEO Richard Schaefer said of the match.
Should Ortiz lose or be unavailable for the September 15 bout, Schaefer has an unknown Plan B.
"We have contingency plans in place, which we have worked out with Showtime, because you never know what will happen," Schaefer said. "Of course, Josesito Lopez would be part of those contingency plans."
Golden Boy Owner Oscar De la Hoya Said: "This fight June 23 does concern me because Josesito Lopez is no walk in the park. It's a huge opportunity for him and it puts more pressure on Victor Ortiz to go out there and prove he deserves to be in the same ring with Canelo Alvarez. This June 23 fight is very important and people are expecting a very difficult and tough fight at the Staples Center."
"Victor is the kind of guy who wants to fight everyone," Schaefer said. "He mentioned to us that he wanted to fight Canelo. That was always something on his mind and when the opportunity presented itself he jumped on it and he knows he needs to win (on June 23). Josesito Lopez also knows what's at stake."
"Canelo Alvarez is one of the most entertaining and charismatic fighters in the sport and there's nobody better to headline the card on Mexican Independence Day," Said Showtime Sports CEO Steven Espinoza. "Canelo is one of the biggest superstars in Mexico and we have full confidence he will develop into one in the United States."
"That is the kind of relationship we look forward to developing with Canelo," Espinoza said.
"After this weekend, we wanted to put together a fight card where we can leave the judges at home," Schaefer said. "'Knockout Kings' is the perfect title. Every fight we put on TV, even off TV, there should be no judges needed."
"Sept. 15 (I hope) you can leave you're scorecards at home. (I hope) you won't need them," said Schaefer, adding that the card would also be available in movie theaters around the country like most of his company's major pay-per-view cards.