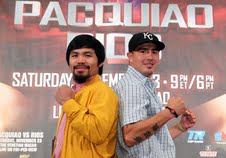 According to Dan Rafael of espn.com, the November 23rd bout between Manny Pacquiao – Brandon Rios will have four undercard bouts as part of the Pay Per View Telecast.
Evgeny Gradovich will defend his IBF Featherweight title from the man he won it from Billy Dib. Chinese Olympic hero Zou Shiming will be on the card and just added will be undefeated Heavyweight Andy Ruiz taking on Tor Hamer and well as an appearance by super prospect Felix Verdejo.
"People opened their eyes there [in Macau] and in the U.S. when they saw Andy Ruiz against Hanks and realized that he can be a serious contender in the division in 2014,", said Top Rank's Carl Moretti. "He's got the fastest hands I've seen in that division since [former titleholder] Michael Dokes, outside of Mike Tyson. And Andy is deceiving because when you see him physically, you don't equate what you see to speed. But his power is from his speed and his legs, and he can box, too, so I love it.
"He's not going to win a Mr. Universe contest, but he is going to win the heavyweight championship one day.
"There's no question that next to Miguel Cotto, Verdejo is probably the most recognized [active] Puerto Rican fighter, even more so than established 10-round guys," Moretti said. "Puerto Rico has always performed well when it comes to Manny's pay-per-views, so putting Verdejo on the card just adds to it."
"You'll see Verdejo in with the same type of opponent as on the Cotto card, but the big pay-per-view platform will be a little bit different for him," Moretti said. "But he was very excited when we told him we wanted him on the card in Macau. He's really looking forward to it."
"I think the winner of Gradovich-Dib is clearly in for a big fight next year," Moretti said. "There are several fights they could fit into, be it against Nonito Donaire, [Vasyl] Lomachenko, Nicholas Walters in a unification fight or possibly [unified junior featherweight champion Guillermo] Rigondeaux moving up in weight if he beats Joseph Agbeko [on Dec. 7]. So there's a lot on the line for these guys."