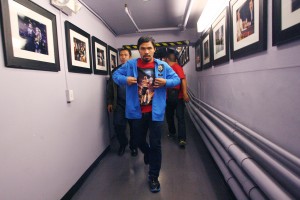 LAS VEGAS – Born-again Manny Pacquiao has been more of a diplomat than a preacher for the last few days. He played the peacemaker Wednesday in an attempt to ensure a unified front instead of civil strife in his corner Saturday night against Tim Bradley at the MGM Grand.
After a formal news conference, Pacquiao planned to talk with trainer Freddie Roach and conditioning coach Alex Ariza about their differences and how to get beyond them, at least for one night. It appeared that Ariza had been banished by Roach, who said Saturday on HBO's 24/7 that he wouldn't be in the corner. A few days after Roach's comments signaled a significant shuffle and perhaps turmoil, Ariza was back.
"Manny's call,'' Roach said.
Pacquiao, who confirmed that it was his decision, made it clear that there won't be any confusion. If you want democracy, go to a voting booth. In this corner, Pacquiao will listen to only one voice.
"Freddy's,'' he said.
Roach repeated his criticism of Ariza, who was seated on the stage for Wednesday's news conference. The outspoken Ariza left Pacquiao's training camp in the Philippines a few weeks ago to work with Julio Cesar Chavez Jr., who is in training for Andy Lee in El Paso, Tex.
"I thought it was a bad choice,'' Roach said.
Another trainer was hired, Filipino Marvin Somodio, who was introduced Wednesday as Ariza's assistant.
Pacquiao's corner includes another subplot, also involving Ariza. Miguel Diaz will work as the cut man. Diaz and Ariza exchanged insults during a post-fight news conference following Amir Khan's victory over Marcos Maidana in December, 2010. Diaz was Maidana's trainer. Ariza, then Khan's conditioning coach, called Diaz a "fraud." Ariza repeatedly mocked Diaz, a former maître 'd at a Las Vegas restaurant, by yelling "table for four.''
For Bradley, reports of potential discord in the corner represent just another distraction for Pacquiao.
"I knew, sooner or later, it would catch up to him'' said Bradley, who was confident and relaxed despite being a 4-to-1 underdog just days before the biggest fight in his career.
Notes, Quotes, Anecdotes
· Bradley again said he has been working hard to eliminate the head-butt from his arsenal. "I definitely want to keep my head out of the mix,'' said Bradley, who promises to win, yet doesn't want a victory to be tarnished by controversy.
· Top Rank promoter Bob Arum introduced Bradley manager Cameron Dunkin as "Cameron Diaz" during the news conference. "I wish he looked like Cameron Diaz,'' Arum in a quick comeback from his own misstep.
· Bradley is a practicing vegetarian, which he says gives him strength and endurance. He said he heard about the diet from a physician. "This doctor tells me, "You know, those 300-pound gorillas don't eat meat,' '' he said. "That's when I decided I'm going to go vegan. I'm going to eat grass, trees, bark, whatever.''
· Roach is scheduled for induction to the International Boxing of Fame in Canastota, N.Y. Sunday, the day after Pacquiao-Bradley. "I rented a plane,'' said Roach, whose overnight jet to nearby Syracuse will cost him $26,000. "I'm not happy about that.'' Roach should be able to afford it after he collects his share of Pacquiao's guarantee, $6 million, according to contracts filed with the Nevada State Athletic Commission. Bradley is guaranteed $5 million.
· And Pacquiao has shed at least one diversion. Basketball isn't exactly a distraction. But Roach said he has quit playing pick-up games after training. "I asked him why he gave up basketball,'' Roach said. "He told me, 'After training all morning, maybe I shouldn't play basketball.'' Maybe without the basketball, Pacquiao won't suffer from further cramps in his calves. The cramping bothered him in his last two fights – a controversial decision over Juan Manuel Marquez and a one-sided decision over Shane Mosley. After hearing Pacquiao's answer, Roach said "Thanks, Manny, that's the best answer you ever gave me.'
Photo by Chris Farina / Top rank