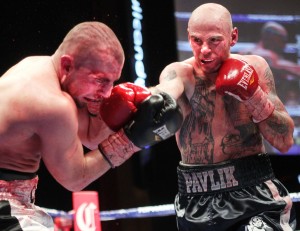 LAS VEGAS – When Kelly Pavlik fought in March, his first time in a prizefighting ring in 23 months, the match was about seeing where he was. Friday, Pavlik was in a prizefighting ring for the second time in three months to answer the same question.
And the answer went: About the same place as before.
In the main event of ESPN2's "Friday Night Fights," broadcast from The Joint at Hard Rock Hotel & Casino, Pavlik (39-2, 35 KOs) put in solid work and went rounds with super middleweight Scott Sigmon (22-4, 12 KOs), a Virginia opponent who was initially afraid to punch but later proved himself possessed of a better chin, and heart, than set of fists. Ultimately, Pavlik did what was expected of him, if a little less, left-crossing and right-hooking his way to a second consecutive victory – this time a seventh-round technical knockout caused by his opponent's profuse bleeding.
"He did a lot of good things," Pavlik's manager Cameron Dunkin said after the fight. "He just worked. He didn't want to load-up."
With little more than a timid punching bag before him in the fight's opening round, Pavlik did initially load-up on left hook-right cross combinations – right wrist flipping back whenever he landed – and supplied a fair number of emotional moments for the Vegas fight crowd.
"I'm not heard-headed," Pavlik said afterwards about stylistic adjustments made under new trainer Robert Garcia. "I'm learning."
As the rounds grinded along, though, and Pavlik's occasional left-hook leads to the body brought no decisive end to the fight, Pavlik's mouth gradually opened, his spacing gradually worsened, and his punching power gradually lessened. Pavlik had too much of everything for Sigmon, in the end, but Pavlik did not show the same head-snapping power he once used in terrorizing the middleweight division.
"Any of the top guys," Pavlik said about future opponents, after the fight. "As long as it's a better guy."
Time will tell if a better guy is what Pavlik's career actually needs.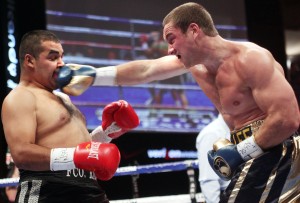 MIKE LEE VS. ELISEO DURAZO
Fighting before a crowd that was almost all his – a gaggle of ringside dwellers in navy blue and gold t-shirts – Chicago light heavyweight Mike Lee (9-0 5 KOs) was prepped to make a sensational statement against soft Mexican setup man Eliseo Durazo (3-3) in the opening bout of ESPN2's "Friday Night Fights" program. But the statement Lee made was less than hoped for, winning by three unanimous-decision scores of 59-54, in a fight that exposed more defects in Lee's attack than planned.
Appearing to struggle with a belly-jiggling opponent who nevertheless did not know he was there to lose by spectacular knockout, Lee committed well to his punches and defended best he was able throughout.
If Lee is destined to show himself as more than a novelty act, though, he did not bring himself any closer to doing so, Friday.
UNDERCARD
Friday's last pre-television bout was its most entertaining, as undefeated California super middleweight Rudy Puga (3-0, 3 KOs) made a hellacious five-minute scrap with hardnosed Idahoan Tommy Turner (2-2, 1 KOs). Despite being dropped with right hands thrown from most every angle, Turner continued to rise and fight on until a Puga right uppercut violently ended his night at 2:19 of round 2.
Before that, in the card's largest surprise, unheralded Kansas lightweight Gerardo Robles (18-10, 9 KOs) dropped Californian Roger Gonzalez (27-6, 18 KOs) in each of the first two rounds of a fight whose round count showed "8/6" on the night's bout sheet, and sneaked his way to a majority-decision victory: 76-74, 76-74, 75-75. The match's oddest turn came after round 6, when Robles, believing the fight had reached its conclusion, mounted the turnbuckle in triumph, only to be told he would have to fight two rounds more. Those rounds were ultimately academic, though, and Robles won an upset victory.
The evening began with a good four-round scrap between two undefeated super featherweights – Californian Saul Rodriguez (4-0, 3 KOs) and Washington's Kevin Davila (1-1) – in a fight Rodriguez won by unanimous scores of 40-36, 40-36 and 39-37. Despite losing most rounds by narrow margins, Davila, trained by 2000 U.S. Olympic head coach Tom Mustin, caught Rodriguez with enough quality punches to make ringsiders speculate about what could happen the first time Rodriguez is matched with a heavier-handed foe.
Opening bell rang at The Joint in Hard Rock Hotel at 5:31 PM local time.
Photos by Chris Farina / Top Rank