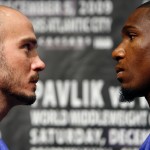 According to Dan Rafael of espn.com, the much anticipated showdown between Middleweight champion Kelly Pavlik and Paul Williams has been postponed for a second time due to a lingering Staph infection in the left hand of Pavlik.
The bout was originally scheduled for this month and later postponed to December 5th in Atlantic City will have to wait some more.
"It's the same finger giving him problems. They told me he can't make a fist," Top Rank promoter Bob Arum said. "It's getting better and better but it's going a little slow. So, we'll see."
"This morning we were advised that Kelly Pavlik's recovery of his left hand has not progressed as projected by Dr. Peter Evans at the Cleveland Clinic," Top Rank president Todd duBoef said. "As a result of this Kelly is unable to close his left hand, which prohibits from him from being prepared for a Dec. 5 middleweight championship defense against Paul Williams.
"We at Top Rank are disappointed by this unexpected development in his recovery. Once Pavlik is cleared medically by Dr. Evans we will pursue all avenues with regards to a future bout. We appreciate the understanding of Paul Williams, [his promoter] Goossen Tutor, HBO and Caesars Atlantic City with regards to this unforeseen occurrence."
"He's trying. He's been running, he's been trying to train in the gym," Jack Loew, Pavlik's trainer, was quoted as saying on the Web site of the Youngstown (Ohio) Vindicator, Pavlik's hometown newspaper. "He's trying to shadow box with one hand, hit the speed bag with one hand. I've been trying to keep it a secret but it's not going great and I'm not going to fool anybody any longer.
"I'm sure we're going to get a very bad reaction from their people and I don't blame them. But we've got to do what we've got to do."