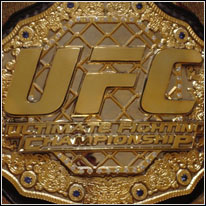 FAIRFAX, VA – It was a pro-Korean Zombie crowd in Fairfax, VA and their man surely didn't disappoint. Fighting in front of a supporting group of Korean Americans and hardcore MMA fans, Chan-Sung Jung (13-3) of South Korea put on a heck of a show, going toe-to-toe with the technically sound Dustin Poirier (12-2) over four scintillating rounds before emerging victorious with a perfectly executed d'arce choke.
After a quick clinch in the opening seconds, Jung secured a takedown and drew blood on the American's head with sharp elbows from the top. Poirier's tricky guard got him the reversal for a bit before the two stood back up in the final seconds to trade blows.
Jung dropped Poirier again in the beginning of the second and hurried to go for a ground and pound. Poirer pulled guard and eventually got back up. A flying knee followed by a series of uppercuts and a scramble led to Jung gaining full-mount. In another fast paced scramble, Poirier almost got caught in an arm bar, but managed to escape. Seconds before the bell, Jung nearly ended the fight again with a triangle lock.
Poised to box in the third, Poirier threw jabs and found his mark with well timed right hands. But call him the Arturo Gatti of MMA if you will, the man they chanted, 'Zombie' can't seem to stay out of a brawl if he wanted to. Forcing the action against his tiring foe, Jung walked through punches to dish out punishment of his own, hurting Poirier against the cage before the bell.
The fourth saw another flying knee from Jung that had Poirier collapsing to his knees. Jung then immediately locked up a d'arce choke, which rendered Poirier unconscious. The referee stepped in at 1:07 to call a halt to the contest.
In the post fight interview, Jung alluded that his last win against Mark Hominick could've been a fluke, so he was reluctant on calling out the champ. But this time around, he begged to differ.
'I want to thank all the Korean fans. He (Poirier) had me in trouble in the beginning of the third, but I just kept going and came up with the win. I want Jose Aldo!' said Jung .
SADOLLAH EDGES LOPEZ
The main supporting bout evening saw a duel between welterweights Amir Sadollah (7-3) of Richmond, VA and Las Vegas, NV's Jorge Lopez (11-3), won by Sadollah after three close, competitive rounds. Official scores were 29-28, 28-29, and 29-28.
After a feel out start to the round, Lopez was able to takedown Sadollah and attempted to maneuver a kimura. Sadollah got back to his feet and escaped the submission attempt, but didn't do much else to take the round.
Lopez, a Wanderlei Silva's protégé based out of Las Vegas, NV, went for the takedown again in round two, but was countered by a guillotine attempt from Sadollah, followed by a scramble that led both guys back to their feet. Just when Sadollah appeared to be in control of the final minute, Lopez caught a leg and finished with a takedown.
The third frame saw another arduous effort from Lopez to take Sadollah down, but the Ultimate Fighter 7 winner displayed solid defense against the cage. Sadalloh was briefly taken down and pull guard before standing back up. It was almost seemed like a stall tactic for Lopez to push his foe against the cage, garnering a loud jeer of boos from the crowd in the closing seconds. To Sadollah's credit, he tried to keep the fight standing and contributed more in the striking department.
CERRONE BREEZES THROUGH STEPHENS
Fan favorite Donald 'Cowboy' Cerrone (18-4-0, 1NC) didn't disappoint the crowd, pounding out an easy yet still exciting unanimous decision (30-27 3x) win over San Diego, CA's Jeremy Stephens (20-8). Cerreone, an Albuquerque, NM product, goofed and danced around in round one, but landed some sharp punches and leg kicks in the process. By the end of the round, the shorter Stephens appeared battered as his face was already busted up. In the second, Cerreone landed a crisp one two combination and launched a series of leg kicks that hurt his opponent. The third and last round was no different as the Greg Jackson trained fighter continued to dissect Stephens in every aspect of the game.
This was Cerrone's first comeback fight since the disappointing loss to Nate Diaz at UFC 141. With the win, Cerrone keeps himself relevant in the lightweight picture.
With the great Georges St. Pierre nearby his corner, Montreal's Yves Jabouin added himself to the red hot bantamweight mix with a brutal, impressive three round beat down of Enumclaw, WA's Jeff Houghland.
Jabouin initiated action with a quick right hand and a spinning back kick that kept Hougland at bay. Towards the end of the round, Jabouin landed a hard kick to the midsection, dropping Hougland hard before relentlessly going for the finish with a series of hammer fists. The Washington native showed tremendous heart in absorbing the furious ground and pound attack before getting saved by the bell. Hougland regrouped in the second round, but Jabouin was the one on the offense, scoring with jabs and kicks to the body. A hard left hook dropped Hougland again and another assault from the top ensued. Managing to scramble out of position, Houghland hung on from half to full guard and eventually heard the final bell. Still, it was a dominant performance by Jabouin, who improves to 18-7. Scores were 30-27 (2x) and 30-26. 'It feels awesome. Once that back kick sinks in, a lot of guys can't withstand it. UFC does a great job matching me up with tremendous opponents.' said the victorious Jabouin.
In a thrilling light heavyweight war, Croatia's Igor Pokrajac (25-8) outlasted pro boxer Fabio Maldonado of Brazil (18-5) over three heated rounds.
The opening stanza saw Pokrajac quickly taking his boxer foe to his back, sustaining top position for the first half of the round. Maldonado eventually escaped and unleashed a barrage of unanswered combinations to the head that had Pokrajac in trouble. However, the Croatian was no slouch when it came to striking, coming back in the second round with combination punching of his own, staggering Maldonado and then going for a double leg, followed by a strong knee during a clinch. But the better boxer was Maldonado, who has an unbeaten professional boxing record of 22-0, 21KOs. Maldonado was landing hard shots to the body before stealing a takedown in the final seconds before the bell.
Maldonado was adamant in digging deep to the body in the third, something not commonly seen in the game of MMA. Pokrajac was more than just game, being able to fight off the fence and land hard shots of his own. The two hitters exchanged furiously in the closing seconds, but it was Maldonado who landed the cleaner shots with his superior boxing technique. Decision was met with a jeer of boos from the crowd as Pokrajac escaped with a controversial but unanimous scores of 29-28 (2x) and 30-27.
The animated Tom Lawlor (8-4, 1NC) of New England kicked off the FUEL telecast with an explosive first round stoppage win over rugged veteran Jason MacDonald (26-16) of Canada. Lawlor wasted very little time forcing the engage before landing a hard left and followed by a right to send his Canadian foe to the canvas. Before any further damage was inflicted, the referee stepped into call the bout to a halt at :50. Along with the win, Lawlor also celebrated his twenty ninth birthday. 'It feels great (the win). I came back here started signing the checks — forgot what it was like to win and almost walked off without it. I really needed this win coming off a bad loss, a long layoff, switching camps and moving basically my whole life. I really needed something to validate that I'm making the right decisions in life.' said Lawlor following the win.
In a crossroad bout between two fighters desperately in need of a win, Brad Tavares (7-2) of Las Vegas, NV edged Seoul, Korea's Dongi Yang (10-3) in a three round middleweight contest. In round one, Yang was the aggressor, but Tavares was more versed in his attack, able to land leg kicks and cleaner punches. On three occasions, the bout paused abruptly, due to thumbing from both fighters. Yang was more composed in the second, landing a crisp front leg kick on the chin of Tavares. Both guys traded and checked leg kicks. Yang hurt Tavares with a straight left and moved forward with hard leaping hooks. The last two minutes of the round saw some clinching against the cage although neither guy held the clear upper hand. Tavares scored the first effective takedown of the fight in the opening seconds of the third. Yang was held down for nearly two minutes, which appeared to have taken some steam out of the South Korean. Tavares then followed with a kick to the groin, making matters worse for the fatiguing Yang. Not much happened in the final two minutes, but Tavares may have won that round based on the takedown early on in the round. When Bruce Buffer announced the decision, Brad Tavares was awarded with the unanimous verdict of 29-28 (3x).
'It feels good to get back in the win column. It wasn't the prettiest fight but I really did try to take his head off. I kicked him a lot and my shins are sore from kicking his elbows. He's no chump, no walkover. Look at his record — he's never been stopped and has only stopped people. I'm just glad I got the victory.' said Tavares who was relieved with the unanimous decision win.
The first bout of the evening saw bantamweights Alex Soto (6-2-1) and Francisco Rivera Jr. (8-2) go head to head in a battle of Californians. From the opening round, Rivera was the aggressor, trying to time his right hand while Soto moved and circled to pick his Muay Thai kicks. Soto was wild in his attempt to shoot in for a takedown and paid the price when Rivera countered with punches. Rivera was more methodical in his approach in the second frame, still playing the aggressor, but effectively landing leg kicks. Soto was persistent in going for takedowns and Rivera seemingly took the round with harder shots. Soto briefly secured a takedown in the first minute of round three, but Rivera rose back shortly after and resumed in control with constant pressure and more accurate striking. All three judges at cageside scored the bout 30-27 in favor of Rivera.
Long time veteran Jeff Curran (35-15-1) is still winless in the UFC, after dropping a decision loss to Brazil's Johnny Eduardo (26-9). Both veterans fought cautiously in the first round, but it was the Brazilian who consistently landed low kicks throughout. A lot of bobbing and weaving took place, but no major punches were landed in the first two rounds. In the third, Curran showed urgency by throwing more punches and was able to land something that seemingly bothered Eduardo. Eduardo briefly stopped engaging, claiming he was thumbed, but the ref did not intervene. Regardless, Eduardo kept landing his right kick while Curran continued to press the attack and headhunted. Neither guy was able to score a takedown. After three rounds, scores were 29-28 (3x), all in favor of Eduardo.
Northern Virginia's own Kamal Shalorus (7-3-2) was looking to put on a showcase in front of his home crowd, but a left kick to the head from Brazil's Rafael Dos Anjos (16-6) sent him crashing to the canvas, followed by a tight rear-naked choke to seal the deal. With another explosive first round win, Anjos again keeps himself relevant in the lightweight picture.
GRANT OUTHUSTLES PRATER
In a collision of two seasoned combatants, Nova Scotia's TJ Grant (18-5) emerged victorious after out-working Brazil's Carlo Prater (30-11-1) over three rounds. Grant worked the clinch early on, but the Brazilian defended well against the cage. After a quick scramble, Grant secured the top position and transitioned to side control seconds before the round had ended. Grant gained side control again in the second and landed some punches and elbows in a crucifix-like position. The Canadian quickly went for the takedown in the third but got caught in a guillotine choke. The choke was not fully sunk in and Grant was able to pop his head out. Prater's back was then exposed and Grant went in for a rear naked choke and later, an arm bar, but to no avail. In the end, Grant's superior work rate and dominant grappling earned him the unanimous nod. Scores were 30-27 (3x).
MCKENZIE STUNS LEVESSEUR
The anticipated UFC debut of former NCAA standout Marcus LeVesseur (21-6) turned out to be disastrous as Cody McKenzie (13-2) survived a furious onslaught in the opening minutes before turning the tide to claim victory in the first round. A determined McKenzie charged across the cage as soon as the bout began, but LeVesseur demonstrated his wrestling prowess with an immediate takedown to retaliate. Levesseur also displayed quickness on his feet, tagging his awkward foe with hard shots and got on top before going for a modified guillotine choke. McKenzie weathered the storm and moved to full guard and locked in a guillotine of his own, forcing the former unbeaten four time NCAA champion to tap.
'He was really strong. It's a fight. I kind of blacked out. ', said the jubilant McKenzie in the post fight interview.