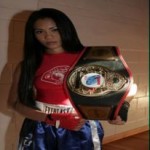 The sport of women's boxing has come a long way since Christy Martin first appeared on the cover of Sports Illustrated in 1996. Many fight fans and pundits did not know what to think at first, as Martin, and soon others, began drawing attention to themselves on televised undercards. In the early stages of women's boxing, technically correct bouts between quality fighters was a rarity. Today there is a new wave of female fighters with solid amateur backgrounds ready to change the perception of women's boxing for the general public. One of the leading candidates aiming to take the sport to the forefront is Daly City, California's Ana "The Hurricane" Julaton, a gifted boxer trained by Freddie Roach, with tons of amateur credentials and a crowd-pleasing style and look to match.
Julaton (3-0) began her road to boxing with an interest in martial arts. "It might have been passed down by my Dad," says Julaton. "He was into martial arts, and would always watch Bruce Lee. By the time I turned ten, my brother and I started doing martial arts, training with Nonito Donaire's girlfriend Rachel [Marcial]." She became champion in taekwondo, but eventually her interest in the sport waned. "I did it for about eight years," remembers Julaton. "I felt like it was too much of a sport, as opposed to real practical self defense." Julaton shifted her martial arts training to the West-Wind School in Berkeley, California, which also happened to offer boxing. At the time, Julaton was by no means a boxing fan, or interested in becoming a boxer. "I saw it as an entertainment thing," says Julaton of her early opinion on the sport of boxing. "I didn't find the value of it. I didn't appreciate it. I saw it as more of an ego thing than an art thing. I was not a fan of boxing, I hated boxing."
West-Wind coach Angelo Reyes, one of the boxing instructors, would expound some of the virtues of boxing to Julaton, drawing parallels between the sport and martial arts. After four years at West-Wind, Julaton took up the sport of boxing at the urging of Reyes and quickly displayed an innate capability. "After two weeks of training, we put her in the San Francisco Golden Gloves and she won the silver," recalls Reyes. "She fought a girl named Cleo Chan in the finals. She was a top fighter, ranked number four in the United States," remembers Reyes. Julaton gave a good showing, but lost to her far more experienced opponent. "Right after that Golden Gloves fight, we said 'let's go with this'." Just like that, Julaton's unexpected amateur boxing career was underway. "Ever since then, it kind of just took off," says Julaton. "It just happened by chance." As an active competitor, Julaton's outlook on the sport of boxing also changed. "It is very pure," proclaims Julaton. "That is one thing I really appreciate about boxing. I get to find out more about myself and challenge myself in many ways."
One of the small hurdles Julaton had to surpass as an amateur boxer was that she was not completely comfortable in the limelight. With a background in taekwondo, Julaton was used to competing as others were competing simultaneously on different mats at the events. In boxing, all the attention is focused on the one ring, and the two competitors inside. Angelo was instrumental in getting the once self-effacing Julaton comfortable in the ring. "I felt like I eventually got used to it," says Julaton. "Angelo was trying to set up fights for me every weekend. He wanted me to get passed that, just get used to the whole scenario of people watching me. Just being able to have that showmanship and have that confidence in the ring. I was shy, but I felt I had good backing and a good setup the way Angelo and West-Wind were able to do it for me."
In 2005, Julaton would return to the finals of the San Francisco Golden Gloves. That year the tournament was televised nationally by Comcast, and thus most of the competitors would be receiving more exposure than they had prior in their amateur careers. Julaton would meet talented local amateur star Cynthia Talmadge of San Francisco. "[Talmadge] was one of the best fighters in San Francisco at the time, and they made the best fight on TV and best fight of the tournament," recalls Reyes. "Cynthia Talmadge won a split decision, but in a way it was the best thing to happen for Ana. She ended up winning the hearts of the people. When you watch that fight, you can tell Talmadge was more skillful because she had more experience, but Ana really had that power and charisma. So even though she lost, she kind of really won."
In November 2005, while still in the learning stages of her amateur career, Julaton would test herself against the top boxers from across the country at the National Golden Gloves. Julaton would meet Melissa Roberts of Manchester, Connecticut in the semi-finals. "She was ranked number one in my weight class nationally. I knew I was an underdog," recalls Julaton. In facing the top 125-pounder in the country, with her limited experience level, Julaton went into the bout with an all or nothing approach. "If she is really that good, then she is going to stop me," Julaton decided. "I just kind of wanted to see what she had. I feel I didn't do too bad. She was tough, a good opponent. She was throwing a lot of punches and she was a southpaw." Roberts would be unable to stop her, winning a decision. It was an eye-opening performance against a high level opponent for Julaton. "She won the bronze medal. No one expected that," says Reyes. "That was only her twelfth or thirteenth fight."
Late in 2005, Julaton and Reyes would forge a relationship with current two-division world champion Carina Moreno of Watsonville, California and her trainer Rick Noble. Moreno is unquestionably one of the top female fighters in the sport, if not the top pound-for-pound female today. Noble is Moreno's well-respected longtime trainer. "Rick has been one of her coaches for the last three and half years now. So you see a similarity with Carina's style, defensively, and Ana's style," says Reyes. Both Reyes and Julaton credit much of their success to the expertise Moreno and Noble have shared with them. "On and off Rick has always been a part of Ana's training team. Part of the reason Ana has moved so quickly is because, whenever we are not at Wild Card, she always is working with Carina and Rick," says Reyes. Julaton has greatly benefited from training alongside Moreno, who has become one of her closest friends in the sport. "She is an awesome person and I phenomenal boxer," says Julaton. "Just for her and Rick to share all of their knowledge, and to be with me, I really appreciate all of the things they have done for me."
The following year Julaton would get on a roll and quickly become one of the top amateur fighters in the U.S. "When 2006 hit, she was just on. There was no way she was going to lose anything in '06, that was her big year," recalls Reyes. In March, Julaton would again find herself at the finals of the San Francisco Golden Gloves, again opposing Cynthia Talmadge. Her opponent held two amateur victories over her, having defeated her in the finals of the Gloves and at the U.S. Regional box-offs in Sacramento, California the previous year. While injuries played a role in both previous bouts, Talmadge's experience advantage was likely the greatest overriding factor. This time, Julaton would not be denied, scoring a lopsided decision victory to claim the title. It was a big victory for Julaton, who by now found herself in the top-five of her division in the amateur rankings, but she did not take much time off to enjoy her title-winning effort. "It felt good. It was hard for me to capture the moment at that time," remembers Jultaon. "The next day I felt I had to wake up early and start my training again, instead of taking a break. Angelo got me into a schedule where I had to be fight-ready all the time."
While it is very likely San Francisco Bay Area amateur stars Julaton and Talmadge will meet somewhere down the line as professionals, Ana plays down the potential rivalry. "I have no personal agenda against anyone," says Julaton. "A fight is a fight. I feel like you can not really place a person based on their hype. I feel like my opponents are faceless. I don't try to cater to the targeting of this person or that person. Beating Cynthia Talmadge, it was great to have the win, but at the same time, I have nothing against her." The Golden Gloves win did give her heightened exposure and notoriety in the area. People on the street would recognize her as the boxer that won the Gloves. "For me, it shot up my confidence a lot," Julaton adds.
Julaton's momentum continued through several other amateur events in 2006. "She fought a National Diamond Belt and won that, she fought a San Francisco Diamond Belt and won that," remembers Reyes. Julaton won the California State PAL Championship that year as well. "She kept winning and was on this great winning streak. Then we went to the U.S. Championships and the computer robbed her." Julaton entered the tournament in Colorado Springs, Colorado in hopes of winning the national title at 125 pounds. After winning a decision in the preliminary round, Julaton met well regarded Katy Klinefelter in the semi-finals. "Late in the match Ana was winning by two points," recalls Reyes. "If you were to watch the fight, you would have say Ana should have been winning by more than that. With like fifteen seconds left, the computer registers three points for Katy." The close loss was disappointing for Julaton, but she was determined to return to Colorado in 2007 and win the title.
Julaton returned to Colorado Springs the following year in an attempt to win that elusive national title. She had stayed an amateur specifically to win the title before turning pro. Again it would appear to Julaton and her team that she was not receiving a fair shake. "We thought she was treated poorly by boxing establishment," remembers Reyes. "The computer was messed up again. She was beating the hell out of [Quadriyyah Marshall] in the semi-finals, and she almost lost that. She was behind in the last round on points, after clearly beating up on the girl," says Reyes. "She then made it to the finals. She was clearly beating [Stephanie Eggink] in the first round, but the score was tied. Ana came at her even harder, but we were somehow down by eight. She basically just pummels the girl in the final round going for a knockout, but loses on points," recalls Reyes.
After working so hard, and coming so close to her goal, the loss was hard for Julaton to digest. "Thinking about boxing, I always equate it to fighting," says Julaton. "From her body language, I felt that I was able to take her confidence away. I had opened up her nose. By the time the third round came, her demeanor changed and she looked confident and I did not know why. Angelo didn't tell me the score, but he said not to worry about points, just go out there and hurt her. She just kept running away and at that point I knew I was behind in the score. That right there kind of did it for me and the amateurs," says Julaton. "If someone is going to work hard for something, and I felt like I did, and if I lose I would rather lose to someone who fought me hard. I would rather lose to someone who is going to go in there and challenge me and really beat me up. I didn't feel that way at all," remembers Julaton. "I felt like I was in the lead…then to just have that taken away from me. I feel like I am in the best shape of my life, and to have this girl just stay away and throw jabs and she gets rewarded for that. It was tough, it was a tough time." "At that point, it was pretty clear that Ana would never fight as an amateur again," adds Reyes.
Towards the end of her amateur career, Julaton added a future Hall of Fame trainer to her team. Reyes and Julaton made a visit to Freddie Roach's Wild Card Boxing Club in Hollywood, California. Freddie and her worked out in the ring and immediately had a good rapport. "It all happened by chance," remembers Julaton. "We got to visit him in 2006. After the U.S. Championships in 2007, Angelo started talking to him, and I worked the mitts with him, and it just went from there." Eventually Roach decided to add her to his large stable of fighters, which includes Filipino legends Manny Pacquiao and Gerry Penalosa. Currently she is the only female fighter Roach trains. "She's one of the guys, because I don't train girls any different than I train guys," says Roach. One of the things that impresses Roach most, is Ana's work ethic. "As for all my fighters, if they work hard then I am happy. She works hard, so it is work as usual." By training with Roach at Wild Card, Julaton gets world class sparring against top male fighters. "We try to bring in females, but it is hard sometimes," says Roach. "So sometimes she will spar with Diosdado Gabi and Gerry Penalosa and those guys. It is really good for her, because she is never going to fight a girl as good as those guys."
It would seem obvious that Julaton would decide to turn professional, but that was not a given once her amateur career ended. She had originally dreamed of competing in the 2008 Olympics, but Olympic officials again decided to not have women's boxing as part of the games. "It was a pretty big blow for Ana," remembers Reyes. "What she really wanted in 2008 was to win a gold medal, whether it was for the Philippines or the United States, she really to go a win the gold." Among others, Julaton confided in friend Carina Moreno while making her decision to turn professional. After spending a couple weeks with Moreno and her trainer Rick Noble, Julaton decided she would turn professional.
Training alongside Manny Pacquiao would be a dream come true for most aspiring professional boxers. For Ana it is an opportunity to work alongside one of her heroes. Pacquiao has also been impressed by Ana, and understands the effect his presence has on her. "She's a good fighter," says Pacquiao. "She wants to be world champion. I love to give her inspiration and moral support." Pacquiao also played a role in planning her pro debut. Pacquiao was getting set to meet Marco Antonio Barrera in a rematch as Julaton readied herself for the paid ranks. "Manny stepped up and said 'you know what, I want her to have a big pro debut splash, put her on my undercard,'" says Reyes. Making her pro debut on a Pacquiao pay-per-view undercard seemed almost too good to be true for Julaton. "It is a big honor, and I can't even explain it in words," recalls Julaton. "For some reason all these doors are opening." Unfortunately, Julaton's scheduled opponent, Hondi Hernandez, weighed in seven pounds heavier than her, and the Nevada State Athletic Commission would not allow the fight. "[Nevada Commissioner] Keith Kizer really didn't believe the hype," says Reyes. "So even though Ana and Freddie still wanted the fight, Keith couldn't allow the fight."
One month later Julaton did make her pro debut, dropping eleven-fight veteran Rita Valentini twice en route to a four-round unanimous decision at the Morongo Casino Resort & Spa in Cabazon, California. While it was disappointing to not make her pro debut in Las Vegas on Pacquiao's undercard, the experience did help calm her nerves for her actual premiere. "It was disappointing, but in a way I am kind of glad it happened, because when I did finally make my pro debut, I had felt all that tension already," says Julaton. "I just felt like I could think coherently in there, so it worked out."
Three months later, in February of this year, Reyes lined up a major step up opponent for Julaton in world-ranked Carly Batey. "Batey at that time was coming off a very controversial loss to Monica Lovato," says Reyes. "The girl is really good. I still think Batey will win a world championship at one point too." Facing such a tough opponent so early in her career did not worry Jualton. "I knew she was a good fighter. I knew she was aggressive," says Julaton. "I felt that if I am going to do this pro thing, and be a world champion, why not fight someone who is going to be challenging? In order for me to be a world class champion, I have to know a whole lot of things. I feel like I should be able to see my opponent and know them just like that. I felt like I was ready for it, and I wasn't intimidated." Julaton would go on to win a six-round split decision over her veteran opponent in a hard-fought battle. "Ana jumps from a four-rounder to a six-rounder against this killer Carly Batey and she beats her," recalls Reyes. "That really opened up some eyes."
Julaton followed the win over Batey with a nationally televised four-round decision over Clara De La Torre in March at the Hard Rock Hotel & Casino in Las Vegas the week of Manny Pacquiao's rematch against Juan Manuel Marquez. Manny's brother Bobby Pacquiao was also on the bill, which made the experience even more of a thrill. "It was cool to be in the backroom with Bobby Pacquiao and Team Pacquiao," says Julaton. "Just being able to watch Manny and to see how he is composed in the public. I admire the guy, he is phenomenal. I had to just sit back a lot of times and watch. I feel very privileged, and I thank Top Rank. To have a TV fight, that is incredible."
Julaton's early ring success has given Reyes and famed promoter Bob Arum of Top Rank ideas of matching her with WBC Super Bantamweight Champion Jackie Nava (17-2-2, 9 KOs) in the not so distant future. "Bob's big plan is to have Ana fight Jackie Nava in Macau in November," says Reyes. "It really depends on how Ana does until then." In order for a bout with Nava to be a reality this year, Julaton needs to fight well and often. She does have an advantageous schedule planned in the immediate future. On Thursday, June 26th, Julaton meets Salina Jordan (2-4, 1 KO) at the Tachi Palace Hotel & Casino in Lemoore, California. Less than ten days later, Julaton will risk her WBC #13 ranking and unbeaten record against fellow former U.S. Championships finalist Johana Mendez (3-0, 1 KO) at the Planet Hollywood Resort and Casino in Las Vegas, Nevada on July 5th. While by no means overlooking Jordan, Reyes understands that Mendez poses the bigger threat. "The Johana Mendez fight is one we are concerned about," says Reyes, "because Mendez won the silver medal last year. She has a solid amateur background. She is really strong, she throws fast combinations and she has a good team behind her."
Many fighters and trainers would be hesitant to plan two fights so close together, because any mishap in the first fight could have a negative effect on the second. "The biggest reason Freddie allowed it, was Ana's style of fighting is similar to Carina's style of fighting. She doesn't really get hit," says Reyes. Julaton's early success gives Reyes additional confidence. "To date, Carly Batey is probably Ana's toughest fight and I don't think either of these girls are better than Carly Batey." Julaton has no apprehension about competing twice in just over a week's time. "For me, it is exciting again," proclaims Julaton. "I am going to have all these challenges and I want to pass them. I look forward to it. I feel like the biggest part of my fight is the training. If I get to level where they need me to be, then I feel I will be ok."
The idea of fighting for a world title, against an accomplished fighter like Jackie Nava, would be a pretty daunting notion for most fighters. While her focus is on the fighters in front of her, talk of a title bout does enter her mind. "It is in the back of my mind. It keeps me humble, it keeps me hungry," says Julaton. "I think about it, but not to the point where I am going to look past all these plans in front of me." Reyes' plans to have Julaton win a world title so early give him cause to compare her to another female athlete of a historically male driven sport. "I believe no female has won the WBC title in her rookie year," says Reyes. "Like Danica Patrick tried to win a NASCAR race in her rookie year, but she couldn't do it. I think the closest she got was fourth place."
As for every female athlete, Julaton battles the stereotypes engrained in our culture about what women can and should do. "There is really a double standard, not only in boxing, but in life," says Julaton. "I feel like that is just part of the responsibilities of being a female boxer. It is going to take a lot more effort for women. Women's boxing is still sort of a novelty. It is going to be tough, but I still find virtue in everything. In women's boxing, I feel it is starting to appeal to a lot of more people." Another stereotype Julaton battles, as a strikingly attractive woman fighter, is that people doubt she can actually fight because of how she looks. "Ana has been battling that for years," says Julaton. "To this day there are women fighters out there that say Ana is not that good, she just looks pretty. It isn't until they get in the ring with her that they realize that this girl can really punch." Reyes believes Julaton separates herself from the pack much as Patrick does in NASCAR. "Like Danica Patrick, Ana is really changing the sport," says Reyes. "It wasn't like Danica Patrick was the first woman racer. There were plenty of other female racers. They just weren't as pretty as her. But for Danica Patrick to win fourth place in her rookie year, in a real race, I think that is when the public realized she could really drive. What more do you want, than a hot girl who can really fight."
A constant throughout Julaton's boxing career has been her original trainer and advisor Angelo Reyes. They have developed a close relationship over the years, one that both value greatly. "As I continue on with boxing, all these opportunities continue to float about," says Julaton. "To have Angelo since the beginning, I know I can trust him, he is my go to guy. I feel fortunate he is in it as much as I am. I feel really lucky he is so intense with it, as I am I, and we stick together." Reyes, who had just introduced a boxing program at West-Wind School before Julaton took up the sport, is completely dedicated to advancing her career. "We have actually had people tell her 'you will never make it in boxing, studying it at a martial arts school.' For her to have proved them all wrong. That is what is most satisfying to me," says Reyes. They way they have developed both as fighter and trainer closely mirrors notable famous boxing relationships. "Much like the Calzaghes, or Winky Wright and his coach, we kind of grew up in boxing together," says Reyes. "Ana's a great person. It has been a really fun ride. We have a great relationship. I always knew she would make it."
There comes a time when top female athletes decide if they are going to take time away to have a family, or not. Julaton's primary focus right now is her boxing career, but she does have a timetable set for when she will make up her mind on that point. "I think about having a life, but I keep thinking my magic number is 30," says Julaton, who fights on her 29th birthday in July. "That is when I will really decide what I am going to do in my personal life. Right now, I am perfectly happy being here doing what I am supposed to do. It is not my priority right now, but I am perfectly happy with it." Julaton does have one other passion outside of boxing. "Being a martial arts teacher, I enjoy doing that," says Julaton. "I could do that the rest of my life. I feel with boxing, that it could be a vehicle for me to shed more of that energy to others, in terms of being able to reach out to a lot more people."
Julaton advisor Angelo Reyes mentions the similarities between Julaton and racing star Danica Patrick. While the comparison is surely there to be drawn, with both being highly attractive females competing at a high level in a male dominated sport, there is something about Julaton that separates her from Patrick. There is something seemingly manufactured about the NASCAR star, whereas Julaton is completely authentic. Her connection to boxing seems far more spiritual, far more real. Boxing may eventually serve her as a springboard to mainstream stardom, but it will not be by her design. "If I never had boxing at all, I would be perfectly happy doing what I am doing with martial arts."
Mario Ortega Jr. can be reached at ortega15rds@lycos.com