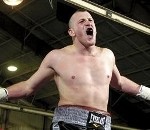 Up and coming Maryland Light Heavyweight prospect Mark "TNT" Tucker 11-0(7) has enjoyed the opening 18 months of his pro career. While there is still plenty of hard work to do, he's made a pretty good start and has made an impact amongst several other fighters at the top of the Boxing food chain who regularly use him for sparring. It works well for both sides, it allows the other fighter to get into the best possible shape whilst it gives Tucker valuable experience. He hopes to soon move from Prospect to contender in a division that for the past several years has been largely occupied by the more senior of Boxing's big names. However Tucker hopes to be one of the new breed who can take on the mantle as a possible successor at 175. The signs are positive, stay tuned as over the next year he will look to break out into the leading pack.
Hi Mark, welcome to 15rounds.com
Anson Wainwright – Your next scheduled to fight on 25 September in your home State of Maryland. Do you have an opponent yet?
Mark Tucker – No we don't have anybody at the opponent but we are working it as we speak.
Anson Wainwright – You've moved quite quickly in your pro career to date, your fighting in 10 rounder's barely 18 months into your career. How far do you think you are from developing from prospect to contender?
Mark Tucker – I am hoping to become a contender by early next year.
Anson Wainwright – Another guy at 175 who has developed quickly is Beibut Shumenov who will be looking to win the WBA World title in his ninth fight soon. Is this something you hope to emulate?
Mark Tucker – I wouldn't mind getting a big shot soon but I'd like to take my time as a fighter. I want to let everything fall into place as it goes, that will suit me best.
Anson Wainwright – Can you tell us about your amateur career, what titles you won and what your final record was?
Mark Tucker – I won all of the local Golden Glove tournaments (Maryland, DC, Virgina, Delaware, New York State). I won a bunch of Silver gloves too, fighting in a bunch of ringside world championships in the process. I had approximately 140 wins as an amateur and 20 losses. I was rated by USA boxing in 2007.
Anson Wainwright – What top pro's have you sparred with and how did you feel you did?
Mark Tucker – I have sparred with a whole lot of top pros since I was young. Mark Too Sharp Johnson, Sharmba Mitchell, William Joppy, Teddy Reid, Paul Williams and a few others. I am going to camp with Glen Johnson shortly too. It will definitely help prepare me for my fight. Paul Williams really liked me and had some great things to say, which I appreciate.
Anson Wainwright – What do you like to do away from Boxing?
Mark Tucker – Hang out with my friends ride four wheelers, big trucks, go camping, hiking, ride bikes and just relax.
Anson Wainwright – How did you get into Boxing?
Mark Tucker – My dad used to box. When I was around 12, he took me to the gym and I have been here ever since!
Anson Wainwright – Who was your hero growing up?
Mark Tucker – Bruce Lee. It was incredible what he did for martial arts and the way he took care of his body was phenomenal. He also had a rep as a good person.
Anson Wainwright – What are your career goals?
Mark Tucker – I want to become a world champion and remain undefeated when it is all said and done. I want to be the best.
Anson Wainwright – Is there anything you wish to add Mark?
Mark Tucker – Come out to the fights on September 25th. I am fighting for my first title, the USBO Light Heavyweight belt. I had 2,500 of my fans come out last time and we expect even more this time. I hope to see you all September 25th at the Shipley Arena in Westminster, MD you won't be disappointed!
Thanks for your time
Anson Wainwright
15rounds.com