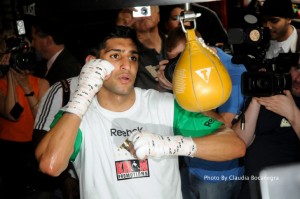 Amir Khan, who wears lightning bolts on his dark trunks, is a lightning rod for controversy, especially in the week after Danny Garcia stopped him in the fourth round of an upset that few foresaw.
The attention on Khan is unfair to Garcia, but that's built into a modern star system created and sustained by social media. Khan, a designated star since the 2004 Olympics, knows how to use it. Garcia, a relative newcomer with an annoying trash-talker for a dad, does not.
Stardom looms for the unbeaten Garcia.
It's not quite so clear for Khan.
But here is a scorecard, a guide of sorts, on what Khan should do and not do:
Retire: Ridiculous. Fellow Brit Carl Froch said he was misquoted by the BBC. Whatever Froch said or didn't say, it's safe to assume Froch would have a more damning comment if the 25-year-old Khan did in fact retire. There's another way to describe a young fighter who retires a few years from his prime. He's called a quitter. Khan is not. He proved that by fighting back after the third-round knockdown and getting up from a knockdown early in the fourth.
The chin: Golden Boy promoters insist that Khan proved he could withstand power in 2010 when he survived Marcos Maidana's crushing blows in the 10th round. But the Maidana fight created a dangerous illusion that Khan could take a big punch. Khan believed it. That's why he decided to brawl in the fourth against Garcia, who dropped him twice in the round. Remember, Maidana's punches landed late. Garcia's biggest punch landed early – in the third. If it hadn't ended in the fourth, it would have in the fifth or sixth or seventh. Khan fought as if he thought Maidana had inoculated him from having a weak chin. No, he just needs to know he must use superior skills to protect it with his reach, jab and feet. A fragile chin, which Khan leaves high and exposed, is not a career-ender. From Floyd Patterson to Lennox Lewis, history is full of fighters who have learned to fight despite it and perhaps succeed because of it.
Freddie Roach: Don't fire him. UK media are full of stories about Khan hiring a new trainer who can teach defense. Roach is known for emphasizing offense. Hard to blame him. A little more offense from Manny Pacquiao might have resulted in a stoppage that would have averted the flap over his split-decision loss to Timothy Bradley. It's an insult to say Roach can't teach defense. Boxing isn't football. Offense and defense aren't played by different squads and coached by different coordinators. They are inseparable. Khan just has to suspend a confidence bordering on arrogance and remember to execute a Roach plan with tactics defending the chin while augmenting the offense.
Time: There is still plenty of it left. It's too easy of think of Khan as much older, perhaps because he's been a star since the Athens Olympics when he was a 17-year silver medalist. He is still maturing. In a couple of years, Pacquiao will probably be a full-time Filipino politician. A couple of more fights are left in Pacquiao's career. Pacquiao's retirement would mean more time for, say, a rematch with Garcia.
Quotes, Anecdotes
· A sign of Khan's over-confidence can be found in what was missing in his contract with Garcia. It didn't include a rematch clause. A loss to Garcia never seemed to be even a remote possibility to Khan, who in pre-fight interviews often talked about fighting Floyd Mayweather Jr. in December.
· Several possibilities have been mentioned for Garcia's next bout, including Zab Judah and Paulie Malignaggi. A rematch with Khan was eliminated by Garcia's dad, Angel, who in pre-fight exchanges insulted Khan's Pakistani roots. "Why should we give him a rematch when he didn't give us any respect?'' Angel said.
AZ Notes
Phoenix super-bantamweight Alexis Santiago (11-2-1, 5 KOs), nicknamed Beaver, is scheduled Friday night for an 8-rounder in Santa Ynez, Calif., against Roman Morales (10-0, 6 KOs) of San Ardo, Calif., on a ShoBox-televised card featuring former World Boxing Association lightweight champ Miguel Acosta (29-5-2, 23 KOs) of Argentina against Armenian Art Hovhannisyan (14-0-2, 8 KOs).