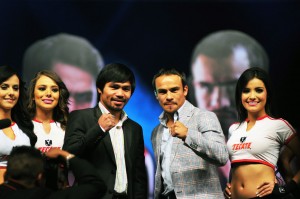 LAS VEGAS – Distractions and Manny Pacquiao have been inseparable for at least a year. But it's beginning to look as if he has discarded that piece of troublesome baggage.
The distracted Pacquiao was gone Thursday. In his place, there was the engaging personality remembered for entering the ring with the smile of a kid headed to a few rounds on the playground.
"He's having fun,'' Pacquiao trainer Freddie Roach said before a formal news conference at the MGM Grand. "When he's having fun, he's hard to beat.''
Little about a rivalry just a few days from a fourth fight, also at the MGM Grand, looks like much fun. Through 36 rounds, Pacquiao has the edge with two controversial decisions and a draw. But instead of celebration, there's been controversy. Marquez argues the ledger should read 3-0 in his favor.
"He claims he won,'' Pacquiao said. "He needs to prove something. I wanted to give him that chance. Maybe he can prove something.''
The momentum, at least, seems to be on Marquez' side, especially if the rivalry stretches to 48 rounds in an HBO pay-per-view bout. Much of the public agrees with Marquez, enough perhaps to finally swing the scorecards in his favor.
"My motivation is that I want them to raise my hand in the ring,'' said Marquez, who showed up at the interview session in a crowded lounge off the casino floor looking edgy in a down jacket that was zipped all the way up to his scarred chin. "I don't want people to just say, 'You really beat him.'
"I want them to know that I beat him.''
For Pacquiao, there might be only one way to do that:
By knockout.
But can he? In 2004, Pacquiao knocked Marquez down three times in the first round. Yet, Marquez managed to recover, rally and fight to a draw. Both have moved up the scale, from featherweight to lightweight for the first rematch and 144 pounds for the third fight. Along the way, there's speculation that Pacquiao lost some power, or at least enough of it to cut his chances at stopping Marquez from good to negligible.
But Roach says Pacquiao was still an evolving fighter in 2004, meaning he didn't possess the right hand he developed against David Diaz in 2008. Before their third fight in November, 2011, there were Pacquiao's well-documented distractions, including marital problems and political campaigns.
"I still say Marquez hasn't seen the best Manny,'' Roach said. "This time he will.''
Evidence of that, Roach said, came in training at the Wild Card Gym in Hollywood, Calif. Pacquiao knocked down sparring partners four times. There were zero knockdowns in training for Pacquaio's controversial loss to Tim Bradley. There were none in camp for his majority decision over Pacquiao about 13 months ago. Pacquiao hasn't knocked down a sparring partner since training for his 12th-round stoppage of Miguel Cotto in 2009.
"Manny said he wanted to go back to the Manny of 2004,'' Roach said. "I wasn't sure that was possible. But he's had four knockdowns in training. He's on fire right now.''
But Marquez has found a way to cool that fire with counter-punching that interrupts pace and prevents the instinctive Pacquiao from getting into a rhythm, an unstoppable roll. There's also the simple issue of Marquez' muscle-bound upper-body, thanks to controversial strength coach Angel Heredia.
Heredia, who joined Marquez for the third fight, testified in the Balco case that he provided performance-enhancers to Olympic track-and-field medalists. Heredia's presence raises inevitable questions. They were there in 2011 and they are back a year later. Marquez, annoyed at all of the questioning, has told the media he is prepared to undergo testing. In the PED swamp, however, there are always rumors and suspicions. Ask Lance Armstrong.
Mexican promoter Fernando Beltran introduced Marquez in a way that only makes you wonder about the relationship with Heredia.
"Built like Hulk,'' Beltran said.
It might be hard to knock down Hulk. It'll be harder to knock him out.
But Roach has his own theory.
"You put on a lot of muscle for a reason,'' Roach said. "If he wants to exchange, that'll be better for us.''