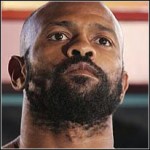 How does Boxing compare to MMA?
ROY JONES JR: Not only do we have to learn the respect for the game, but we have to have respect for hand-to-hand combat because that is very similar to going to war to me. We have soldiers over there now that are fighting for our freedom and their lives are on the line. Every time a fighter goes into the ring to fight another fighter, his life is on the line whether it is MMA or boxing. Even though he is just boxing, his life is still on the line. To me, I just want to close that bridge that the two sports need to be against each other, because they don't.
You are the first big-name boxer to go towards MMA…
ROY JONES JR: I have been one of the few people in boxing that have embraced things first all the time. I am one of the first in boxing the started doing things on my own, my own way. I do understand that I'm the first to do that.
Let's not look at the Roy Jones, let's not look at the Ken Shamrocks or the Bobby Lashleys. Let's look at the kids on the streets nowadays.
Say if yours or my kid would go out to places to have a good time. Say f they get into a problem and they get into a fight. They say, 'all right, we are going to disagree and we are going to fight. May the best man win and we can go on home' My son will come home OK whether he won or lost. And you learn a lesson from that fight. But nowadays it's not like that. Guys don't want to fight fair. They want to jump somebody with gangs and have weapons and guns. So now it's dangerous for our kids to go anywhere because it could escalate at any time and someone could get killed. It's horrible because we don't have respect for a street fight anymore.
People talk about being a man but they are not truly being what a man is supposed to be. A man is supposed to go out and something or lose something every time. He is going to fight every time and accept defeat as well as he could accept victory. If he can't then there is something wrong with him.
How does it compare to get to the top?
ROY JONES JR: You can rise to the top quicker in MMA than you can in boxing. There is more skill in boxing because it is a one-dimensional fight. It is definitely harder to rise to the top in boxing than it is in MMA. But you are still going into the ring, face to face, man-to-man and putting your life on the line. You can't take away that fact.
What will the bout order be?
ROY JONES JR: We are going to mix them up till the main event fight. We'll do an MMA event then a boxing match then an MMA fight then a boxing match.
What about Omar Sheika?
ROY JONES JR: Sheika is a tough competitor. He was one of ESPN's top guys for a long time because he always has interesting fights. He comes to fight every time. He fights off the able and he even beat a guy that beat me. He beat Glen Johnson. If I can't get Glen Johnson right now, I'll take the next best thing – Omar Sheika.
Do you want Johnson again?
ROY JONES JR: Most Definitely.
How is training going?
ROY JONES JR: Training is going wonderful. I'm feeling good. I never thought I'd be the baddest thing walking around at 40 years old but I am still the baddest. And I still look good on top of it. That's what really surprised me. I didn't think I would stay this cute for this long.
Will you promote MMA only cards?
ROY JONES JR: We have an all MMA card next month. I don't know (who's on it) right now. I can tell you about it after this fight. Right now I am focusing on Omar Sheika because he is a wonderful fighter and he's a hard puncher. But my guys know more about it right now.
ROY JONES JR: We have an all MMA card in Ft. Lauderdale this Saturday. It's our first. Get our feet wet.
How do you think Omar's career has gone?
ROY JONES JR: Omar probably had a lot of decisions in his career that affected him greatly and that happens to a lot of fighters.
Your dad's place in the corner on fight night?
ROY JONES JR: He'll be my guy and Merk will be my chief second and we'll go from there. They'll both be giving me instructions that night.
Why did you bring your dad in?
ROY JONES JR: I needed a tune-up. I needed an overhaul. And the only person that can do that is the person that taught me.
What kind of relationship do you have?
ROY JONES JR: Our relationship is very unique that he is my dad and I am his son. He can either stand back and watch or come in and help. I am never against the help, but if you don't want to help I can respect that too. I respect that but he is my dad and if he wants to come in and help he can do that too. If he didn't want to help, I wouldn't be mad.
What is the difference between the two and why would you bring your dad in?
ROY JONES JR: They were two different boxers and they have two totally opposite styles. My dad's style is basically my foundation and that's where I've been lacking in my foundation. Things that I haven't been doing a lot lately because I got away from my foundation and I need to catch up on that. Merk, on the other hand has added a lot of things to my game that I needed as I got older and I had to move on. I couldn't stay with what I had when I was young. I had to move on. They both have their own styles that are pretty good for me.
What is the long-range plan?
ROY JONES JR: As long as I look good, feel good, I'll be fightinnnng.
Have any MMA guys come to you for training help?
ROY JONES JR: Not yet but if they do I would be glad to teach them.
Calzaghe fight – your dad said in an interview you were not mentally prepared?
ROY JONES JR: You'll have to ask my dad what he meant about that. But in the Calzaghe fight, I lost my focus like I did after I dropped him in the first round. I was trying to go in and get him out or I should have stuck to my game plan and that was to box. I tried to him hard early because I wanted to take him out and that got me off my game plan . Now I have to change my focus from being a knockout artist and to go back to boxing and having a good time. That is going to be a change for me but I don't know what he is talking about. You'll have to go ask him.
What happens after Sheika, do you have anyone in mind?
ROY JONES JR: No. Whatever comes up happens.
How did the cut affect you in the Calzaghe fight?
ROY JONES JR: They couldn't stop the bleeding and that was the hardest thing for me. I knew the guys was getting ahead of me by a few rounds but they couldn't stop the bleeding so it didn't give me much of a chance.
Will you keep the same cut man?
ROY JONES JR: We do have a different cut man. I don't know his same but we got a new one. I don't like to change but my people decided that there was a majority rule and of there is a majority rule then I have to go with it.
How did the blood affect you?
ROY JONES JR: It affected me totally man because I couldn't even see. I don't mind the blood. I was in great shape. I had to be in great shape to go 12-rounds, but the blood was affecting my sight and I would have been able to get to him better.
How is the public taking to this fight?
ROY JONES JR: I don't know right now. I am training. I just do what I do and hope it goes well.
Would you fight Anderson Silva?
ROY JONES JR: Most definitely. I told you that a long time ago. I respect any man that goes in the ring and puts his life on the line against another man. We've had a few talks but right now he is in a situation that he's in. I can't tell him to go out of the situation. He has to work with them right now. When he gets out of the situation, I'll do what I can do.
On MMA…
ROY JONES JR: MMA fights sometimes end quicker than you want them to. A lot of times people will be wishing there were more fights on the card because they end so quick. In boxing, you get a little bit of both. You get a little quick and you get a little slow down.