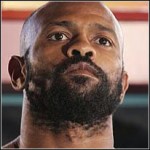 If Roy Jones Jr. hasn't accomplished anything else while leading up to his light heavyweight bout with unbeaten Welshman Joe Calzaghe this weekend, he's proven that while just two months shy of his 40th birthday, he still matters in boxing and is capable of creating a buzz. This is no small feat for a man who suffered back to back knockout losses to Antonio Tarver and Glen Johnson, followed by a decision loss to Tarver in a 17 month period during 2004-2005.
Jones began a comeback of sorts in 2006, fighting in venues such as Boise and Biloxi before decisively out pointing Felix Trinidad in Madison Square Garden this January. Just about everyone, myself included, wrote him off after those three straight defeats, but now after three straight wins he has again positioned himself for a title shot, in this case Calzaghe's Ring Magazine light heavyweight crown.
Roy is back, fighting at MSG, the Mecca of boxing, and broadcast on HBO PPV live, and at 3-1 a very live dog. In fact, I'm picking him to win by unanimous decision. His entire boxing future is wrapped up in this one, and if it is to be his last hurrah, then so be it.
Calzaghe is not a strong puncher, and in fact has often been called a "slapper." Of course if a guy slaps you 100 times a round it will begin wear on you after awhile. Ask Jeff Lacy.
But on the other side of the coin, Jones need not fear the potential of a one punch knockout artist either. He can afford to use his speed to move in and out without the threat of getting caught with the End Game Punch on his glass chin.
The best way for Roy to keep Calzaghe from throwing his volume punches is by using his still world class hand speed to get off first, keep Joe out of position, and not be quite as conservative as he has been in some previous fights, meaning he may have to break down and take a chance or two.
While Jones' stock has gone up in recent times, particularly after the high profile, profitable Trinidad fight, Calzaghe's may have dropped somewhat after Hopkins.
Had the Hopkins who fought Pavlik been in the ring with Joe last April, there would be no need for this column. Hopkins faded in the stretch with Joe and therefore received a steady diet of those slapping combinations. So Roy will have to bring it for 12 rounds or face the same treatment.
Advance word is that ticket sales have not as yet matched expectations. I'm thinking that ticket prices of $1500, $1000, $750, $500, $250 and $150 are a tad stiff for folks who have suffered layoffs or fear them in the near future.
Prices for big fights are always higher at Madison Square Garden. You have to rent the building and you don't have a casino to subsidize your investment. The big stars of boxing wouldn't think of accepting less money, so you have to charge more.
I wish no harm to anyone but seriously there has to be a point where the athletes participate in some revenue sharing for their purses as occurs in other professional sports. The public can only contribute so much.
And speaking of PPV, Calzaghe-Jones is being shown on HBO PPV at 9 p.m. ET/ 6 p.m. PT for $49.95. A couple of months ago I wrote that this card is the most worthwhile PPV card on the fall schedule. I still believe that, despite an undercard that is simply pathetic. The main event should make up for it.
I must have considerable support on this. A poll on CBS Sportsline.com indicated that 40% of respondents "absolutely" planned to order the fight and 18% "probably" would.
Of course if you are in the unfortunate position in which you don't know how you're going to pay the cable bill, let alone PPV, you must take a pass.
You do know that, right?
NOTES:
*Also available on Saturday is another PPV show, with "King" Arthur Abraham defending his IBF middleweight title against Raul Marquez in Bamberg, Germany. The broadcast begins at 3 p.m. ET/ 12 p.m. PT. The fight was rescheduled from October 4 after Abraham became ill on the day of the fight.
The 37 year old Marquez defeated previously unbeaten Giovanni Lorenzo in a June eliminator to get the shot. Abraham is the man who most fans want to see against Kelly Pavlik next.
A 10 round co-feature has Otis "Triple OG" Griffin facing Enad Licina, currently residing in Germany, for the vacant IBF Intercontinental cruiserweight belt. If you are one of the dozen or so faithful viewers of the now defunct "The Next Great Champ," Griffin was the winner of that reality series.
The price is $24.95 and it's still too much. Save your money for Roy and Joe. I hate to discourage the broadcasting of major European fights in America, but in this case neither one is worth the investment.
*Hasim Rahman has been tabbed as the replacement for Russian Alexander Povetkin in the December 13 IBF heavyweight title bout in Mannheim, Germany.
Hasim was my first interview when I got into the business, so I guess I have a soft spot for him. Nevertheless, he has no shot, but neither did Povetkin.
* Heavyweight Joe Mesi lost in his bid for election to the New York Senate to Republican Michael Razenhofer. As embarrassing as it must be to lose to a Republican this year, let's hope he sticks to it or he may want to return to boxing.