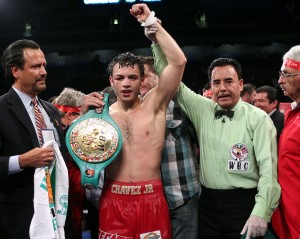 Francisco Gonzalez Cigarroa's official title is Chancellor of the Texas University System, but he acted like an emperor in canceling the Julio Cesar Chavez Jr.-Andy Lee fight at Texas-El Paso's Sun Bowl in the dumbest decree since World Boxing Council President Jose Sulaiman announced that his acronym would prohibit Mexicans from fighting in Arizona because of SB 1070, the state's controversial immigration law.
Epithets have been flying since Tuesday when Cigarroa turned thumbs down on the June 16 fight, citing a heightened, yet undisclosed, security risk, just a few days after no arrests were reported during Abner Mares' victory over Eric Morel at UTEP's Don Haskins Center. Bob Arum screamed "racist" in comments to Tim Smith of the New York Daily News. Diplomacy has never been an Arum specialty. Still, it also would be naive to say that race isn't there, somewhere, in any immigration controversy. At demonstrations for and against SB 1070 in front of Arizona's capitol in Phoenix, it's there almost every day, in word and deed.
At best, however, Cigarroa's decision without a vote from the Texas Board of Regents appears to be misinformed. At worst, it's an insult to El Paso and the border city's well-practiced ability at crowd control. News reports suggest the Chancellor feared a big boxing crowd in an outdoor stadium would import the random violence associated to the drug wars in Juarez. But is there any history of Mexican drug gangs disrupting fight cards in their own country? Don't think so.
In 2009, Arum promoted a card in an arena north of Tijuana. Then, there was concern that rival cartels would move the front lines to ringside. But there were no reported incidents. The only violence was within the ring, any irony perhaps, but also a sign that Mexico's reverence for the violent sport actually serves as a refuge from the tragedy that runs through its streets. It's similar to the Philippines, where rebels and government troops reportedly declare a truce to watch Manny Pacquaio. They resume their fight after Pacquiao finishes his.
Cigarroa's action also smacks of arrogance, not unlike newspaper editors who have quit covering the sport and abandoned potential readers in the process simply because they don't like boxing. What does that say about their business sense? Take a look at circulation numbers. There's not much of either.
If not arrogance, Cigarroa was grandstanding in the style of Sulaiman, a president who often acts as though he wants to be a Chancellor. On May 1, 2010, the WBC said it would not "authorize" Mexicans to fight in Arizona. Who knew? Just when you thought the WBC only collects sanctioning fees, you discover it also issues passports. Just kidding, I think.
What wasn't a joke, however, was the impact it had on the Arizona market, one of the nation's liveliest for many years. Golden Boy Promotions left Desert Diamond Casino south of Tucson. Top Rank prospect Jose Benavidez Jr.'s pro debut in hometown Phoenix was delayed in 2010 because broadcaster TV Azteca and advertiser Tecate didn't want to be tied to Arizona at the height of the controversy. Only the grandstanders profited.
In August of 2010, three Mexican fighters crossed the border and fought at Casino del Sol on tribal land near Tucson, despite Suliaman's proclamation. Two, lightweight Genaro Trazancos of Mexico City and featherweight Adolfo Landeros of Hidalgo, were warned by the WBC before opening bell that they faced suspension for defying Sulaiman.
"That's it, I guess,'' Trazancos said after a loss to Filipino Mercito Gesta at Casino Del Sol in a TeleFutura-televised bout. "I guess, I'm suspended. Believe me, I strongly support Mexican migrants. They have to work for a living. So do I.''
Trazancos has fought four times since then, once in Mexico last May in Mexicali. Sulaiman's threatened suspension? If there was one, it lasted about as long as anybody took it seriously. Meanwhile, Antonio Margarito is scheduled to fight at Casino del Sol on May 26. It's safe to say that Sulaiman hasn't threatened to suspend him, not with the chance at collecting another sanctioning fee if Margarito gets a shot at Chavez' WBC middleweight belt instead of Sergio Martinez.
Chancellor Cigarroa's cancellation is more damaging because it subtracts a paycheck from working folks at the concession stands. It robs El Paso's hotels and restaurants of revenue. The city loses tax money. I applaud Arum for fighting to keep the bout in Texas, Houston or San Antonio. It belongs there — now more than ever — in a stand against the stupidity of people who act as if their titles aren't interim.
AZ Notes
· Margarito's bout, his first since losing to Miguel Cotto, at Casino del Sol's outdoor arena against Abel Perry (18-5, 9 KOs) of Colorado Springs will be officially announced Monday at the Tucson casino. The 33-year-old Perry, an orthodox right-hander, has won his last five fights, four by stoppage. It's also been announced that Benavidez will fight on the card in what would be his first bout since undergoing surgery on his right wrist in January. A Benavidez opponent has yet to be determined. The unbeaten junior-welterweight has been testing the surgically-repaired wrist in workouts at Central Boxing in downtown Phoenix
· Phoenix super-bantamweight Emiliano Garcia (5-0-1, 1 KO) has added an experienced, insightful eye to his corner in trainer Chuck McGregor. McGregor, also of Phoenix, was in Garcia's corner last Saturday for a unanimous decision over Jesse Ruiz (0-2) in front of a wild crowd at Celebrity Theatre. McGregor, Shannon Briggs' trainer when he took the World Boxing Organization's heavyweight title in 2006 from Sergei Liakhovich, occupies an interesting footnote in boxing history. He worked a corner in boxing's last 15-round fight – Calvin Grove's 1988 loss by majority decision to Jorge Paez for the International Boxing Federation's featherweight title in Mexicali.