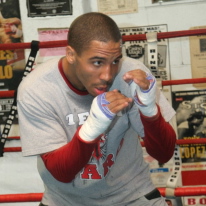 American super middleweight Andre Ward is the sole prizefighter I routinely review in slow motion, the only active world champion whose subtleties bring a continuing euphoria of discovery to me. Ward is, in his way, our sport's most unpredictable fighter, and most complicated fighter – or did you think he cleaned out the once-competitive 168-pound division some other way?
Saturday found Ward at Citizens Business Bank Arena somewhere in California, unfastening Edwin Rodriguez, a man who, between the ordeal of his prematurely born children and voluntary participation in antidoping tests (whatever his surplus of bacne should otherwise indicate), has enjoyed years on our sport's good-guy circuit, while fighting nobody. Saturday Rodriguez fought somebody, and even after missing weight by two pounds Friday, Rodriguez lost about 35/36 of the fight, or at best 11/12.
Andre Ward continues to improve, and that brings from the front of one's mind a retrospective request that sends it on a skittering search for the last time a fighter fractionally as accomplished as Ward improved regularly as Ward does. One wishes to say Manny Pacquiao, from the introduction of "Manila Ice," the righthand activated for his 2005 match with Erik Morales, an improvement and nickname that introduced many to trainer Freddie Roach's fresh wit – when he found Shakespeare and lost an entire audience at a prefight press conference, warning Morales: "Beware the 'Ice' of March" – but one just as quickly thinks of the Pacquiao who fought his third match with Juan Manuel Marquez six years later, got summarily undressed in rounds 7 through 11, and tactically looked little better than his 2005 self.
Fighters improve in obscurity, like craftsmen of every kind, and obscurity is hard to encounter or embrace once a fighter begins to earn million-dollar purses. What improvements happen, generally, are feats of conditioning that enjoy characteristically dubious origins. Every other time a fighter's new trainer says adjustments galore have been made, adjustments galore have not been made, even if words galore have been spoken to the fighter and media about adjustments galore, and reversions to form are inevitable.
Ward prides himself on being formless, in a nod to combat-fighting legend Bruce Lee, and one would quickly call that Ward's greatest strength, if Ward didn't have so many strengths. Ward does not do any one thing much better than any other thing, but whereas the cliché usually follows that he's not great at one thing but good at everything, Ward is great at everything. He is Floyd Mayweather if Mayweather had spent the last decade matching himself with men who believed they might beat him. Every Ward opponent believes he can beat Ward, somehow, and that is extraordinary when one watches Saturday's fight in slow motion – as Edwin Rodriguez is an order of magnitude below Ward's station and could not have won a clean round against Ward had he missed weight by 20 pounds instead of two.
In a prizefighting ring, even at 168 pounds Andre Ward would beat most American heavyweights quite easily. Are those men physically stronger? Most, yes, but not by nearly so much as we tell ourselves, and Ward's balance and understanding of his own body and other men's bodies would quickly offset the physical advantages even much larger men might enjoy when the opening bell rang. What is lost quite often by television but incredibly apparent at ringside is Ward's superior footwork, especially in clinches; it appeared in this column 14 months ago but warrants repetition: Ward frees his hands with his feet. He churns his feet, which churns his hips, which moves his shoulders and brings his hands out of other men's grasps, often no matter how tightly they hold.
In this way, Ward is already superior to Mayweather, who utilizes clinches strategically, too, but does not fight out of them – breaks, occasionally, yes, but not clinches – so much as use them to sap an opponent of his poise till a referee's intervention. When Mayweather is on, every defensive maneuver is a prolonged offensive one, but once Mayweather's right knuckles start to throb under the leather and foam of his glove, his defensive moves become exactly and strictly that. Ward never finds himself in this position and certainly never gets put there by others. Though Mayweather is many times the fighter – read: the willing participant in a savage spectacle that requires being struck repeatedly to the head as a tariff for striking others more repeatedly – than his newly arrived fans and critics understand, it has been many years since he thrilled in the physical-confrontation element of prizefighting the way Ward does, many years since Mayweather so easily avoided the urge to take another man's punches personally.
Edwin Rodriguez, introspective enough to realize a lottery ticket was needed to have a chance against Ward, sprinted from his corner at the opening bell Saturday and tried nearly to tackle Ward who dissuaded him both with parrying and with punching. Once the clinches began, Rodriguez struck Ward repeatedly behind the head, and Ward just as repeatedly retaliated and appeared happy to continue retaliating, howsoever worked best, until referee Jack Reiss interfered; it was a treatment of ref-as-annoyance that we rarely see anymore from favorites in prizefights. Much later in the match, after both men received warnings for infractions and lost two penalty points each, Rodriguez caught Ward again on the brainstem, and when Ward withdrew to reset and attack anew, Jack Reiss asked if he was OK, and Ward answered "Yeah" in a way that sounded surprised and annoyed by Reiss' implication.
If middleweight titlist Gennady Golovkin is fractionally good as his advocates increasingly believe, a day will come when a Ward-Golovkin match will be anticipated by aficionados, if not gangsta rappers, more than Mayweather-Pacquiao was, and Ward and Golovkin will fight, and quite possibly more than once. Ward will win, and when he emerges victorious, he will attain, and eventually be recognized as having attained, a level of greatness for which Floyd Mayweather was ever temperamentally unprepared.
Bart Barry can be reached at bart.barrys.email (at) gmail.com