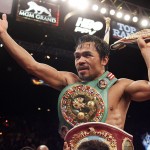 Throughout his storied career Manny Pacquiao has undertaken three metamorphosis's. We've have broken down Pacquiao's career into 3 stages the first one was when he was fighting in some of Boxing's lightest weights. The second when he could no longer make those weights, as his body matured we saw him show how special he is turning back the valiant charges of Mexican legends Barrera, Morales & Marquez. Then there is the super slick model we look at today, a wrecking ball who has few piers in Boxing today.
Jan 1995-Sept 1999 From the start of his career when he debuted at 106 through to his first world title at Flyweight where he made one successful defence before losing the title at the scale before a weight drained performance saw him lose his title and dip to 26-2(17).
He debuted in January of 1995 amid no an fair as a scrawny 16 year old. He quickly reeled off 11 consecutive wins over the next year before after failing to make weight against Rustico Torrecampo he was forced to wear bigger gloves than his foe, putting him at a disadvantage. It was one that cost him dear as he was to lose for the first time.
Over the following 18 months he went on another unbeaten run that saw him take on the vastly more experienced Chokchai Chockvivat who was 34-2 going in for Chiockvivat's OPBF Flyweight crown. Pacquiao cared not for reputation battering Chockvivat, stopping him in the fifth.
After one defence and 2 non title bouts he got his first opportunity to fight for a world title when he squared off against Chatchai Sasakul. As a 19 year old away from home in Thailand and miles behind on points he staged a a comeback with a vicious left hook that knocked Sasakul cold.
After one successful title fight back in the Philippines he was to return to Thailand his old problems with weight came back to haunt him. He weighed a pound over the Flyweight limit thus losing the title on the scales. The fight went ahead and Pacquiao lost via third round stoppage to unbeaten Medgoen Singsurat. It was then after struggling mightlily to make 112 that Pacquiao and his brain trust decided enough was enough.
Dec 1999-Jun 2008 He re-emerged 3 months later at Super Bantamweight. While some fighters do this but eventually struggle to cope with their opponents because they no longer have a sizable strength advantage. This was never the case for Pac-Man as he went 20-1-2(17) in phase 2 of his career. He matured as a fighter & person both physically and mentally. He mixed in the company of four past or future world title challengers Reynante Jamili, Arnel Barotillo, Nedal Hussein & Wethya Sakmuangklangall of whom were stopped.
It lead to an unexpected fight with well thought of South African Lehlo Ledwaba who was making his sixth title defence on the De La Hoya card on 21 June 2001 it also marked Pacquiao's American debut. Not for the first time and certainly not the last Pacquiao stole the show as he completely dominated Ledwaba winning all the rounds before stopping Ledwaba in six. Liking what they had seen Top Rank brought him back to America on the undercard of a Floyd Mayweather card in the heavily populated Filipino area of San Francisco. This time Pac-Man couldn't quite come up with the performance and had to settle for a technical draw after being cut against the awkward Agapido Sanchez in a unification bout.
Styles make fights and after the first fight nobody was to interested in a rematch so Pacquiao moved onto a prime spot on the Lewis-Tyson card in Memphis in the summer of 2002. He fought former world champion Jorge Eliecer Julio, who was vanquished in two easy rounds. By now the secret of Pacquiao was getting out.
After a couple of fights in the Philipines he came back to America to appear on Fernando Vargas undercard against then unbeaten Emmanuel Lucero. It was something that didn't stay in tact for long as Pacquiao decimated Lucero who couldn't live with the Pacquiao's power as he was stopped in the third.
In November of 2003 he was given a terrific opportunity when he stepped upto Featherweight to fight living legend Marco Antonio Barrera. Not many gave Pacquiao much chance but he proved he belonged with the best around and that he as more than a one handed knockout artist when he boxed and fought in equal measures to surprise Barrera before stunningly stopping him in the eleventh. He opened 2004 with a fight with another Mexican Juan Manuel Marquez it was hotly anticipated.
Both guys fought for Marquez WBA & IBF Featherweight title. In a whirlwind first round Marquez was dropped three times but some how managed to drag himself up each time and here the bell. Full credit must go to Marquez as he quickly took stock and counter punched brilliantly for many of the remaining rounds. When the scores came in many believed Marquez had won but the officials decided it was a dead heat.
While many wanted to see the rematch Pacquiao was to fight back at home in a stay busy fight but when Marquez inexplicably refused the purse that was offered Pacquiao was offered a fight up at Super Featherweight with the third of the Mexican warriors Erik Morales. Never one to turn a fight down he stepped up four pounds and went hell for leather with with Morales only to come up just short in a compelling battle. Both sides decided on a rematch but first fought on the same card in Los Angeles against different opponents. Pacquiao did his part but Morales was shockingly outpointed. It didn't derail the rematch this time Pacquiao had matured into a better fighter while Morales was showing heavy signs of decline. After a brisk start Morales faded leaving Pacquiao to stop Morales for the first time in his career. After another showcase back in his homeland it was time for the rubber match with Morales. Father time had caught up with Morales as the Pacquiao typhoon demolished him in three rounds.
People by now could see that the Filipino icon was a special fighter and he headlined in Boxing's capital Las Vegas against Barrera in a rematch. Barrera boxed on his heals but didn't look to stand and trade with the stronger Pacquiao, who won comfortably on points.
A much anticipated rematch with nemesis Marquez finally took place 4 years after the first fight. Again Marquez was down early but showed considerably guile and gusto to get back into the fight. In the late rounds both fighters fought through bad cuts. It was to again go to the scorecards with Manila Ice just coming out on top via a split decision to again be live up to his moniker as the Mexicutioner.
Dec 2008-Present The full transformation of Pacquiao has taken place in the last 18 months since he stepped up to Lightweight and above he's gone a staggering 4-0(4) with each fight being more impressive than the previous. Stopping David Diaz, Oscar De La Hoya, Ricky Hatton & Miguel Cotto. The Diaz & Hatton one's being highlight reel KO's.
While many thought Pacquiao would be to skilled for Diaz many though the iron chinned Diaz would be able to stand up to Pacquiao's power. Though Pacquiao was winning and laying a beating on Diaz he never looked like forcing the stoppage until late in the ninth round when Diaz walked into a howitzer of a left hook that dropped him on the spot face first. It was mightly impressive performance, the kind we expect from our hall of famers.
While many wanted the rubber match with Marquez they were happy for that fight to be put on the back burner for a fight with Golden Boy and cash cow Oscar De La Hoya again at a higher weight. It was largely presumed that the old adage a good big man beat a good small man. It didn't turn out to be true in this case as Pacquiao was to fast and in his prime for a weight drained De La Hoya to live with. It was trueling shocking to see how much Pacquiao had evolved.
That win prompted him to drop a few pounds to Light Welterweight where he fought the fiercely popular Ricky Hatton. This time another old adage a great fighter beats a good fighter came true as Pacquiao dicected Hatton with ease pin pointing opening and scoring a harrowing KO late in the second. While most people were convinced of his greatness at this point, the great ones don't only get the W they find a way to do it in stunning fashion.
It was time to face a new challenge in Miguel Cotto a man who would hold size and strength advantages…or so we thought. It didn't work that way after Cotto had a good round an a half Pacquiao's in and out movement started to take over. For the next 3 rounds the action was frentic with Cotto touching down twice. After that it became a one sided beat down. It was a special performance by a special fighter for who we've run out of superlatives for.
Many top fighters undergo changes through out there career's Barrera for example was all Mexican puncher earlier in his career then prior to the Naseem Hamed fight changed to more of a boxer. It proved successful but what Pacquiao has done is stick with his seek and destroy mentality but just add more layers and weapons like his vastly improved right hand and footwork. The talents always been there and through his master trainer Freddy Roach who's trained him for 8 years were seeing just how much he truly has.
These days a prime Pacquiao is a Taker of Soles. You want to make sure you get a good pay day for fighting him because you might not be the same again.
Photo by Chris Farina/ Top Rank