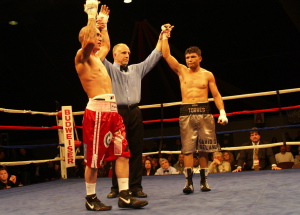 TACOMA, WASHINGTON — With most of the boxing world's eyes focused on events taking place about 2,000 miles southeast, fight fans of the Northwest were treated to an entertaining night of action Saturday at the Emerald Queen Casino. Longtime local favorite David Torres fought to a majority draw with Santos Pakau in the main event of a competitively-matched card from top to bottom.
Pakau (27-6-2, 10 KOs) of Spokane, Washington got off to a solid start in the fight as he employed a focused body attack in the early going and followed up with right hands to the head of his opponent. Torres (21-2-1, 13 KOs) of Othello, Washington began to wake up late in the second round, but was clearly not punching with the same power as Pakau, especially in the early rounds.
Pakau, 137, must have been feeling good, as he even played to the crowd, waving his right fist in the air. Torres, 139, was constantly moving forward and finally broke through with a solid left hook to the body, which momentarily stopped Pakau in his tracks. Action picked up as both fighters landed well in an exchange near the close of the fourth.
Pakau looked good in rounds five and six, as a right uppercut stunned Torres and forced him to hold on. Then early in the sixth, Pakau landed a clean left hand. Pakau found a range in the round where he could land and the shorter Torres could not reach him. Torres continued to press forward, and did get close enough to land some shots on the inside to close out the round.
Pakau began to look tired in the seventh and was warned for pushing. Torres was coming on, but still did not seem to have the power to really hurt Pakau. Torres did land a clean straight right late in the stanza, a round that was clearly his.
Torres outworked Pakau in the ninth, though the New Zealander did land a pretty left hook and traded well to close out the round. Both fighters came out aggressively in the tenth, as they unloaded at close quarters. Pakau would end up cut in the corner of his right eye before the two stood their ground and traded to close out the fight.
When it was all said and done, one judge favored Pakau 96-94, but was overruled by identical even scores of 95-95, forcing the draw. As should be expected after a draw, both fighters felt as though they should have been declared the winner.
"I feel I had at least six of the ten rounds," said an obviously disappointed Pakau after the bout. "I should have worked that little bit extra I guess. But what do you do? I got a draw I guess, it's better than a loss."
Torres feelings on the scoring were very similar to Pakau's only the other way around. "I think it was a really good fight for both of us, but honestly I feel I won the fight," said Torres, who is open to the idea of a rematch. "I think I had at least six rounds. He kept a little busier, but I threw the better shots."
A side story to the fight revolved around the weight, and weighing-in. The Torres camp was concerned going in that Pakau, who had fought most of his recent fights at or near 147-pounds, would come in heavy, or at least enter the ring with a great weight advantage. Therefore both Pakau and Torres weighed in officially on Saturday morning to hopefully curb how much weight Pakau could gain by the time they actually fought.
"They were very worried," said Pakau after the fight. "They made me weigh-in the same day. I don't know why, little stupid tactics. I had to drive nearly an hour out of Tacoma to go for the weigh-in this morning. It didn't faze me, but it was just stupid."
Although he has fought around 139-pounds for much of his career, Torres and his team have plans to eventually move down in weight. "I feel good at 139, but my goal is to go lower, probably down to 135," said Torres.
When asked about a potential rematch, Pakau did not sound too thrilled about his prospects for a fair decision on Torres' home turf. "It would be interesting, but what am I going to get out of it?" said Pakau. "Nothing really. There is no point in it. I knew coming into this fight that I wasn't going to win unless I knocked him out. It's as simple as that."

It is incredible how a puncher can change a fight in an instant. Out of action for the last three-years, Lafarrell Bunting showed he still has an eraser for a right hand with a sixth-round stoppage over Junior Moar in the co-main event of the evening.
Bunting (17-3-1, 17 KOs) of Memphis, Tennessee and Moar (8-3, 2 KOs) of Richmond, British Columbia, Canada were two fighters just as different as their entrance music. Moar, who entered the ring accompanied by Native American drummers and dancers, is not a puncher, but is an aggressive, forward-moving fighter. Bunting, who came out to expletive-laden rap, fought most of the fight in the style of a boxer-mover, before displaying his fight-changing kayo power.
Moar, 176, was the aggressor early and often in the fight. Bunting, 175 ½, played the part of counter-puncher at the outset, as he appeared to be getting his timing right and perhaps shaking off some rust.
Things began to heat up in the second, as each fighter landed a solid blow in an early exchange. Bunting caught Moar with a left uppercut and Moar retorted with a combination of hooks upstairs. Before the end of the round, Bunting would be warned by referee Louis Jackvony for a low blow that doubled Moar over near the ropes. Moar would return to his corner with a cut near his left eye, which Jackvony told the ringside judges was the result of a punch.
Moar began to impose his will in the third, pressing Bunting against the ropes with his attack. The rough fight continued to get rougher, as Moar was warned for hitting on a break and Bunting admonished for holding the Canadian's left hand under his own, a tactic he would employ at various times in the fight. Moar refused to complain and instead worked Bunting's body over a bit with his free right hand.
Moar did well for much of the fourth as well, pressing the fight still while Bunting mostly looked to cover up and move away. A stiff left jab from Moar got a reaction from the crowd, but did not appear to hurt Bunting. The Memphis native reverted back to using his own jab to keep Moar off balance in closing the round.
Moar continued to press forward and land well in the fifth, but did get caught by a left uppercut that Bunting timed and measured accurately. Bunting continued to at least give the impression he was looking for that punch again, as he repeatedly loaded up with the uppercut. Moar closed out the fifth by pressing Bunting, who was again covering up along the ropes. Despite the way the fight was going, it was Moar's face that looked the worse for wear, with his cut bleeding freely and a bad knot forming high on his left temple.
Bunting would be warned again for a low blow early in the sixth. Soon after, Jackvony called time to give the doctor a chance to look at the cut, which did look pretty bad. The referee ruled that the cut was made worse from an accidental headbutt. Jackvony would warn Bunting again, this time for hitting behind the head.
Soon after action resumed, Bunting landed the counter he had been looking for, an overhand right that dropped Moar. Three stiff rights and a left would drop Moar a second time. When Moar returned to his feet, Bunting flurried him into the ropes, prompting Jackvony to wave off the fight. Official time was 2:57 of the sixth round.
The official scores entering the sixth and ultimately final round were 49-46 and 48-47 twice, all for Moar. Had he made it out after the two knockdowns, Moar would have likely been down on two cards (57-55) and even on the third (56-56) with two rounds to go. That being said, with Moar's apparent condition, the timing of the stoppage was just.
After the bout, Bunting expressed his confidence going in, but gave Moar credit for his performance. "Going into this fight, even though I had been off for three-and-a-half years, I knew I had the power to pull off this win," said Bunting. "It was a tough fight. Junior Moar came to fight and I have a lot of respect for him."
Going into the bout, promoters had designs on matching the winner with world ranked Otis Griffin for the vacant WBO NABO Light Heavyweight title. While Griffin is likely headed for an IBF title eliminator against Yusef Mack, he had informed 15rounds.com that he would be willing to take on the winner after that as a "tune-up."
"Hey, Griffin, take the fight and stop running," said Bunting after he was informed of Griffin's thoughts on the prospective bout. "Why don't you meet me January 8th, here at the Emerald Queen Casino. Let's make it happen."

In a rare paring of undefeated heavyweights early in their careers, Vincent Thompson (6-0, 1 KO) of Federal Way, Washington scored a six-round unanimous decision over former National Golden Gloves Champion Charles Ellis (6-1-1, 5 KOs) of Vancouver, Washington.
Despite size and strength advantages, Ellis, 227, never looked comfortable in the fight. Thompson, 226 ½, was comfortable early and became more and more confident as the fight progressed. Early action was fought on the inside, before Thompson morphed into a boxer-mover in the fourth round. Thompson would continually land his shots and move out of range. By the fifth, the plodding, discouraged Ellis refused to offer up much offense and even looked to his corner, shaking his head in the sixth. When Ellis would pin Thompson in a corner he could not, or would not, get anything done. In the end, one judge scored the bout 59-55, with the other two scoring it a shutout, 60-54, all for Thompson.

In what was a closely-contested match-up every step of the way, Rob Diezel (4-1, 1 KO) of Seattle, Washington boxed his way past Marco Cardenas (1-3) of Salem, Oregon by way of a four-round split decision. Their roles were defined in the early going, as Diezel, 130 ½, was clearly the classy boxer and Cardenas, 129 ½, the aggressor. In the end, the judges were won over by Diezel's boxing skills.
Diezel was busted open in the second, from what was ruled a headbutt, although there was a clean overhand right that landed in that spot during the same sequence. By the third, Cardenas would be bloodied as well, as he began to leak crimson from his nose shortly after a Diezel right hook. The fourth featured many toe-to-toe exchanges. Ultimately, two judges favored Diezel, 39-37, with the lone dissenter scoring it for Cardenas, 39-38.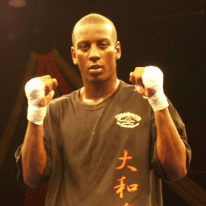 Former local amateur standout Virgil Green (1-0) of Arlington, Washington got his pro career off on the right foot with a four-round unanimous decision over Miguel Garcia (2-2) also of Arlington. Despite giving up his sizeable height and reach advantages by fighting on the inside for much of the bout, Green, 139 ½, proved too quick and slick for Garcia, 141, who was no pushover.
Garcia landed his best shot in the third, a solid left hook, but did not follow up. Despite his corner's instructions to move forward and throw punches, Garcia decided to play the role of counter-puncher. In the fourth, Green took complete control and backed up his posturing opponent en route to the victory. Scores read 39-37 and 40-36 twice all for Green.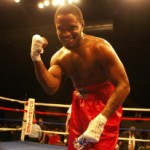 In the curtain raiser, Ralph Prescott (1-5) of Seattle moved into the win column with a four-round majority decision over professional mixed martial artist and debuting boxer Omar Avelar (0-1) of Moses Lake, Washington. Prescott, 139, fought one of the more determined fights in the history of 0-5 fighters in a back-and-forth bout from start to finish. Avelar, 145 ½, appeared to be the harder punch throughout, but began to fade midway through the fight. Rounds three and four ended with both men standing their ground and trading shots, much to the crowd's delight. In a bout that could have gone either way, two judges favored Prescott by the scores of 40-36 and 39-37. The third scorer had it even, 38-38.
On Saturday, ESPN.com's Dan Rafael reported that the Showtime-televised bantamweight doubleheader would be taking place here December 11th, but to say that is definite would be premature. Currently the Charlie Daniels Band is scheduled to perform at the casino on that date, but efforts are being made.
Boxing will definitely be returning to the Emerald Queen Casino in 2011, with five dates already scheduled. Brian Halquist Productions will kick off the year with "Battle at the Boat 80" on January 8th.
Mario Ortega Jr. can be reached at ortega15rds@lycos.com.