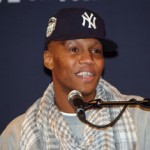 Zab Judah has experienced the highest of highs and lowest of lows in a career filled with unpredictability.
Blessed with elite talent from the get-go, Judah's speed, power, boxing ability and defense helped him win titles in two weight classes. The Brooklyn, NY bred southpaw was making his way up the pound for pound list after knocking out Cory Spinks to become the undisputed welterweight champion, but well documented miscues have at times overshadowed his success.
Judah has twice been suspended and fined after mental breakdowns caused him to spark riots in his bouts against Kostya Tszyu and Floyd Mayweather. He also suffered an embarrassing setback in what was supposed to be a hometown showcase against 16 to 1 underdog Carlos Baldomir in an uninspiring performance. In addition, the former three time New York Golden Gloves champion was involved in scuffles outside of the squared circle; but that was then and this is now.
A self defined born-again Christian, Judah is presently based out of Las Vegas, NV where he resides with his fiancé and son Zab Jr. Surprisingly, the 33 year old seems to have hit the jackpot in the same city where many have thrown away their life savings in a manner of hours.
Gone are Judah's gold teeth, overzealous attitude and lavish lifestyle. Replacing them is a mature approach to his future in boxing and the realization of his mistakes. Accompanying his fresh outlook was the decision to move down to 140 pounds, where he'll attempt to become the king of boxing's hottest division.
I had the opportunity to catch up with Judah, 37-6- (27 KO's), who takes on unbeaten power puncher Lucas Matthysse (27-0, 25 KO's) tonight at the Prudential Center in Newark, NJ in the main event of an HBO double header.
Matt Yanofsky: Tonight you are going to face an unbeaten opponent who is a huge puncher, but is a bit untested. What are you expecting?
Zab Judah: First I'd like to thank my Lord and Savior Jesus Christ for giving me this opportunity. Matthysse is a great fighter he has an unbeaten record of 27 wins with 25 knockouts. It's not easy to knock somebody out, so he (is a threat). I have seen him he has good speed and he is looking to make an impression in America so I am sure he is going to try and do what he has to do.
MY: This is going to be your second fight at the Prudential Center, which is one of the hottest new venues in boxing, and you had a decent crowd last time around against Jose Armando Santa Cruz in July. What do you like about the Prudential Center and do you hope to keep fighting there?
ZJ: Yeah definitely! The Prudential Center has been great to us. Super Judah Promotions and Main Events have a great plan in place. There is no reason we can't make this into the new Madison Square Garden!
MY: There are a lot of great fighters at 140 pounds such as Devon Alexander, who you called out in March, Timothy Bradley, Marcos Maidana and Amir Khan amongst others. Who would you like to fight if you are victorious and why?
ZJ: Right now my eyes are set on Matthysse. After the fight we will figure everything out but.
MY: A lot of fighters don't move down in weight, especially as they get older. How were you able to effectively cut weight after fighting at 147 for so many years?
ZJ: (Mentions Jesus Christ's great influence on his life) anything is possible. I think Zab Judah's career is still blossoming and this is a lesson that nobody can say (I can't do something) except God.
MY: Being that Matthysse is a straight forward fighter, are you planning to box and move or are you going to look to get him out of there?
ZJ: I am moving at God's speed! I'm going to go in there and do (what Zab Judah does). I will see what he has and (determine the pace from there).
MY: What can the fans expect from you?
ZB: Explosiveness, lightning (speed) and dynamite boxing. It's going to be a great event!
MY: Zab, thanks for the interview. What do you have to say in closing to your fans worldwide?
ZB: I love you all, (stay focused on what is in front of you and) keep God first in your life.