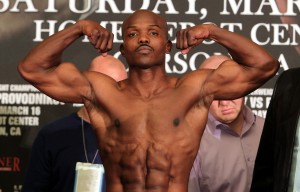 HBO's vastly improved "Face Off With Max Kellerman" franchise, the penultimate episode of which found California's Timothy Bradley seated at its brushed-steel tabletop with Mexican Juan Manuel Marquez, showed Bradley vulnerable and honest in his native language and Marquez happy to say nothing in his second language, English, one whose learning was fully inspired by and limited to marketing considerations. It was an advantage Marquez did not seek but certainly enjoyed, being able to study serenely from a meter's distance an opponent earnestly examining health concerns and working through existential crises.
Until that faceoff between the men who will contest Bradley's welterweight championship Saturday at Thomas & Mack Center on the campus of UNLV, it was proper to fear their match heading towards the cruelest paradox boxing affords its pay-per-viewers: The hostility two men show one another before a fight is inversely proportionate to the hostility they'll show one another during a fight. Bradley's allusion in a promotional video to Marquez's historic growth prompted such fears but also, and unexpectedly, prompted Marquez to extend a considerable invitation.
What makes Marquez's invitation considerable – that, to dispel rumors of advantages through PED use, Marquez and Bradley share the same strength and conditioning camp, complete, one assumes, with Marquez's coach and whatever supplemental cocktail he gives Marquez – is that it inadvertently handles the PED question much as the NFL does it: Our evenly matched athletes are the largest, strongest creatures to roam the earth, and you love it, don't you? (It is worth reiterating that America's adulation for a league whose players are enhanced by any measure sets the hands on the proverbial clock of whether American sportsfans care about PED use.) We may care about fairness, some, or at least its gerrymandered appearance, but we will forgive winning in nearly any form we find it.
Manny Pacquiao, the prizefighter who moved up a weightclass and leveled lightweight titlist David Diaz, moved up another weightclass and knocked champion Ricky Hatton rigid, moved up another weightclass and beat Miguel Cotto till Cotto's wife fled the arena, then beat him some more, and a year later crushed Antonio Margarito's orbital bone, well, he might have escaped public suspicion had Floyd Mayweather, prizefighting's greatest handicapper, not made PED testing a prerequisite for the Fight to Save Boxing.
While that saggy saga flubbed along, little Juan Manuel Marquez, who fought Pacquiao evenly when no one else could then survived 12 rounds with Mayweather when Mayweather had the back of a middleweight and Marquez the legs of a super bantamweight, declared, in his countrymen's tradition, "¡Ya Basta (Enough)!" and became big Juan Manuel Marquez, photography's most evidently enhanced athlete since Barry Bonds. His personal trainer smiled warmly and cited "science" whenever asked, and really, it wasn't Memo's fault if our sport assumed he meant physics, not chemistry.
It is worth reiterating, too, none of us is innocent as all of us when it comes to PEDs: To imagine anyone in boxing did not think PEDs were in use at every level until Marquez dropped Pacquiao in a lump last December is to credit us without 30-percent our intellects. What happened in MGM Grand was this: One athlete with a famous personal trainer and extraordinary quadriceps and calf muscles leaped on the right fist of another athlete with a famous personal trainer and extraordinary deltoids, and their collision produced one of the more violently wondrous moments in our sport's storied story.
Timothy Bradley would do well to remember two men for each of the 2,160 seconds, or fewer, he is in Saturday's prizefighting ring with Marquez: Manny Pacquiao, of course, and Juan Diaz. Bradley must neither leap fullboard Marquez's way, à la Pacquiao, a mistake Bradley is unlikely to make, or get his head extended over his front knee, à la Diaz, a mistake Bradley made numerous times against Pacquiao, one Pacquiao never exploited with an uppercut because, for all the happy talk of Pacquiao's evolution as a prizefighter, the Filipino has always been more athleticism than technique – something no one ever opines of Marquez.
There is not a more predatory man in prizefighting than Juan Manuel Marquez; as Bradley undoubtedly has been reminded every hour in training camp, if he pulls the macho stunt with Marquez he pulled with Ruslan Provodnikov in March, Bradley'll need Big Ray to carry him to his dressing room afterwards. No one in prizefighting finishes with Marquez's precision and indifference for other men's health: Marquez will not bull an unconscious Bradley to the ropes for a frantic last stand, gifting Bradley's indomitable spirit with legs and leverage; Marquez will lure Bradley's pride to the center of the canvas, let his force and desire push his shoulders forward, drop his head necessarily, and meet Bradley's downrushing chin with an uprushing right fist – and when it's done Bradley will hear the 10-count no better than Pacquiao did.
Or perhaps not. Perhaps Bradley will move in and out, never overcommitting to a punch, swim without getting wet, as Naazim Richardson puts it, and frustrate Marquez by not fighting him. Perhaps Bradley will make Marquez wonder what in the hell his wonderful strength and conditioning is for if neither finds a man who will test it, disgusting Marquez with the possibility 36 minutes with Timothy's feathery fists are less taxing than 10 minutes with Memo's medicine ball, using Marquez's machismo against him the way Sugar Ray Leonard did it to Roberto Duran in New Orleans.
Events would suggest, via Bradley's decisioning Pacquiao and Marquez's being decisioned by Mayweather, Marquez doesn't mind losing a glorified sparring session any more than Bradley enjoys winning a glorified fitness contest – and pity the pay-per-viewer who expects March's Bradley versus December's Marquez and gets, instead, the Bradley who fought Pacquiao against the Marquez who fought Mayweather. That happening is not impossible, but as we board our flights for Las Vegas, friends, what do you say we pretend it is?
Timothy Bradley and Juan Manuel Marquez are my two most favorite prizefighters, so I'll take Bradley, SD-12, or Marquez, KO-9, and be happy for the winner regardless.
Bart Barry can be reached at bart.barrys.email (at) gmail.com