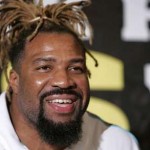 According to Dan Rafael of espn.com, Former Heavyweight champion Shannon Briggs went to the hospital in Hamburg, Germany after his twelve round beatdown defeat at the hands of WBC Heavyweight champion Vitali Klitschko.
Now, he is in Hamburg's Eppendorf University Hospital with a broken left orbital bone in his face, a broken nose and a torn left biceps, Empire Sports and Entertainment promoter Greg Cohen told ESPN.com.
"He was banged up pretty bad," Cohen said, shortly after arriving back in New York on Sunday. "The CT scan came back normal, thank God. Shannon wants to get out of there as soon as possible, but he'll be there for a little bit longer. He's devastated. He really thought he was going to win."
"His biceps is a very serious injury and they have to do surgery, and he'll probably be there for a week," Cohen said. "It might require more than one surgery."
I wouldn't be here [in New York] if he wasn't OK," Cohen said. "He was in intensive care after the fight for precautionary reasons. The injuries are not life-threatening. He's just banged up, but it's not life-threatening or very serious. Other than the injuries I described, everything else is OK.
"He walked out of the arena on his own. They wanted to put him on as stretcher, but he wouldn't let them. He's going to be fine."
"He trained for this. He was 100 percent ready mentally and physically, but I wish they would have stopped it around the eighth round," Cohen said. "I love Shannon. He's like family to me. As a human being, he is much more important to me than as an athlete. So it was tough to watch. But Shannon did not want them stopping this fight. I wish they didn't listen to him, but I understand. I spoke to his corner after one of the rounds and Shannon was telling him, 'I'm OK, I'm going to get him.' Even after the 11th round, he thought he was still going to do it. His will was never broken. If I was in the corner, I would have stopped it. But I'm the promoter, not the cornerman.
"I don't blame the referee at all. The referee did a good job. And I don't blame the corner. I understand, but my preference would have been for it to be stopped."