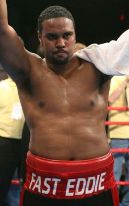 Dan Rafael of espn.com is reporting that former world title challenges Eddie Chambers and Tony Thompson will square off on October 28th in Atlantic City for the right to fight a rematch with the man who knocked them both out, Wladimir Klitschko.
The fight between good friends will take the night before the Super 6 Final between Andre Ward and Carl Froch at will take place at Ballys in Atlantic City which is just a few steps away from Boardwalk Hall where there Ward – Froch clash will take place.
It's tough, but there is an opportunity for both of us to realize a dream," Thompson said of fighting his friend. "I'm happy for both us to get this opportunity, but I have to go in there and take care of business. I consider us more than friends — I consider myself like a mentor to him. But I told my own brother I'd kick his ass if had to to get back to a Klitschko fight, and my brother knew I was dead serious."
"But sometimes in this business you got to fight your friends," Chambers said. "I'm just looking forward to the fight and getting it done. We're two of the top heavyweights in the division and we've helped each other get there. I've helped him and he's helped me get ready for fights several different times. He's the kind of person that if I had kids, I'd have my kids play with his kids, but we know this is business. Boxing is not a team sport, but if it was a team sport, we would be on the same team."
"Both fighters have had that taste of a championship challenge and both of them withstood many rounds with Wladimir. To me the question about their fight is who has learned more from their loss," Said promoter Dan Goossen, who represents both fighters. "Both of them have come back from their loss. Eddie beat Rossy and looked good and Tony has been kept fairly busy and has been winning against pretty good opponents and getting knockouts. I hate to have our guys fighting each other and only one advancing, but that is what you do as a promoter — you give both of the guys an opportunity. I think it will be an interesting fight."
"I definitely gotta go in there and stop this guy. I'm going in there to knock your head off your shoulders and separate you from your senses long enough for the referee to raise my hand," said Thompson, who is close to Klitschko's size at 6-foot-5 and 250 pounds.
"We're both fighting for our professional lives," said Chambers, who is 6-1 and 210 pounds. "This could be his last go-round, his last hurrah. He's still performing well, but at the age of 40, you can get old overnight in this game. Yes, we have respect for each other, but that is even more reason to go out there and give 100 percent. We got two people on a collision course who have everything to lose, and there's a lot to gain as well with a win. With a win it catapults us to a title shot again. That's what we are both shooting for."