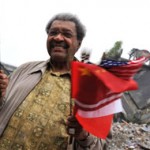 Miami Mayor Thomas Regalado welcomed Don King today to announce the WBC Heavyweight title elimination bout December 17th at the American Airlines Arena in Miami. 2004 Olympic gold medalist and undefeated Odlanier "La Sombra" Solis (16-0, 12 KOs), who is ranked #2 in the WBC, will be facing WBC No. 1 ranked Ray "The Rainman" Austin (28-4-4, 18 KOs) with the winner earning the right to face Vitali Klitschko for the WBC title. Solis had this to say, "This match is the key we have been missing, the chance to fight for the heavyweight championship. This is what I have been dreaming and working toward since I first picked up a pair of boxing gloves. And Austin came back with, "I feel blessed to be in this position. I'm bringing the rain and you know what comes with that: the pain."
IBF Light heavyweight champion Tavoris Cloud (21-0, 18 KOs) will be facing hard hitting Colombian fighter Fulgencio Zuniga (24-4-1, 21 KOs). Cloud is coming off of a very close hard fought decision win over former fighter of the year Glen Johnson. Cloud stated, "This is going to be a great fight and a great event. I know Zuniga is a puncher, and I am taking him very seriously. After I'm done with him—which I will do—I've got some bigger fish to fry."
Heavyweight Contender Mike Marrone 19-1 (14KO) will be facing Darrel Madison 15-1(4KO). He was quoted saying, "My trainer Eddie Chambers and I are going to do great things. Vero Beach [Florida] is behind me. Darrel Madison is a good heavyweight like me. His nickname is "King David." What I want him to know is we are developing the best jab in boxing. When we are done with him, his new nickname will be "Burger King."
Former three-time world champion Ricardo Mayorga will also be in action with an opponent to be named. "I want people to believe in me again. I have a hunger to be world champion again. I expect to win on Dec. 17." Said Mayorga.
WBA Cruiserweight Champion Guillermo Jones 37-3 (29K0) will be defending his title against DaVarryl Williamson 26-6(22KO).
Also on the card will be undefeated lightweight contender from Cuba Angelo Santana, 9-0(6KO), undefeated Turkish welterweight Selcuk "Little Tyson" Aydin 20-0(15KO) and heavyweight Bermane Stiverne, 18-1(17KO) and a possible female fight.