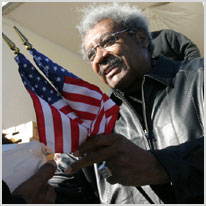 Don King Productions bid a whopping $1.1 million to secure the rights to promote the WBC Title elmination bout between Chris Arreola and Bermane Stiverne.
King, Stiverne's promoter, blew away the other bidders. Dan Goossen, Arreola's promoter, offered $550,000; Golden Boy Promotions, which had designs on adding the fight to its Nov. 10 card at the Staples Center in Los Angeles to help beef up ticket sales because Arreola is a Mexican-American from Southern California with a good following, bid $512,000; and WealthTV, , offered $132,000.
According to Goossen, Arreola is entitled to 55 percent of the bid ($605,000) with Stiverne's share the remaining 45 percent ($495,000).
"King has 10 days to give us a location and date of the fight," Goossen said Sunday. "Whenever and wherever the fight is, Cris has his mind set on winning this fight and he has his mind set on becoming heavyweight champion of the world, no matter who he has to go against. He's in great shape and he's been training. That is music to my ears."
"I've always felt if Cris is tip-top shape, be it against Bermane Stiverne or anyone else, he will overcome them. He's so adamant that he will be in great shape for this fight and it showed when I saw him in Las Vegas (three weeks ago). He is really committed to win this fight and go on to win the heavyweight championship of the world."
"Stiverne is a big puncher, but Cris has been in with big punchers, none better than Vitali Klitschko and he took everything," Goossen said. "When you're in great shape and can throw the combinations Cris can throw, there will be very few opponents who can handle it."
"He's been training and he's fine," Goossen said. "He's good now. He said he's 100 percent."
"If for any reason Don has any problems moving forward we will step in," he said. "Either way, this is a good fight for boxing, two powerful heavyweights fighting with a lot on the line."