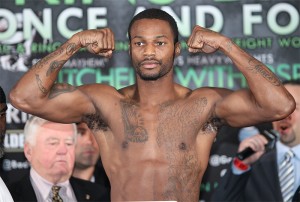 ATLANTIC CITY–Chad Dawson won the WBC Light Heavyweight title with a twelve round majority decision over legendary Bernard Hopkins in a lackluster fight at Boardwalk Hall.
Neither guy had any sustained flurries but Dawson won the fight because he punched and landed slightly more than the forty-seven year old Hopkins.
There was alot of clinching and rough house tactics with Dawson suffering cuts around both eyes due to accidental headbutts.
Dawson, 174 1/2 lbs of Hartford, CT won by scores of 117-111; 117-111 and 114-114. Hopkins, 173 1/2 lbs of Philadelphia is now 52-6-2-2.
Seth Mitchell remained perfect by taking out Chazz Witherspoon in round three of a scheduled twelve round Heavyweight bout.
Witherspoon dominated the first round as landed some hard rights that startled Mitchell. Mitchell righted himself in round two as he started landing his own power shots and that started the downfall for Witherspoon. Mitchell came out in round three and started bouncing Witherspoon around the ring and then put him down with a hard left hook. Witherspoon showed his fighting spirit but it proved to be his undoing and Mitchell lived up to moniker and began landing some shots that caused "Mayhem" for Witherspoon. Mitchell landed some hard shots on the ropes that caused referee Randy Neumann to first administer a standing eight and with blood dripping down the right eye eventually stopping the fight at 2:31 of round three.
Mitchell, 241 ½ lbs of Brandywyne, MD is now 25-0-1 with nineteen knockouts. Witherspoon, 231 1/2lbs of Philadelphia is 30-3.
Mikey Faragon remained perfect by scoring an eight round unanimous decision over Sergio Rivera in a Jr. Welterweight bout.
Faragon, 137 1/2 lbs of Albany,NY won by scores of 79-73; 78-74 and 78-74 and is now 18-0. Rivera, 139.6 of Mexico is now 16-10-2
Lavarn "Baby Bowe" Harvell made it a perfect ten when he annihilated Anthony Pietrantonio in round three of a scheduled four round Light Heavyweight bout as part of the Bernard Hopkins – Chad Dawson II undercard at Boardwalk Hall.
Harvell dropped Pietrantonio in round one and the continued to dominate until a vicious left hook knocked Pietrantonio down and out at thirty-one seconds of round three. Pietrantonio was momentarily unconscious but fortunately he was able to leave the ring under his own power.
Philadelphia Jr. Middleweight pounded out an eight round unanimous decision over Hector Rosado.
Scores were 79-73,79-73 and 78-74 for Williams, 154 1/2 lbs and is now 9-0-1.Rosado, 155 1/2 lbs of Gunabo, Puerto Rico and is now 7-2-2.
Phil Lo Greco survived a first round knockdown to come back and win the remaining five rounds over Hector Orozco and win a six round unanimous decision in a Welterweight bout.
Scores were 59-54; 58-55 and 58-55 for Lo Greco, 149 lbs of Toronto and is now 23-0. Orozco, 149 lbs of Minneapolis, MN and is now 5-11.