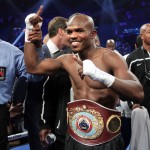 LAS VEGAS –Things did not go according to plan for Manny Pacquiao. He was more aggressive than he had been in years. He threw with abandon, luring his opponent into maniacal exchanges. He fatigued only slightly down the homestretch. And he lost for the first time since 2005.
In an enormous upset whose scorecards will remain hotly debated, Californian Timothy "Desert Storm" Bradley (29-0, 12 KOs) decisioned the Philippines' Manny Pacquiao (54-4-2, 38 KOs) by scores of 115-113, 115-113 and 113-115, Saturday at MGM Grand, to become recognized as the world's best welterweight.
The 15rounds.com ringside scorecard concurred, marking 116-115 for Bradley – scoring rounds 1, 5 and 8 even.
While there were almost no rounds that one fighter won clearly on a neutral card – and only five rounds, of 12, were scored unanimously on the official cards – a number of patterns emerged early that appeared destined to favor Pacquiao. Las Vegas judges, long known to reward activity over effectiveness, were expected to see all close rounds for Pacquiao, who was nothing if not the more active fighter.
But Bradley, throughout the fight, landed the cleaner, and usually harder, punches. Most of the Pacquiao punches that brought feral howls from the partisan-Pacquiao crowd were grazing, at best, and clean misses at worst. Neither fighter was dominant. Either fighter might have won all but the final round, and that round, with the fight on the line, was Bradley's, unanimously.
JORGE ARCE VS. JESUS ROJAS
The match intended to save Saturday's undercard began well, with a knockdown in the first round, but ended in profound disappointment and ultimately a no-decision caused by an unintentional foul.
Mexican Jorge Arce (60-6-2, 46 KOs) versus Puerto Rican Jesus Rojas (18-1-1, 13 Kos), a 10-round featherweight scrap that started with Arce dropping Rojas in the opening minute, ended at 0:09 of round 2, when Rojas, lunging-in and trapped under Arce's elbow, threw what became a low blow, and followed it with a crisp right hand behind the left ear of Arce's turned head.
Arce went straight down, later citing disequilibrium, and remained on the mat for the entirety of what five minutes referee Kenny Bayless allotted for his recovery. The match was declared a no-decision when Arce was unable to continue. Both fighters expressed interest in a rematch afterwards.
MIKE JONES VS. RANDALL BAILEY
Mike Jones came to Las Vegas wearing the IBF welterweight belt and hoping to change people's minds about what many considered a dull style. He took care of the dull part. But he'll be going home without his belt.
In Saturday's most dramatic knockout, Floridian Randall "The Knock-Out King" Bailey (43-7, 37 KOs) stopped Philadelphia's Jones (26-1, 19 KOs) at 2:52 of round 11.
Jones began the fight in a fashion so timid that boos rained down from the half-full Garden Arena before the bell to end the first round h'd had a chance to clang. Rounds 2, 3, 4 and 5 saw more of the same, as neither Jones nor a man who calls himself "Knock-Out King" engaged one another in even a moment of sustained combat.
In round 6, having landed nary a telling blow between them, Jones and Bailey began to feint at each other – and react to one another's feints – as though hard punches were somehow on the way. Finally, in round 9, Jones landed a balance-shot right hand that made Bailey appear to stumble, but rather than press his advantage, Jones quickly retreated, hands high, to ensure he didn't get caught with any of the punches Bailey had not thrown for 26 minutes.
Everything changed at the end of round 10, though, when a perfectly leveraged right cross from Bailey stretched Jones on the blue mat. Jones leaped to his feet in time for the bell to ring and end the round and then came out moving tentatively in the 11th. But it took the "Knock-Out King" only 2 1/2 minutes to find him again, this time with a counter right uppercut that sent Jones, splayed and ruined, to the canvas.
Referee Tony weeks began a 10-count over Jones' writhing, rising, falling and rolling body but soon saw the futility of it and waved the match off at 2:52 of round 11.
"I just put it in God's hands," Bailey said afterwards, choking on tears of joy, "and did what I had to do."
GUILLERMO RIGONDEAUX VS. TEON KENNEDY
Cuban super bantamweight Guillermo Rigondeaux appears to have every tool except fan-friendliness, and that's nothing a few knockouts can't cure.
Rigondeaux (10-0, 8 KOs) took apart Philadelphian Teon Kennedy (17-2-2, 7 KOs) in the first fight of Saturday's "Pacquiao-Bradley" pay-per-view telecast, dropping him several times with a left cross thrown from his southpaw stance, and eventually causing referee Russell Mora to wave an end to the WBA title match at 1:11 of round 5.
If Rigondeaux can continue blitzing good, if light-hitting, challengers like Kennedy, the Cuban may soon see his following get on track with his evident talent.
UNDERCARD
Doing his best to entertain what Filipino fight fans gathered hours before their hero's arrival, General Santos City's Ernie Sanchez (13-3, 5 KOs) decisioned Minnesota featherweight Wilton Hilario (12-3-1, 9 KOs) by scores of 78-74, 78-74 and 79-73. The fight was a lackluster affair that saw uneven contact and bursts of activity from Sanchez followed by long stretches of neither guy chancing anything.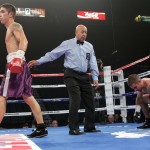 Before that, undefeated Canadian welterweight Mikael Zewski (15-0, 11 KOs) turned an initially tentative affair into a decisive victory, stopping Coloradoan John Ryan Grimaldo (8-2, 5 KOs) at 0:59 of round 3.
Saturday's second bout saw undefeated California junior welterweight Andrew Ruiz (2-0, 1 KO) stun but not stop Nevadan Taylor Larson (0-3-1) in a four-round match Ruiz won by unanimous scores of 39-36, 40-35 and 39-36.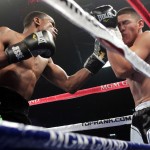 Highly touted Top Rank prospect Jesse Hart (1-0, 1 KO), a middleweight Philadelphian, made a definitive debut in the evening's first bout, drilling New Mexico's Manuel Eastman (0-2) with a right cross that was followed by a few more right crosses, and brought referee Joe Cortez racing in to end Hart's assault, at 0:33 of round 1.
Saturday's opening bell echoed through MGM Grand Garden Arena at 3:17 PM local time.