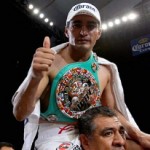 I started to write about boxing because of Erik "El Terrible" Morales, whose face, along with those of Israel Vazquez and Juan Manuel Marquez, is the first my mind associates with the word "prizefighter." Morales was not my first favorite fighter. He wasn't even my favorite fighter in his first two matches with fellow Mexican Marco Antonio Barrera. Morales' charms were not immediate or obvious as other prizefighters'. But they were lasting.
Morales' third match with Barrera was the first time I wrote about prizefighting – in an email exhaustive enough for a friend to post on his website. Columns followed. My seventh treated El Terrible's victory over Manny Pacquiao. Morales UD-12 Pacquiao induced a euphoria, even through television's bastardizing lens, that I innocently assumed would be a regular compensation for journalizing the sport. How naïve. I've revisited that euphoria scarcely more often since March 2005 than Morales has visited the indomitable form he showed against Pacquiao seven years ago.
And yet. Saturday I will cover El Terrible from ringside for the first time. It is an honor I did not believe would happen, a privilege for which, had you presented me a contract 380,000 words ago, I would have gladly written volumes about prizefighting. Morales will fight undefeated Philadelphian Danny Garcia for something called the WBC light welterweight title, in Houston's Reliant Arena in a fight HBO will televise, though the fight itself is mostly beside the point. That point, championship-level violence, will be lent support by a 10-round undercard scrap between Texan James Kirkland and Mexican Carlos Molina. The main event needs help because nobody should follow any sport in which a 35-year-old Erik Morales is the greatest 140-pound practitioner.
We didn't grow up together though we're close in age. The first time I wrote seriously about El Terrible, he was at the apogee of his prime, already the bloated, dehydrated/rehydrated victim of a fair and unfavorable decision in his rubber match with Barrera. What Morales presented was an initial catalyst, a first promise that struggling to describe boxing holds a private reward of its own, independent of others' affirmation. That late-prime Morales remains a standard against which I judge prizefighters and find most deeply wanting.
Morales was an unlikely standard. He was not eloquent as Barrera. He was not thrilling or durable as Pacquiao. He was steered wide of Marquez. He didn't throw the hook like a Mexican but used instead a deceptive and jarring right uppercut triggered by the touch of a glove on his elbow, a punch to dissuade his countrymen's voracious, liver-feeding left hands. He was awkwardly skinny, too, a gawky, rib-tallied Tijuananense with a big nose.
Good God, but he made the masculine choice every time.
Masculine, macho, entertaining – Morales was all of these words, not one a synonym for "prudent." His finest moment was imprudent as hell. Ahead on official scorecards after 11 rounds against Manny Pacquiao, Morales fought the 12th as a southpaw, several times realizing his folly before willing himself back in an awkward stance that assured Pacquiao every chance to hurt him. This, just after his father pleaded with him not to do anything crazy – y nada estupido. Before you compare your favorite fighter to Morales, ask first: Would my guy offer his head to Pacquiao for three minutes of a fight he is winning, just to entertain someone like me?
Six months after such unforgettable boldness, Morales moved up to lightweight to fight Zahir Raheem and proved, definitively, that a man who cannot make super featherweight is by no means a lightweight. Then Pacquiao blew him out, twice, and the David Diaz match came nine months after Pacquiao KO-3 Morales. By then I'd published enough to be credentialed for Chicago, but see, El Terrible had said goodbye thrice against Pacquiao – once when he winked at his dad from the canvas and twice in an interview bungled by HBO's former interpreter – and I took him at his word.
Morales' comeback, after 2 1/2 years of retirement, has a whiff of boredom to it, as if El Terrible were sitting at home one night, tired of domesticity and grown fluffy, and saw Amir Khan hightailing from Marcos Maidana while being called great, and said "¡Ya basta!" to his television set. Morales has a Twitter account for combating boredom, too, one he uses to retweet wife jokes and regularly post, of his training regimen, "The mouse likes cheese." There has been no reason to board a plane for a Morales fight since 2007, as any aficionado knows, but Houston is within driving distance.
Morales' comeback also feels a little like Julio Cesar Chavez's "Adios" tour. Chavez was 12 years and pounds beyond his prime, at age 42, further beyond his prime, by far, than Morales is at 35, and came back in pursuit of money. A few tilts in, Chavez found himself a patron to pay for the tour and promote his son. In a fine show of incremental audacity, Chavez's one "Adios" fight became "Adios Los Angeles" then "Adios Arizona" then "Adios Phoenix" – with "Adios Tucson" and "Adios Flagstaff" lurking – before someone named Grover Wiley put an end to the silliness in America West Arena.
Danny Garcia should decision Morales, Saturday – and what ever happened to Grover Wiley, anyway? So long as Morales acquits himself nobly, though, he'll be presented a WBC silver or diamond belt before April Fools' Day, and his comeback will go on till he tires of training or being beaten on. Or maybe Morales will win Saturday like he did in September, in a fight you probably watched, even if you can't now remember Morales' opponent or its official outcome.
It will be an honor to sit ringside at a Morales fight, regardless. A feeling of pride, a certain personal indulgence, will wash over me when the name "El Terrible" rings through Reliant Arena. We made it, kid.
Bart Barry can be reached at bart.barrys.email (at) gmail.com