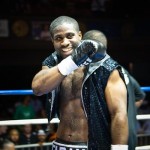 CLICK TO ORDER THE FIGHT LIVE!!!
PHILADELPHIA, PA (March 8, 2012)—It was just a year ago when then undefeated Super Middleweight Farah "The Quiet Storm" Ennis was undefeated and carried the NABF Super Middleweight championship proud.
Fast forward to April 2, 2011, Ennis, who went into his bout with fellow undefeated Super Middleweight Alexander Johnson, with a fever, took a small step backwards as he dropped a ten round majority decision.
Ennis took about nine months off before stopping Grover Young on January 13th, thus becoming the first man to stop the ten fight veteran and Ennis feels he is back on track.
Ennis will return to the scene of his only loss at Ballys in Atlantic City as he takes on one-time fellow hot prospect Dion Savage (11-2, 6 KO's) in a ten round bout.
The twenty-nine year old native of Philadelphia still sports an impressive mark of 18-1 with twelve knockouts knows that he is basically just one win away being back to where he was in early 2011.
"I am just focusing and ready to rumble", said Ennis
"I don't know much about Savage but I Know he is coming to win."
"I know a win over him will hopefully get one of those big money or a quality television fight so the world can see me but the most important thing is winning this fight and moving forward"
The packed card is promoted by John Lynch's Pound 4 Pound Promotions and can be seen LIVE all over the world on www.gfl.tv
In the eight round co-feature, Vitaliy Demyaneko (19-0, 12 KO's) of Las Vegas via Kazakhstan will take on rugged Ayi Bruce (21-5, 13 KO's) of Albany, NY via Ghana.
Glen Tapia (12-0, 6 KO's) will take on Antonio Infante (6-2, 4 KO's) of Miami, Florida in a six round Jr. Middleweight bout.
In six round Welterweight bout, Jose Peralta Alejo (7-1, 4 KO's) of Jersey City, NJ will battle Sammy Santana (4-5-2) of Carolina, PR.
Dennis Hasson (12-0, 4 KO's) of Philadelphia, PA will fight Eddie Caminero(7-6, 7 KO's) of Lawrence, MA in a six round Light Heavyweight bout.
Hot shot prospect Mikael Zewski (12-0, 8 KO's) of Trois Rivieres, Quebec Canada will take on an opponent to be named in a six round Jr. Middleweight bout.
Patrick Farrell (5-1-1, 3 KO's) of Jersey City, NJ will tussle with Kelven Jenkins (0-0-2) of Troy, NY in a four round Heavyweight fight.
Brian Acaba (2-0, 1 KO) of Brooklyn, NY will see action in an four round Lightweight bout against an opponent to be named.
Andrew Bentley will make his pro debut in a four round Lightweight bout against Jose Rivera (0-3) of Ocala, FL
Joey Tiberi (7-1, 5 KO's) of Newark, DE will fight an opponent to be named in a four round Lightweight bout.
Ticket prices are $75.00 in Sections 101, 107,102 & $50.00 in Sections 104, 105, 111, 112 and can be purchased by calling 201-867-2008 and Ask for Kathy or by calling Ticketmaster at (800) 736-1420 or online at ticketmaster.com.
Ballys Park Place Hotel Casino is located 1900 Pacific Ave., Atlantic City, NJ, 08401. Doors open at 7:00 p.m ET, first fight starts at 7:30 p.m