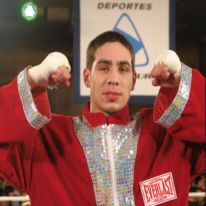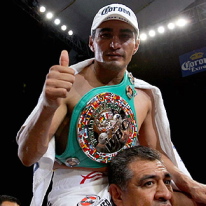 Follow all the action LIVE from the Barclay Center in Brooklyn as FOUR world titles will be contested as WBC/WBA/IBF 140 pound champion Danny Garcia takes on the Legend Erik Morales. The WBA Welterweight champion Paulie Malignaggi defends against Pablo Cesar Cano. WBO Middleweight champion Hassan N'Dam N'jikam defends against Peter "Kid Chocolate"Quillin while IBF Welterweight champion Randall Bailey defends against Devon Alexander. The action begins at 8pm eastern / 5 pm Pacific.
12 ROUNDS–WBC/WBA SUPER LIGHTWEIGHT CHAMPIONSHIP–DANNY GARCIA (24-0, 15 KO'S) VS ERIK MORALES (52-8, 36 KO'S)
ROUND 1 Right from Garcia…Right from Maorales..Left from Garcia..Right to the body…10-9 Garcia
Round 2 Combination from Morales..Morales lands a left hook…Good left hook from Garcia on the ropes..uppercut…Morales lands a double jab/right…19-19
Round 3 Both land solid shots…Garcia lands a left to the body…right to the body…Hard right…right to the body…Hard right ricks Morales..Morales stumbles to the wrong corner…29-28 Garcia
Round 4 Combination from Garcia..Hard right to the head..
12 ROUNDS–WBA WELTERWEIGHT TITLE–PAULIE MALIGNAGGI (31-4, 7 KO'S) VS PABLO CESAR CANO (26-1-1, 20 KO'S)
ROUND 1 Malignaggi boxing and jabbing to the body…10-9 Malignaggi
Round 2 Cano lands a right..right over the top…CANO BLEEDING OVER THE LEFT..19-19
ROUND 3 Malignaggi jabbi..Right from cano…Hard right…29-28 Cano
Round 4 Good right from Cano..Hard right...39-37 Cano
Round 5 Malignaggi lands a hard right…jab…48-47 Cano
Round 6 Trading right hands…58-57 Cano
Round 7 Jab from Malignaggi…uppercut..Cano lands a good body shot…67-67
Round 8 Right to the body from Malignaggi…Cano pawling at the cut…Right from Cano…Jab…77-76 Cano
Round 9 Malignaggi lands a jab..Hard left from Cano...87-85 Cano
Round 10 Left from Cano…97-95 Cano
Round 11 Maliganggi jabbing…Good left…Right from Cano…BIG RIGHT AND DOWN GOES MALINAGGI…Hard right...107-103 Cano
Round 12 Hard right from Cano…staright right…uppercut..Right from Paulie…Left from cano..Malignaggi bleeding from under left eye….117-112
118-109 Cano….114-113, 114-113 WINNER BY SPLIT DECISION PAULIE MALIGNAGGI
12 ROUNDS–WBO MIDDLEWEIGHT CHAMPION–HASSAN N'DAM JIKAM (27-0, 17 KO"S) VS PETER QUILLIN (27-0, 20 KO'S)
ROUND 1 Good right from Quillin…N'dam lands a right to the body…Right from N'Dam…10-9 N'Dam
Round 2 N'Dam lands a right…right to the body..combo on the ropes..2 rights..2 big rights..20-18 N'Dam
Round 3 Left from N;Dam…Left from Quillin..N"dam 2 lefts on the inside…30-27 N'Dam
Round 4 Right rocks N'Dam..Hard right..right inside..BIG RIGHT DOWN GOES N'DAM…Big right…HUGE LEFT HOOK DOWN GOES N'DAM…37-37
Round 5 N'Dam lands a left…Left..Good right from Quillin..right… straight right..47-46 Quillin
Round 6 N'Dam lands a right..another right,,,Quillin lands a right…BIG RIGHT AND DOWN GOES N'DAM…Big keft..Huge counter right,,,and righT AND RULED A KNOCKDOWN AGAINST N'dam…57-53 Quillin
Round 7: N;dam lands a combo on the ropes…Quillin lands a right off the ropes..66-63
Round 8 Quillin lands a right…76-72 Quillin
Round 9 N'Dam lands a right over the top…N'Dam lands a hard right on the ropes..85-82 Quillin
Round 10 Quillin landing on the ropes..Huge flurry off the ropes…GREAT ACTION…95-91 Quillin
Round 11 Quillin lands a good left…N'Dam lands a left…and a good right at the bell..104-101 Quillin
Round 12 Quillon lands a left hook…BOG RIGHT AND DOWN GOES…right that MISSES…DOWN GOES N'DAM RULED A KNOCKDOWN…114-108 QUILLIN
12 ROUNDS–IBF WELTERWEIGHT TITLE–RANDALL BAILEY (43-7, 37 KO'S) VS DEVON ALEXANDER (23-1, 13 KO'S)
ROUND 1 Bailey tries to get a right in the corner…Straight left from Alexander..Quick left..left/body..10-9 Alexander
Round 2 Good right Bailey …19-19
Round 3 Alexander lands a left..Counter right from Bailey...29-29
Round 4 Alexander landed a straight left to the body...39-38 Alexander
Round 5 Alexander lands a left…Hard right from Bailey…Another right…48-48
Round 6 Alexander lands a left…both deducted a point…57-56 Alexander
Round 7 not much...67-66
Round 8 Combination from Alexander…77-75 Alexander
Round 9 Alexander jabbing to the body.. 87-84 Alexander
Round 10 Alexander boxing and moving 107-102
Round 12
115-111. 116-110…117-109 ALEXANDER